Asche clear favorite for Phillies' third-base job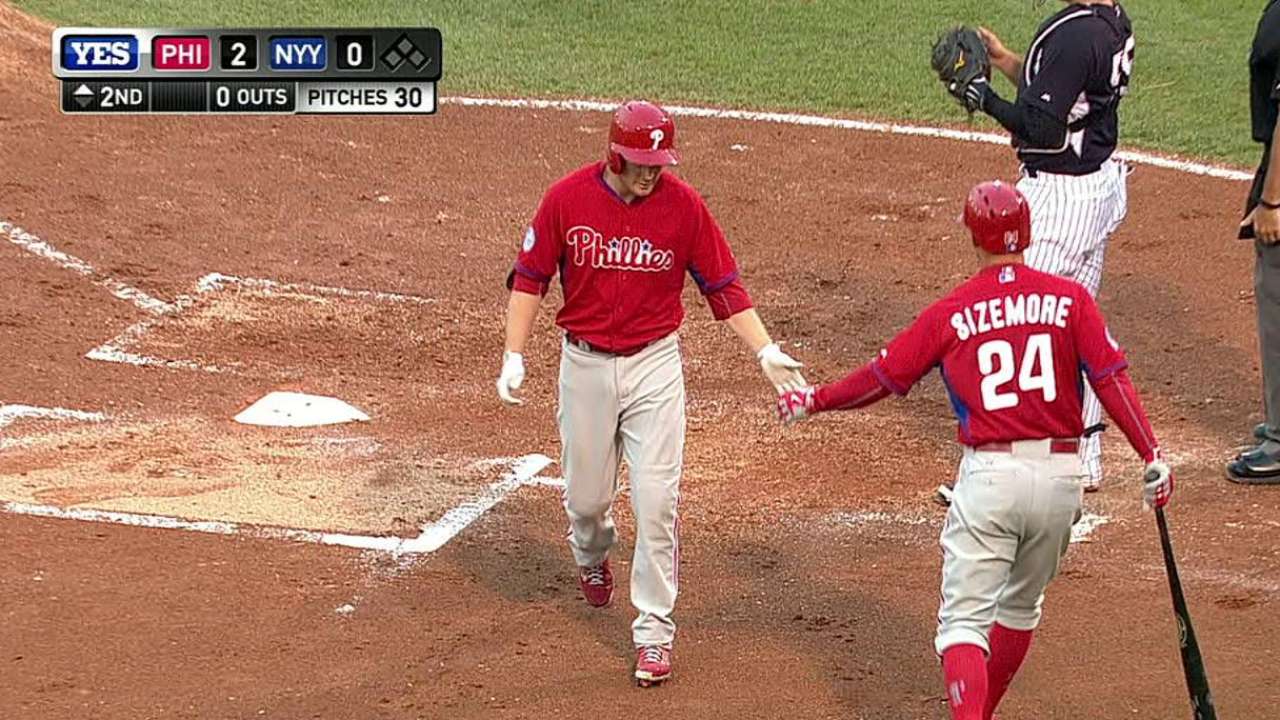 BRADENTON, Fla. -- The Phillies answered any remaining third-base questions on Friday morning when they sent top prospect Maikel Franco to Minor League camp. That means the job still belongs to Cody Asche, and his performance so far this spring has been encouraging to the club.
Asche went deep for the second straight day on Friday afternoon vs. the Pirates at McKechnie Field. After launching a home run off the Yankees' Esmil Rogers on Thursday night, Asche crushed an 0-1 pitch from former Phillies starter Vance Worley over the boardwalk beyond the right-field fence.
The 24-year-old third baseman hit .252/.309/.390 with 10 homers and 46 RBIs, but Asche struck out 102 times in 121 games for the Phillies last year. Manager Ryne Sandberg said the club asked Asche to make a few adjustments over the offseason, and the Phils like what they've seen so far as Asche is off to an 8-for-30 (.267) start at the plate.
"I think he's having a real good spring, just from making adjustments on what he needed to work on from last year," Sandberg said. "He has a real good two-strike approach. He's putting balls in play, and he has a short, nice, sweet stroke resulting in some balls hit hard and home runs here in the camp. I think he took to heart our suggestions over the offseason, and he's showing results through the camp.
"I think he's one of our more solid hitters as we speak."
Around the horn
• Reliever Ken Giles entered Friday's game in the fourth inning with two on and one out. Sandberg said he chose that moment for Giles in part so he could face some of Pittsburgh's big league hitters, but it was also something of a test for Giles.
The 24-year-old pitched more than one inning in eight of his 44 appearances last year. He got through 1 2/3 scoreless innings with two strikeouts on Friday. Could more of those outings be in his future?
"He can be a four-out type of guy," Sandberg said. "Probably depends on how it goes."
• Left-hander Mario Hollands struggled on Friday, allowing three runs on four hits while recording only two outs. Despite his experience in the Majors last year, Hollands isn't a lock to earn a spot in the Opening Day bullpen.
"We're looking at a lot of guys for the last few spots in the bullpen," Sandberg said. "With about half of the camp to go as far as games go, there's still some competition, looking at some different guys."
Adam Berry is a reporter for MLB.com. Follow him on Twitter at @adamdberry. This story was not subject to the approval of Major League Baseball or its clubs.