Mingling with Marlins' alumni benefiting Latos, young roster
Redmond hopes veteran influence will rub off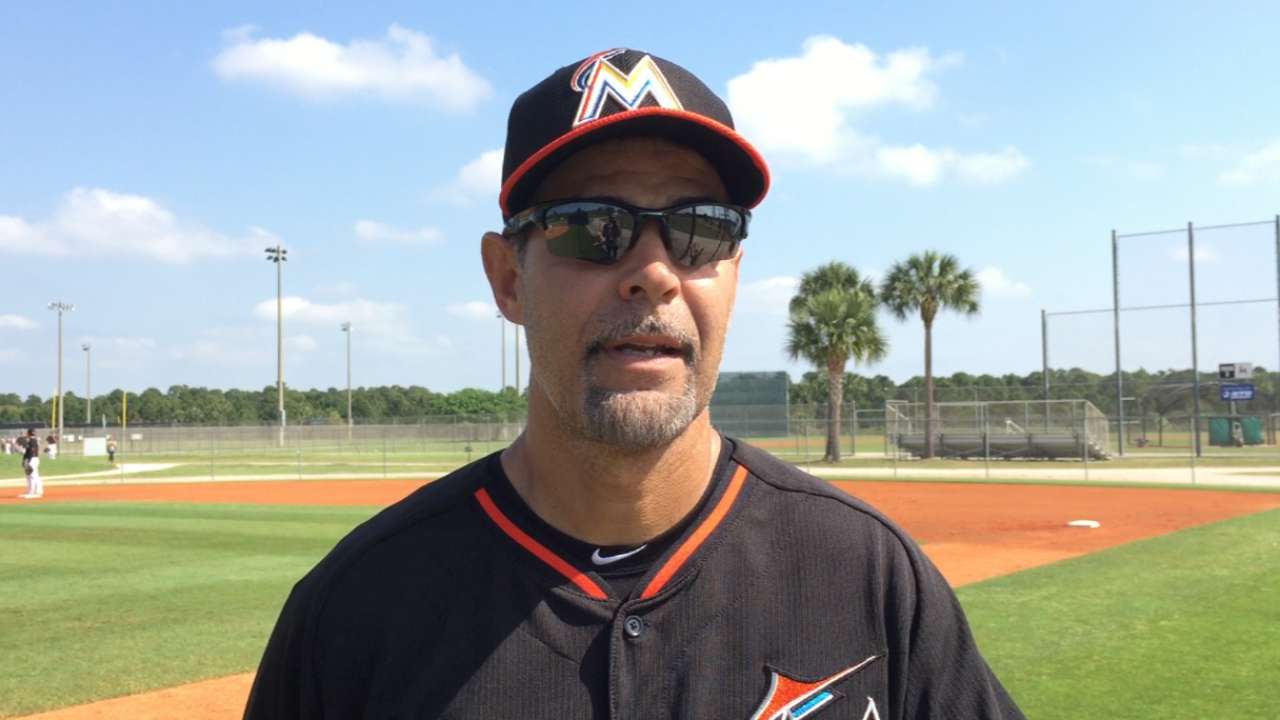 JUPITER, Fla. -- Bringing back faces from the past is having a positive influence on the young Miami players. This week, former Marlins great Mike Lowell spent a couple of days in camp as a guest coach.
Earlier in Spring Training, former All-Star catcher Charles Johnson was an honored guest. And Juan Pierre, who recently retired, also has visited the club on several occasions.
Bringing in Marlins alumni is something manager Mike Redmond pushed for since he was hired after the 2012 season.
Lowell, Johnson and Pierre are former teammates of Redmond, who also is trying to bring in ex-Marlins second baseman Luis Castillo to mingle with the team.
"I'm a firm believer that when you have these guys, there are another resource for our players to talk to," Redmond said. "It's something that is important to me."
The current players like the concept.
"I think it's fantastic," right-hander Mat Latos said. "I get to see guys like Mike Lowell and Jeff Conine. Guys I grew up watching. When you see them, you take a little extra time to say hello and go out of your way to tell them who you are and let them know you are there."
Conine, a part of both Marlins' World Series teams, is a special assistant in the organization, as are Hall of Famers Andre Dawson and Tony Perez.
Latos, who grew up in Broward County, is in his first season with the Marlins.
Redmond noted that the organization has enough history and tradition to bring retired players into camp.
"To surround younger guys with that kind of stuff, a lot of these guys in here are bright and they go around and are asking questions," Latos said.
Lowell, a former All-Star and Gold Glove-winning third baseman, was in uniform with the Marlins on Tuesday and Wednesday in Jupiter, Fla.
"Lowell, he's a hitter. He got paid to not get out by a guy like me," Latos said. "And I get paid to get guys like him out. There is no reason I can't pick his brain."
Joe Frisaro is a reporter for MLB.com. He writes a blog, called The Fish Pond. Follow him on Twitter @JoeFrisaro. This story was not subject to the approval of Major League Baseball or its clubs.