Masterson feels good about his progress
Righty on rebound after struggling with injuries in 2014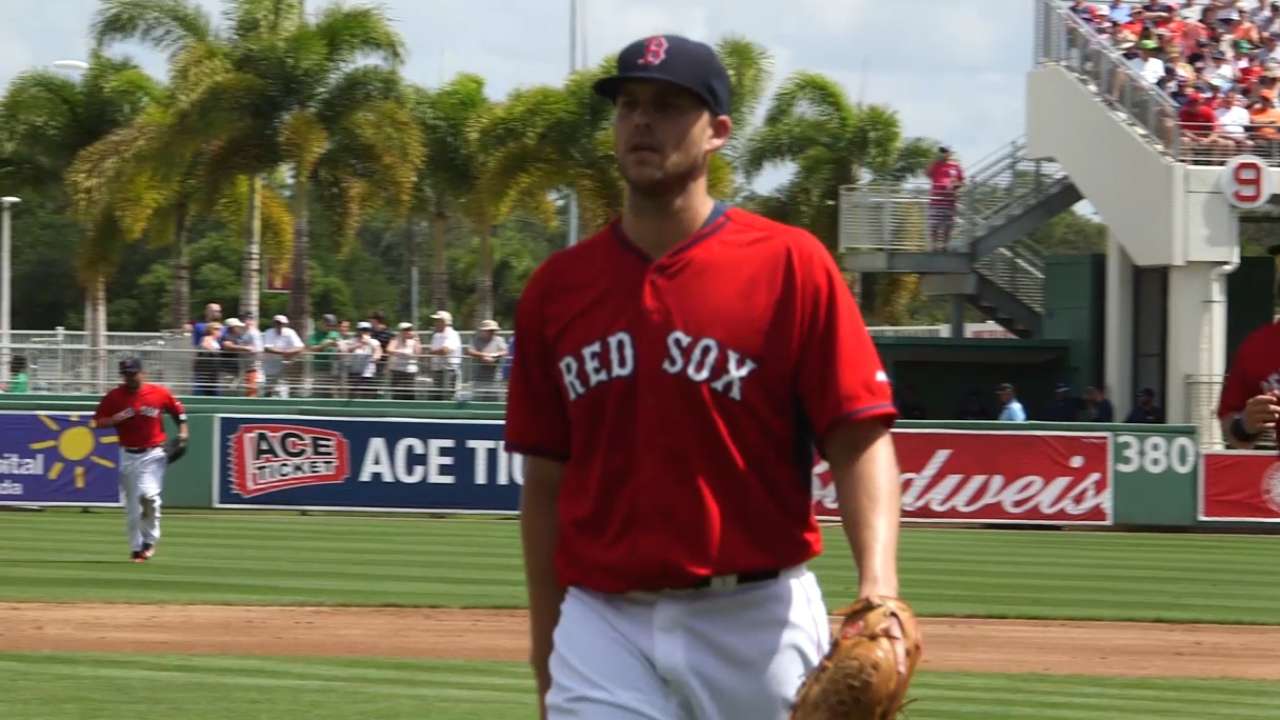 FORT MYERS, Fla. -- Justin Masterson's fastball is topping out in the high 80s for now, but he's confident the radar-gun readings will increase in time.
More than anything, the lanky righty is pleased with the progress he is making as he tries to regain his mechanics after an injury-plagued 2014.
Masterson got the job done in his start on Friday, an 11-5 loss against the Orioles, giving up four hits and a run over four innings. He walked two and struck out one. It was a big improvement from his previous start, when the Phillies shelled Masterson for six runs.
Two years ago, when Masterson was at his best for the Indians, his four-seamer reached the mid 90s.
"I'd love it to be at 99 [mph]," quipped Masterson. "In the overall sense, I'm not totally concerned about it. I made mention of it last Spring Training when it was down, but it's better than it was last Spring Training."
The big difference for Masterson is that things feel right this spring when he releases the ball. And that was hardly ever the case last year.
"I wasn't behind the ball," said Masterson. "As long as I'm behind the baseball and it feels like it has a little late life, which some of those at 90-91 [mph], some even 88-89 [mph], had that. And that's more important than I can come up 95 [mph]. I've thrown some at 96, 97 [mph] that can go out just as quick because they don't have late life to them. I'd rather get that late life."
Red Sox manager John Farrell, who was Masterson's first Major League pitching coach, also feels things are going in the right direction.
"Justin's always a guy that's going to have a fairly wide range," said Farrell. "Even prior to the trade and when he was in Cleveland, his two-seamer is quite a bit off of his four-seamer, so there's going to be a five-to-six mph range that he pitches in.
"The last three times out, he's flashing some better velocities inside of the outing. It's not been consistent. I think that's in large part to getting back in shape and finding a stride direction that allows him to really get through the baseball and create better arm strength and velocity."
While many veteran pitchers get itchy to get out of Spring Training at this juncture, Masterson feels that his remaining starts will be just the progression he needs for taking the ball in the regular season.
"I'd say I'm about two or three away," said Masterson. "I think we're at a point where we're good to compete and we can go out there and compete really well. But the next two or three can really take us over that edge to keep us comfortable and where we need to be. A couple more touch-ups, tune-ups to really get it ironed out will be good."
Ian Browne is a reporter for MLB.com. Read his blog, Brownie Points, and follow him on Twitter @IanMBrowne. This story was not subject to the approval of Major League Baseball or its clubs.