Ichiro back in familiar position at top of lineup
Veteran could be leadoff option when Marlins rest Gordon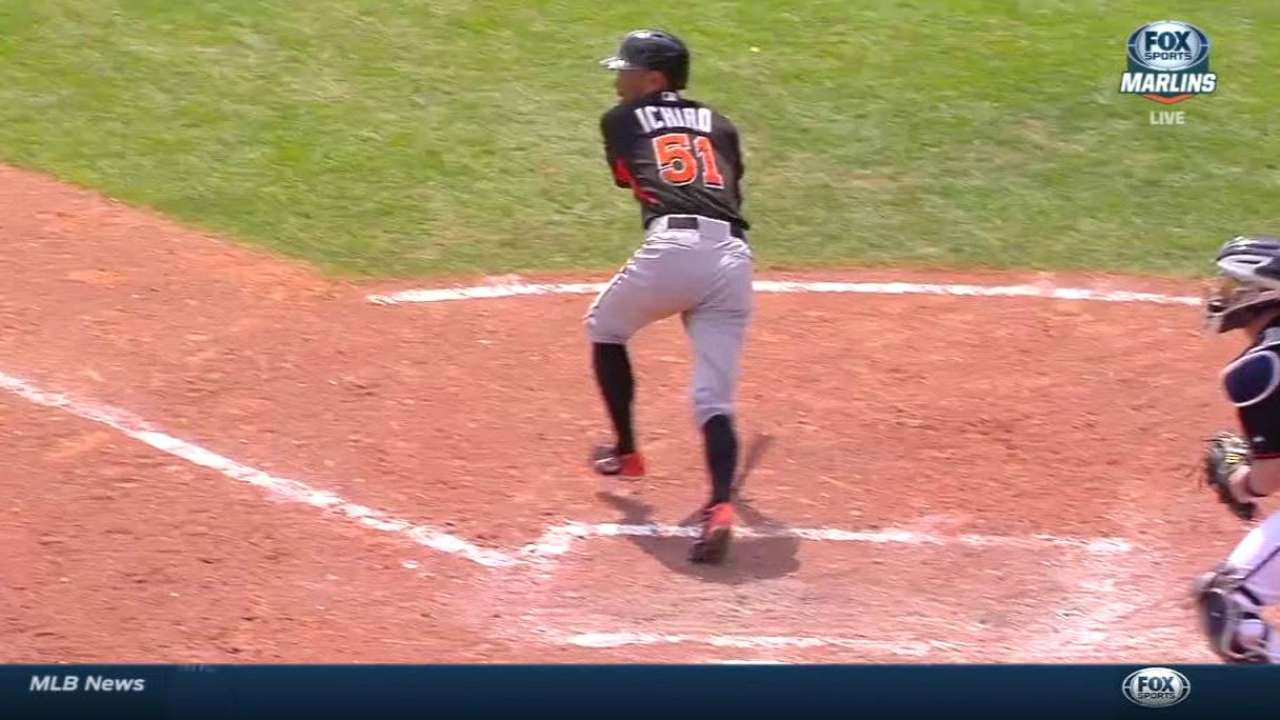 JUPITER, Fla. -- Ichiro Suzuki found himself in a familiar spot on Friday night, leading off for the Marlins against the Braves at Roger Dean Stadium.
With Dee Gordon getting a day off, Ichiro was given a shot hitting at the top of the order, and it is the slot the 41-year-old could find himself in on occasion during the regular season.
"If he plays, could he lead off during the season? Sure," manager Mike Redmond said. "I know he's capable of doing that, easily."
Ichiro is one of the best leadoff hitters of his generation, appearing at the top of the order in 1,777 of his 2,204 Major League games.
Signed as a fourth outfielder, Ichiro gives the club flexibility anywhere in the lineup.
Gordon will lead off during the season. But a situation could arise where Ichiro is starting in the outfield coupled with Gordon getting a day off. On those occasions, Ichiro or Christian Yelich are the frontrunners to bat first.
Yelich, however, is becoming a fixture in the No. 2 spot, and the team may not want to move him around much. Another candidate is shortstop Adeiny Hechavarria, projected to bat eighth.
"I know Ichiro can hit leadoff or anywhere," Redmond said. "But this is more about getting him at-bats. Get him his three at-bats and getting him out of here as quickly as possible."
The Braves on Friday started lefty Wandy Rodriguez, who is competing for a rotation spot.
"I want Ichiro to face as many lefties as he can, just to get used to it," Redmond said. "So we've been able to do that over the last few days. I know Ichiro is going to hit in whatever spot we put him in the order."
Ichiro is enjoying a solid spring, batting .308 in 26 at-bats in 10 games. He also has a stolen base.
For most of Spring Training, the veteran has hit at the bottom of the order.
The Marlins aren't considering hitting Gordon anywhere but leadoff, but they also are looking at alternatives just in case.
"Yelich led off for us almost the whole year last year," Redmond said. "He's an option. Hech could hit up at the top of the order against a left-handed pitcher, too. We've got a lot of flexibility being able to move guys in and out."
Joe Frisaro is a reporter for MLB.com. He writes a blog, called The Fish Pond. Follow him on Twitter @JoeFrisaro. This story was not subject to the approval of Major League Baseball or its clubs.