MLB.com Columnist
Anthony Castrovince
Marlins, Pirates featuring outfield of dreams
Both clubs possess MVP candidates, young stars among top units in MLB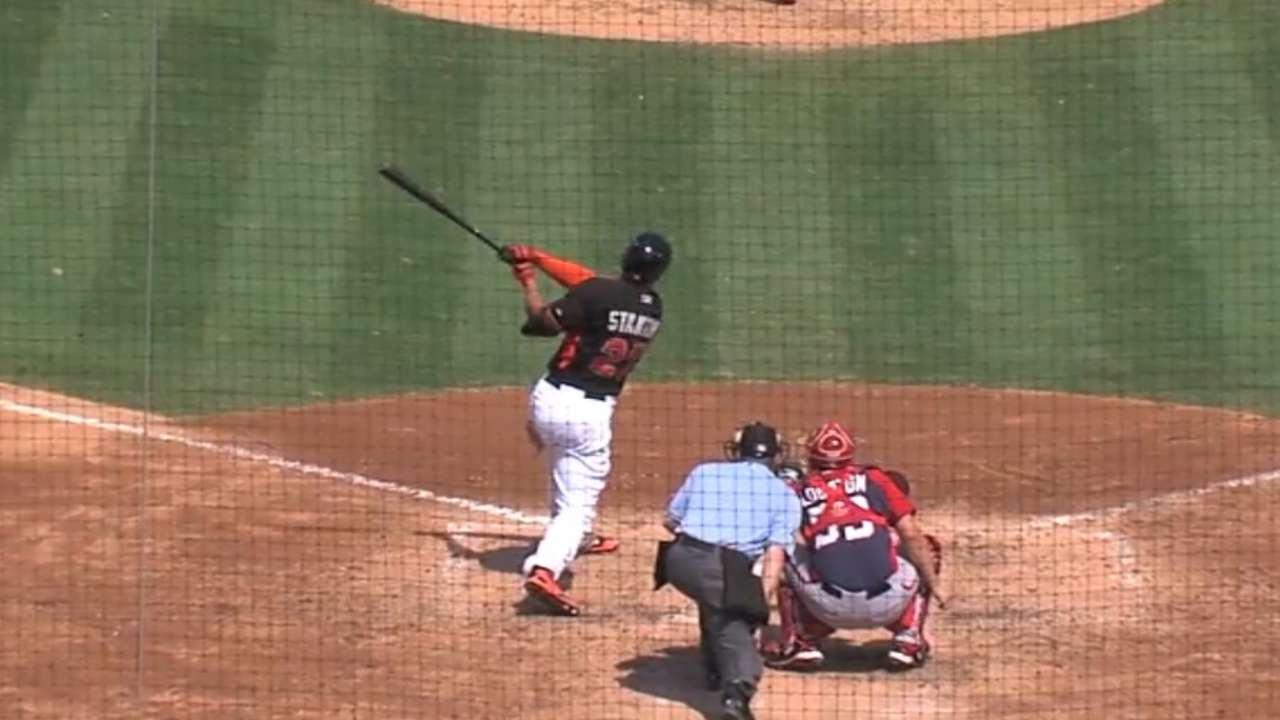 BRADENTON, Fla. -- A manager associated with neither the Pirates nor Marlins was asked which outfield he'd rather possess for the next four seasons -- the one in Pittsburgh, or the one in Miami?
"Tell you what," he said. "You pick first, and I'll take the other one."
Either this skipper was confident in my inability to choose correctly or he was making the point that you can't go wrong with either of these two young units. Let's stick with the latter.
Lest you think this column on one of baseball's better brewing debates is going to take a firm stance in either direction, let me just admit to copping out from the start and say I don't have a favorite. Andrew McCutchen, Starling Marte and Gregory Polanco. Giancarlo Stanton, Christian Yelich and Marcell Ozuna. I would take either outfield over any other in baseball at the moment.
Yes, Matt Kemp, that means the Padres are not No. 1, despite your recent claims to the contrary. Too many defensive question marks there. And though the Nationals might have an argument, it's a harder argument to make with Jayson Werth coming back from right shoulder surgery and Denard Span on the mend from dual middle-body procedures.
What the Pirates and Marlins have in their expansive outfield terrains is rare. Each of these outfields has a legit National League Most Valubale Player Award candidate, each has a beautiful blend of power potential and defensive might, and -- best of all -- each is under contractual control for the foreseeable future (the Pirates group through at least 2018, the Marlins unit through at least '19).
Let's analyze these outfields in three pairings.
THE MVP APPLICANTS
RF Stanton
2014 WAR (Baseball Reference): 6.5
2015 projected WAR (Baseball Prospectus): 5.9
CF McCutchen
2014 WAR: 6.4
2015 projected WAR: 4.9
NL MVP voters were spared from an intense debate by the historic pitching performance of Clayton Kershaw and the fastballs that hit McCutchen's ribs and Stanton's face.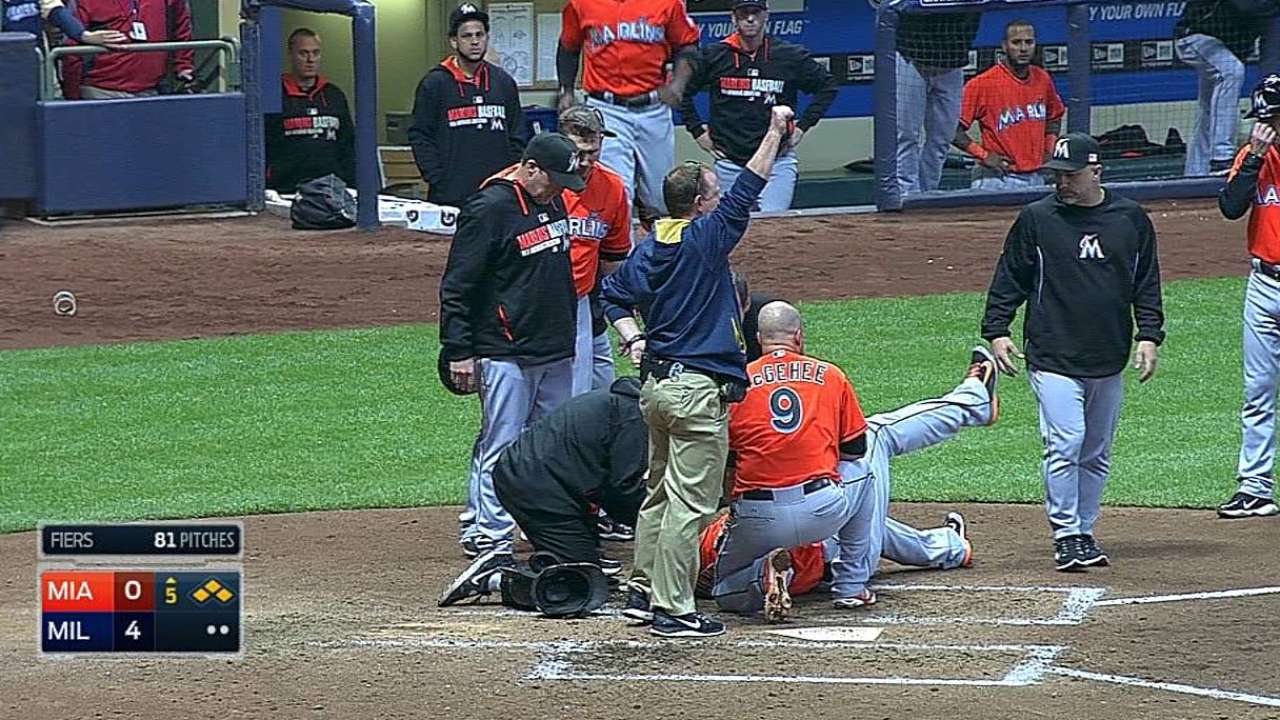 After fracturing a rib on a retaliatory plunking in Arizona in early August, McCutchen spent the minimum 15 days on the DL, then played through substantial pain to put together a September surge (.347/.452/.589) for a Pirates team fighting for its postseason life. Stanton had a .950 OPS, 37 homers and 105 RBIs on Sept. 11, when an errant pitch from Mike Fiers struck him in the face.
Though McCutchen, the 2013 MVP, is currently nursing lower body soreness that has kept him out of the lineup the past week, and Stanton now wears a protective helmet, both men are expected in the Opening Day lineup, ready to wreak havoc. These are very different players with very similar abilities to alter the course of a ballgame -- McCutchen with his five-tool talents, Stanton with his unmatched ability to mash a baseball and his rapidly improving plate discipline and defense.
"There's nobody in my 30 years of playing, managing and coaching," said Marlins coach Brett Butler, "who works harder than Stanton."
The Pirates, meanwhile, already knew they loved McCutchen. But they learned something new about him in '14, when he patiently fought through an early season period in which he couldn't buy a pitch to hit and when he posted up despite pain in the season's home stretch.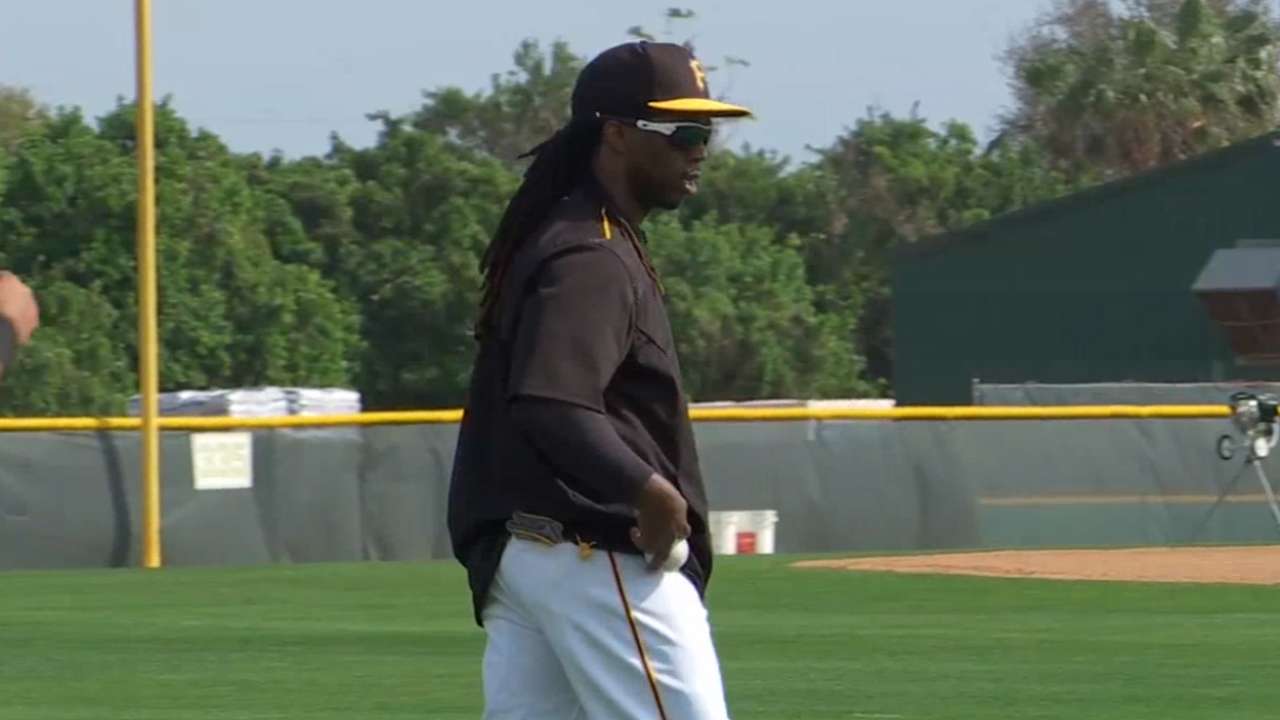 "Andrew has that ability and God-given desire to compete at a high level, regardless of the weather or the sore ribs or whatever," Pirates coach Rick Sofield said. "You hang your hat on guys like that."
Stanton will probably be worked around more frequently this year, a la McCutchen (whose percentage of pitches seen in the zone has declined six percent since his 2010 arrival, per FanGraphs) last year.
"It can be frustrating at times when you're up there wanting to hit, and they're pitching around you," McCutchen said. "I wanted to be the guy who came through all the time and got out of my zone sometimes. That happens. But he's dealt with that, too."
THE EMERGING ALL-STARS
LF Yelich
2014 WAR: 3.6
2015 projected WAR: 3.0
LF Marte
2014 WAR: 5.1
2015 projected WAR: 2.3
The Marlins' decision to make a seven-year commitment to a left fielder coming off his first full season was a demonstration of their faith in Yelich. It's the same demonstration the Pirates made one year ago, when they gave a six-year extension to Marte under the exact same circumstances.
This is how these two fared in their first full seasons:
Marte ('13): .280 AVG, .343 OBP, .441 SLG, 121 OPS+, 12 HR, 26 2B, 10 3B, 35 RBIs, 41 SB
Yelich ('14): .284 AVG, .362 OBP, .402 SLG, 112 OPS+, 9 HR, 30 2B, 6 3B, 54 RBIs, 21 SB
Marte, 26, doubled-down by posting nearly identical numbers in his second full season (his second straight with at least 10 homers and 30 stolen bases), but the notable difference is that he recovered after some major sophomore slump issues in the first half. His second-half slash line of .348/.408/.567 was particularly pertinent given McCutchen's absence for half of August.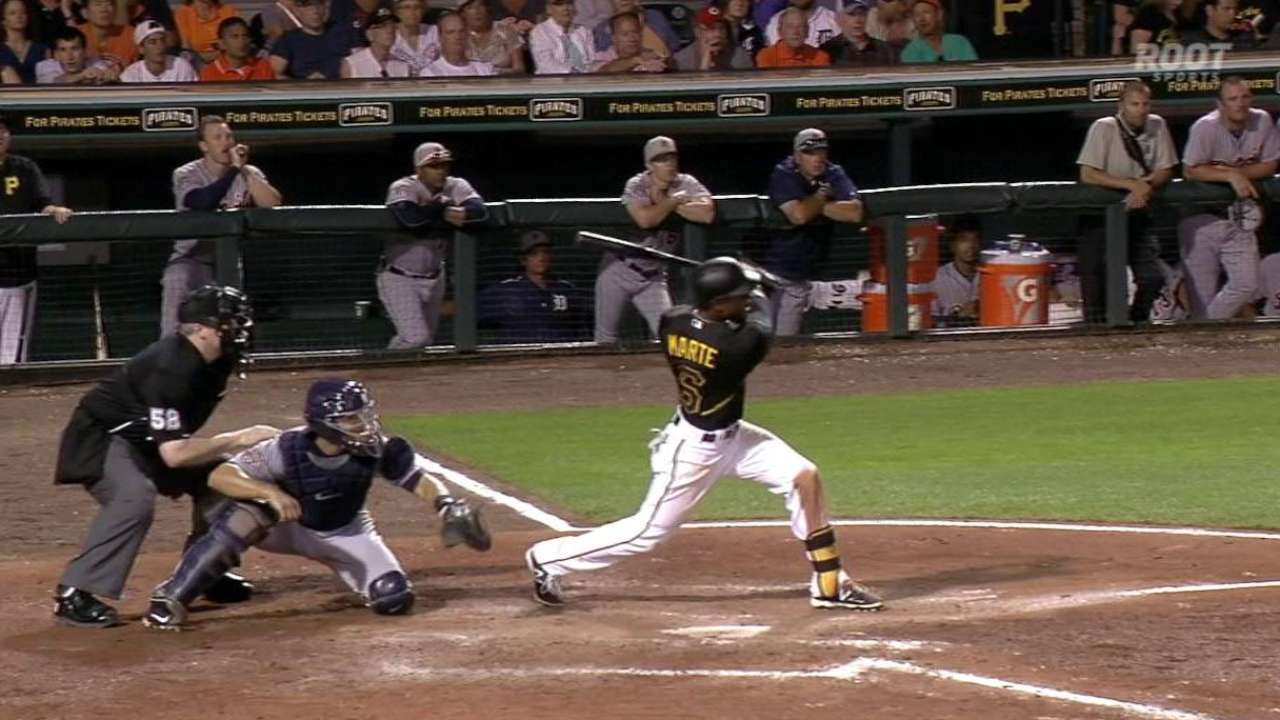 It remains to be seen how Yelich handles that inevitable second-year adjustment, but his on-base ability is rare for a 23-year-old, and the Marlins believe he has both the discipline to win a batting title and the body type to develop more power.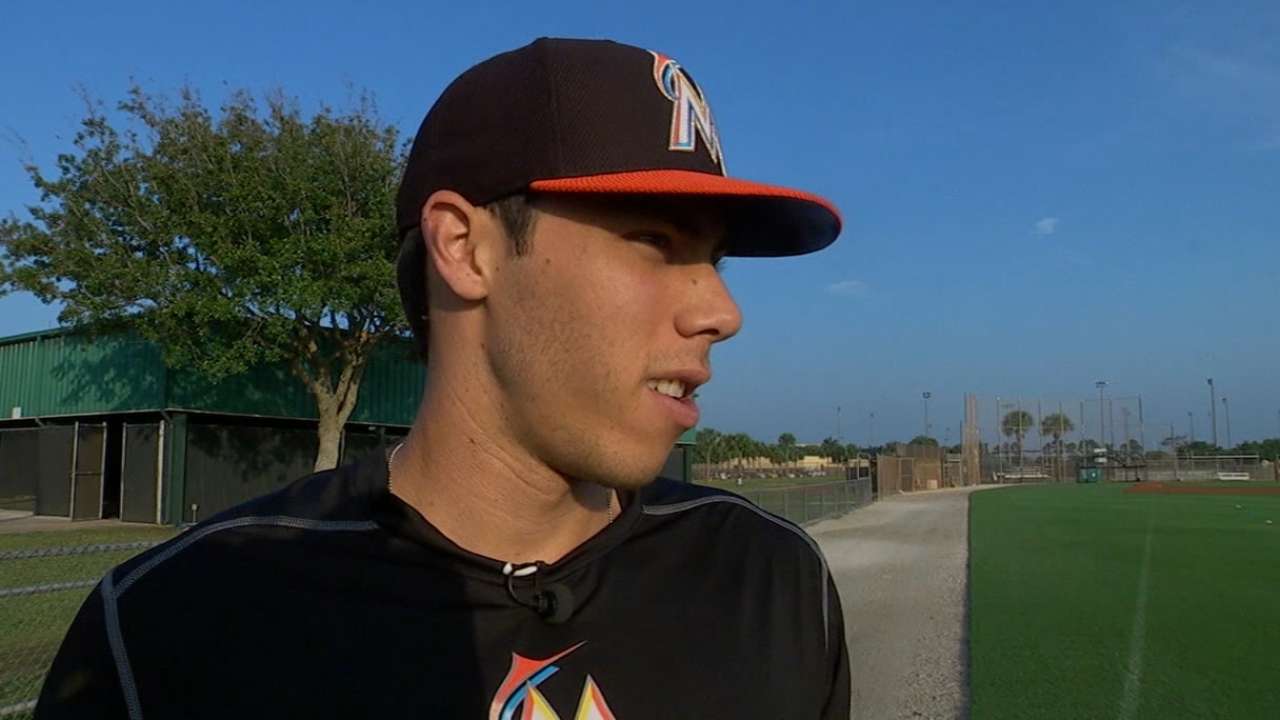 That's why the Marlins bet on Yelich with the long-term deal. The Bucs bet on Marte because of his power-speed combo and because the impact defense he provides as a natural center fielder is such an asset to them in the expansive left field of PNC Park.
"Point guards, quarterbacks and center fielders are in the same mold -- they're born, not made," Sofield said. "Marte is a pure center fielder that's playing left field for us. So what a blessing to have him when Andrew went down."
THE X-FACTORS
CF Ozuna
2014 WAR: 4.4
2015 projected WAR: 1.1
RF Polanco
2014 WAR: 0.0
2015 projected WAR: 2.7
As you can see from last year's WAR totals and this year's projections, it's hard to know exactly what to expect from Ozuna and Polanco. Both have game-changing power, though Ozuna, who hit 23 homers while playing his home games in a huge ballpark last season, provides his at a position that, rare birds like McCutchen aside, is not usually known for it.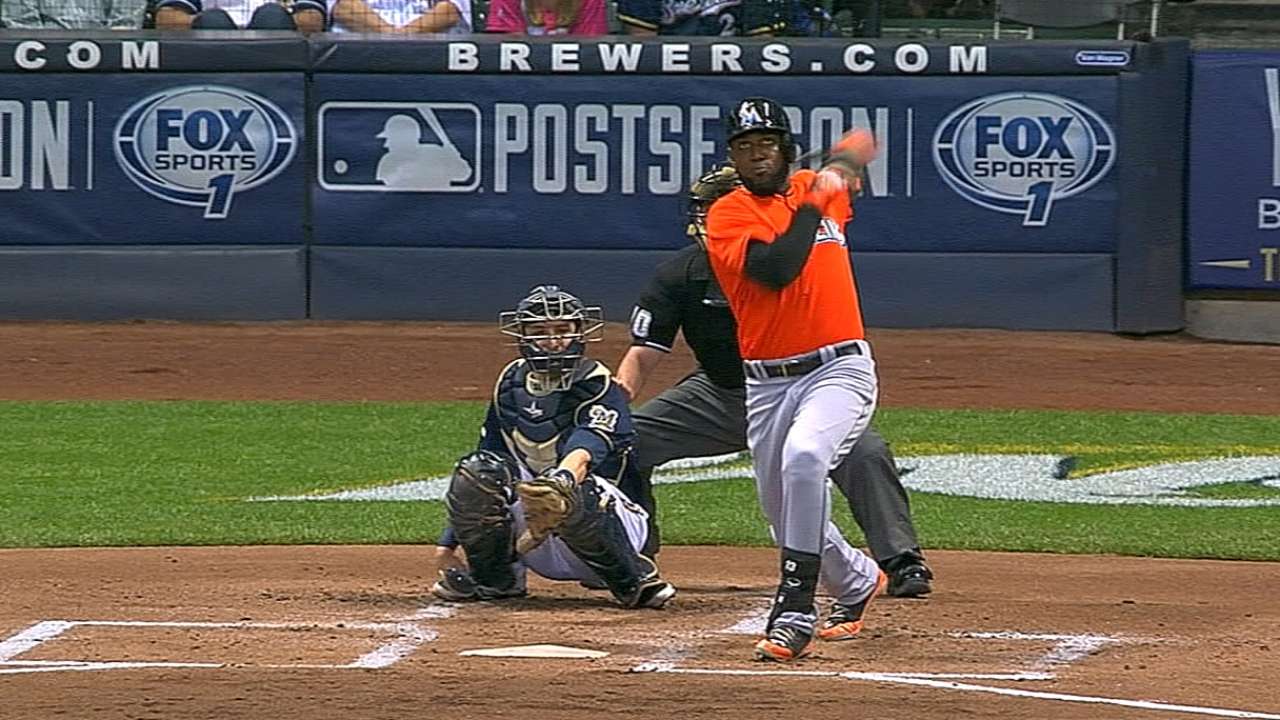 "He reminds me of a young Raul Mondesi, without the speed," Butler said. "He's got that great cannon for an arm, and he's going to hit his 25 or 30 home runs."
The 24-year-old Ozuna skipped right past the Triple-A level on his way to the big leagues, and now he can slot right in alongside Stanton and Mike Morse to give the Marlins a dynamic 3-4-5 punch.
As for Polanco, the sky's the limit given his raw talent, impressive body and what he accomplished in the Minors. But last season was a struggle for him, especially against same-sided (left-handed) pitching. The Pirates were lambasted for delaying his callup until June, but they were right in their assumptions that the first break-in would present some problems for Polanco, who had a .235/.307/.343 slash line at year's end (and remember that when you debate the Cubs' current handling of Kris Bryant).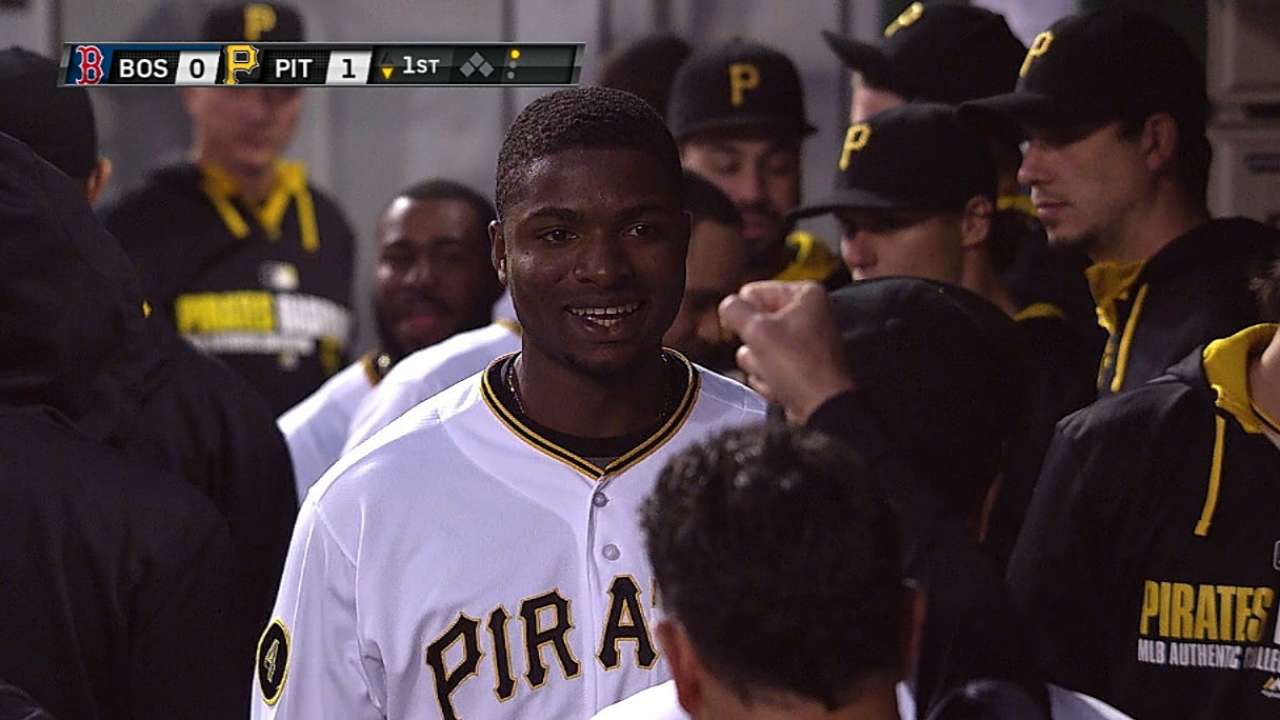 With 15 pounds of added muscle and a better understanding of the sinkers and the inside pitches he's going to see on a nightly basis, we'll see how Polanco, who has struggled this spring, responds.
THE BOTTOM LINE
The Marlins' 14.5 WAR total from their three primary outfielders last season was the highest in baseball, and it's amazing that none of those three guys is older than 25.
As for what the future holds, the above projections call for a 10-WAR season from Stanton, Ozuna and Yelich and a 9.9-WAR year from McCutchen, Polanco and Marte.
We'll call it a draw.
As far as depth goes, the Pirates' fourth outfield situation is far less settled than that of the Fish. The Pirates have Andrew Lambo, Jaff Decker and Jose Tabata duking it out under the Florida sun (and Corey Hart could see some time in right this season), while the Marlins brought Ichiro Suzuki aboard for a bench role in his age-41 season.
Anyway, it's the primary trio that is of the utmost interest, and it's a safe bet that neither the Marlins nor Pirates would trade their own outfield for the other.
The rest of baseball, meanwhile, would happily grab either one.
Anthony Castrovince is a reporter for MLB.com. Read his columns and follow him on Twitter at @Castrovince. This story was not subject to the approval of Major League Baseball or its clubs.