Norris slows things down to improve command
Lefty satisfied with 5 2/3 innings vs. Rays, hopes to remain poised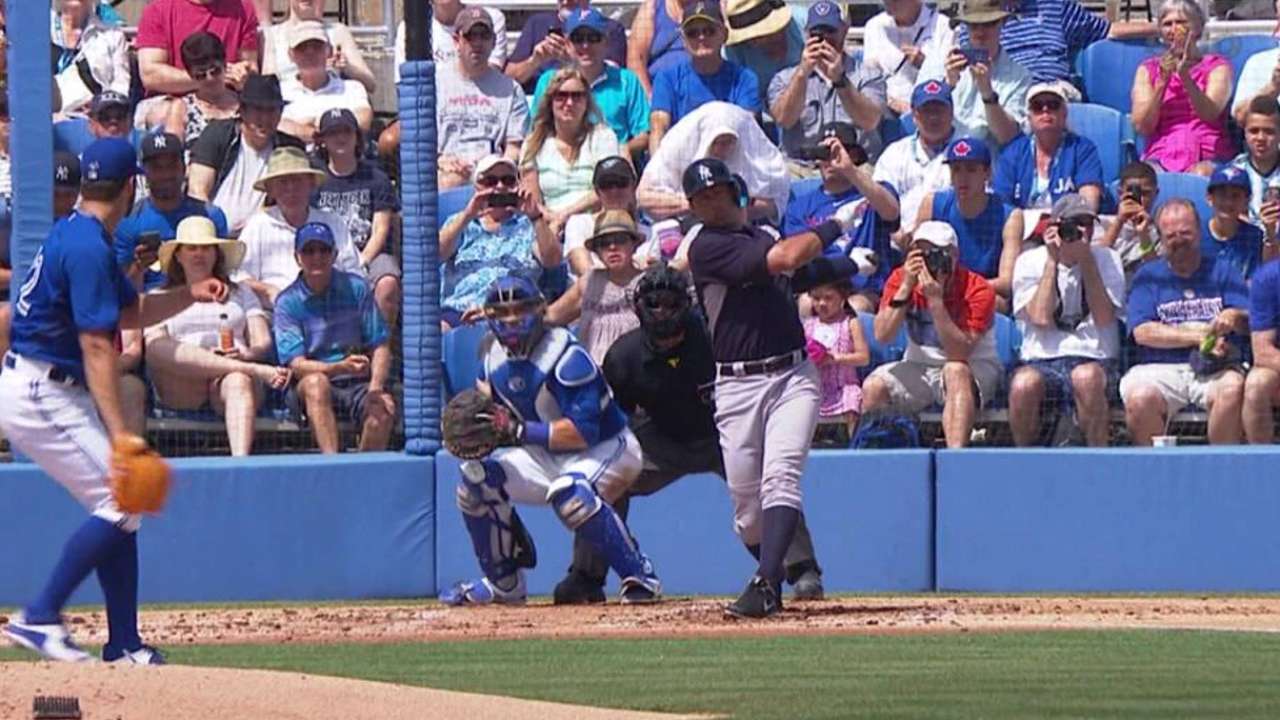 PORT CHARLOTTE, Fla. -- It might only be Spring Training, but Daniel Norris is showing early signs of being able to learn from one outing and applying that knowledge to his next start.
During his last appearance against the Yankees, Norris got the final results he wanted but wasn't happy with the process. He was rushing, which caused problems with his mechanics and ultimately had a negative impact on his command.
Blue Jays catcher Russell Martin talked after that game about the need for Norris to keep his emotions in check. The pair talked about some breathing exercises Norris could do while on the field to slow things down, and Norris put that to the test in the Blue Jays' 11-5 win over the Rays on Friday.
"My command wasn't good because I was just rushing everything," Norris said of that start vs. New York. "We talked about tempo and being too anxious to throw the next pitch, and today I did a lot better job of just calming down, taking a breath, and even if it's two to three more seconds between pitches, I saw what it did to my command. It was night and day really. To be able to see that is encouraging."
Norris got off to a slightly rocky start against Tampa Bay by allowing the first two batters of the game to reach base. He limited the damage to one run and then cruised for most of the afternoon. The native of Tennessee was charged with the one run on five hits and one walk while striking out five over 5 2/3 innings.
It was an increase of two innings compared to his outing against New York, and strong command of the strike zone is the main reason he was able to remain stingy with his pitch count. Tampa Bay tried to attack early in the count, and Norris was able to exploit that with sinkers located down in the zone that led to a lot of grounders.
Norris admits he's always going to be a fast worker, and although that's normally a positive, he can also overdo it at times. In conversations with Martin and veteran left-hander Mark Buehrle, Norris is trying to find that common ground between working fast but also maintaining good rhythm and poise.
"I guess it all goes back to having fun out there, the excitement, the adrenaline, and being able to corral that is the name of the game," Norris said when explaining his tendency to go a little too fast at times.
"Breathing in between pitches, trying not to work as quickly. Inevitably I'm going to be a quick worker, that's just how it is, but if I can just slow it, one, two, three more seconds, it makes a huge difference."
Gregor Chisholm is a reporter for MLB.com. Read his blog, North of the Border, and follow him on Twitter @gregorMLB. This story was not subject to the approval of Major League Baseball or its clubs.