Kershaw shows ace stuff vs. A's despite scare
Lefty takes line drive off jaw in third inning, but goes five strong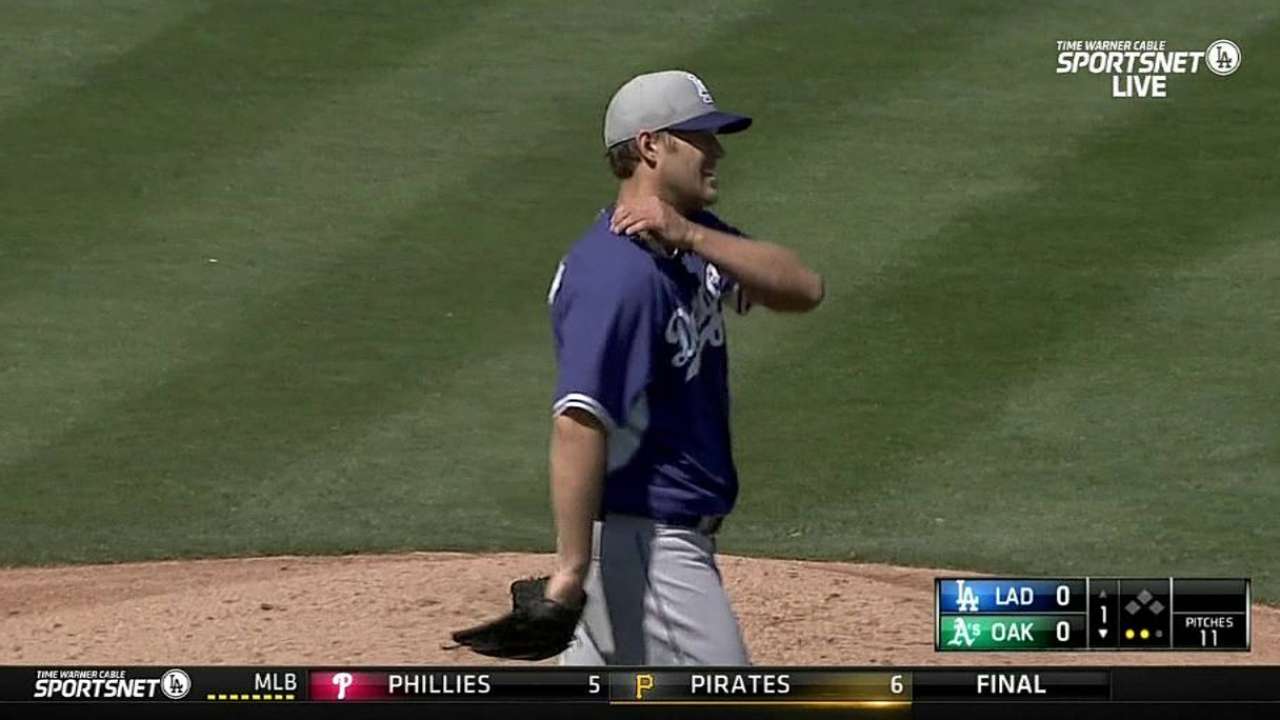 MESA, Ariz. -- Both aces -- Clayton Kershaw for the Dodgers and Sonny Gray for the A's -- turned in solid outings Friday afternoon in Oakland's 3-2 walk-off win.
After the A's loaded the bases against Blake Smith on a walk, a double and an intentional walk in the ninth, they scored the tying run on a double play, and Luke Carlin plated the game-winner with a single.
What nearly became the story of the game, however, was an injury scare for Kershaw in the third inning.
He was struck in the left side of his jaw by a broken-bat liner hit by A's third baseman Andy Parrino. But after a visit from the trainers and one warmup pitch, Kershaw remained in the game through the fifth inning.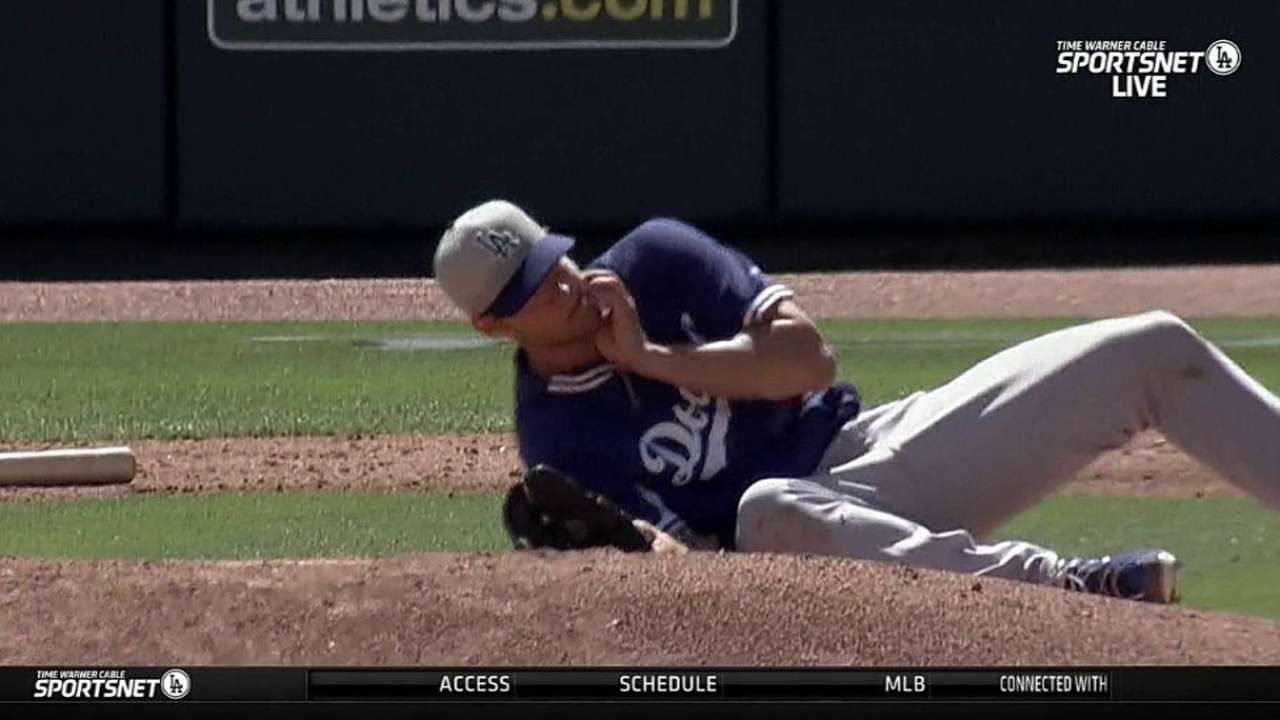 "Scare? Yeah, I guess so," Kershaw said. "It felt like getting hit by a pitch. Nothing serious. I don't think I panicked too much. It was sore. I think I lost some tooth. I spit it out, and we got it. I assume tomorrow, I'll be sore. I feel fine now."
The Dodgers' ace retired 15 of the 18 batters he faced, allowing one run on three hits while fanning four. He also contributed at the plate, hitting a single in the first at-bat of spring for any Dodgers pitcher.
Gray, the A's Opening Day starter, tossed three scoreless frames before the Dodgers got to him in the fourth with back-to-back singles to open the inning, eventually plating both baserunners.
Gray recovered to retire five of his last six batters and exited the game one out into the sixth inning. The 25-year-old right-hander allowed two runs on four hits and two walks and struck out three in his third Cactus League start.
A's left-hander Barry Zito, in the midst of a comeback bid after missing the 2014 season, fanned five in three perfect innings.
Up Next: Zack Greinke is the starting pitcher for the Dodgers against the Rangers in their split-squad game in San Antonio at 11:05 a.m. PT on Saturday. Chad Gaudin leads the other L.A. contingent against the Rockies at Talking Stick at 1:10 p.m. Watch both games live on MLB.TV.
Chad Thornburg is a reporter for MLB.com. This story was not subject to the approval of Major League Baseball or its clubs.