Sale completes live BP session
Lefty throws four sets of 15 pitches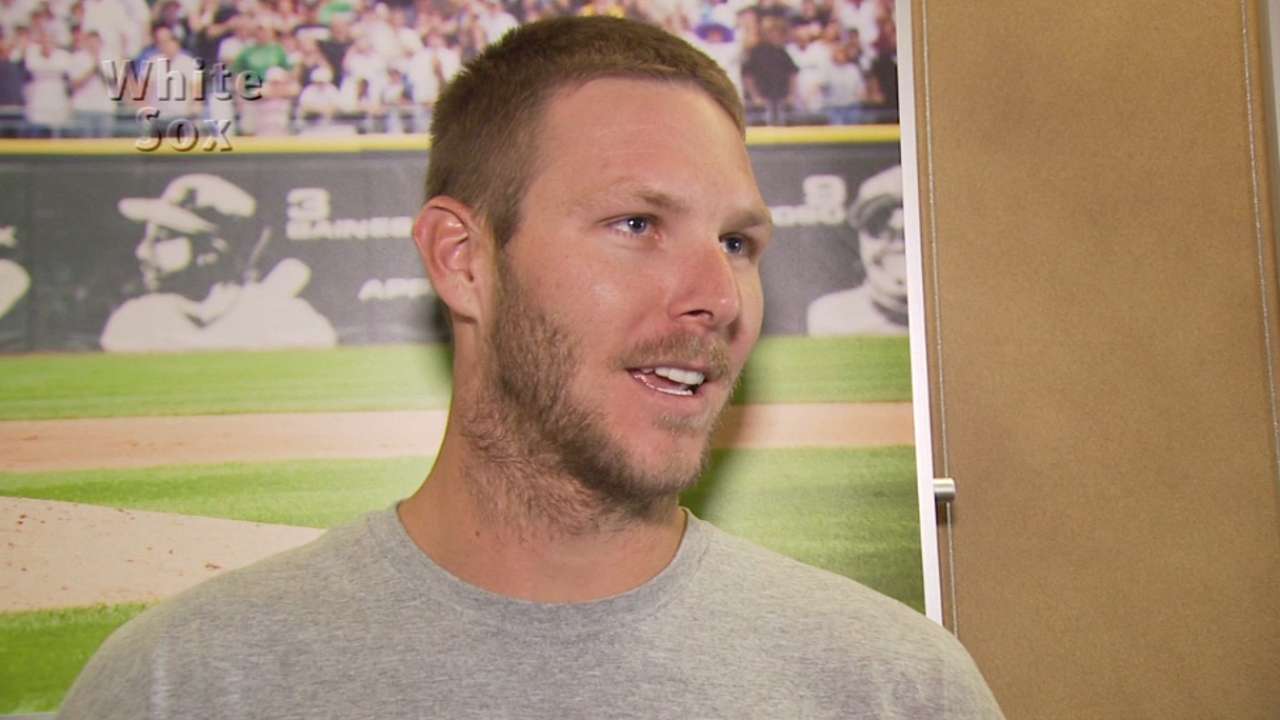 GLENDALE, Ariz. - Chris Sale threw a live bullpen session Friday at Camelback Ranch, an indicaton he is moving in the right direction in his recovery from an avulsion fracture in his right foot sustained on Feb. 27 during an accident at his Arizona home. Sale originally was thought to be away from baseball activities until at least March 21, which is Saturday.
"Sale had a really good day today," said White Sox general manager Rick Hahn of the team's left-handed ace.
As part of his live BP, Sale threw four sets of 15 pitches and went full bore for the most part. Sale is expected to further update his progress during his Saturday session with the media.
"He remains on track to not miss significant time," Hahn said. "For the reasons Chris eloquently said, we're not going to set a specific date. We're working with what we expect internally in terms of the timing of him coming back and so far, knock on wood, he is progressing as we had hoped."
The White Sox only need five starters during the season's first three weeks on April 12 and 21. They could opt for a fifth starter replacement if Sale isn't available on either of those dates or take a long reliever/spot starter instead.
"So it's just about building up that strength again," said White Sox manager Robin Ventura of Sale. "He looks great as far as his arm and letting it go."
• Bo Jackson threw out a ceremonial first pitch prior to Friday's contest, with Carlos Sanchez serving as his catcher.
• Carlos Rodon, Tyler Danish and Chris Beck, the No. 1, No. 7 and No. 13 White Sox prospects, respectively, according to MLB.com, have been collaborating to improve their repertoires. Rodon has talked to the other two about their changeups, while Rodon has offered advice on the slider.
"You get things from other guys, so you've got to give some back," said Rodon, who is scheduled to pitch in relief Saturday against the Royals. "Usually, the first thing I tell people when they ask me, 'How do you throw your slider?' to be honest, when I throw it, it's all fastball and you try to hit yourself in the cup pretty much. That's the best way to get your depth, keep it out front.
"The next thing I show them is the grip. It's a little different grip than a conventional slider that you're usually taught."
• Zach Putnam allowed home runs to Taylor Teagarden and Anthony Giansanti during the ninth inning of Friday's 10-7 loss to the Cubs. Putnam, whose 1.98 ERA topped the White Sox in 2014, has watched his spring ERA jump to 19.64 and is not a lock for the team based on last year's performance.
"We're counting on what he did last year, but you have to be able to back it up in spring, too," said Ventura of Putnam, who has been consistently up in the zone with his split-finger fastball. "There is no guarantee, as far as you did well last year. These guys have to continue to grind all the way to the end."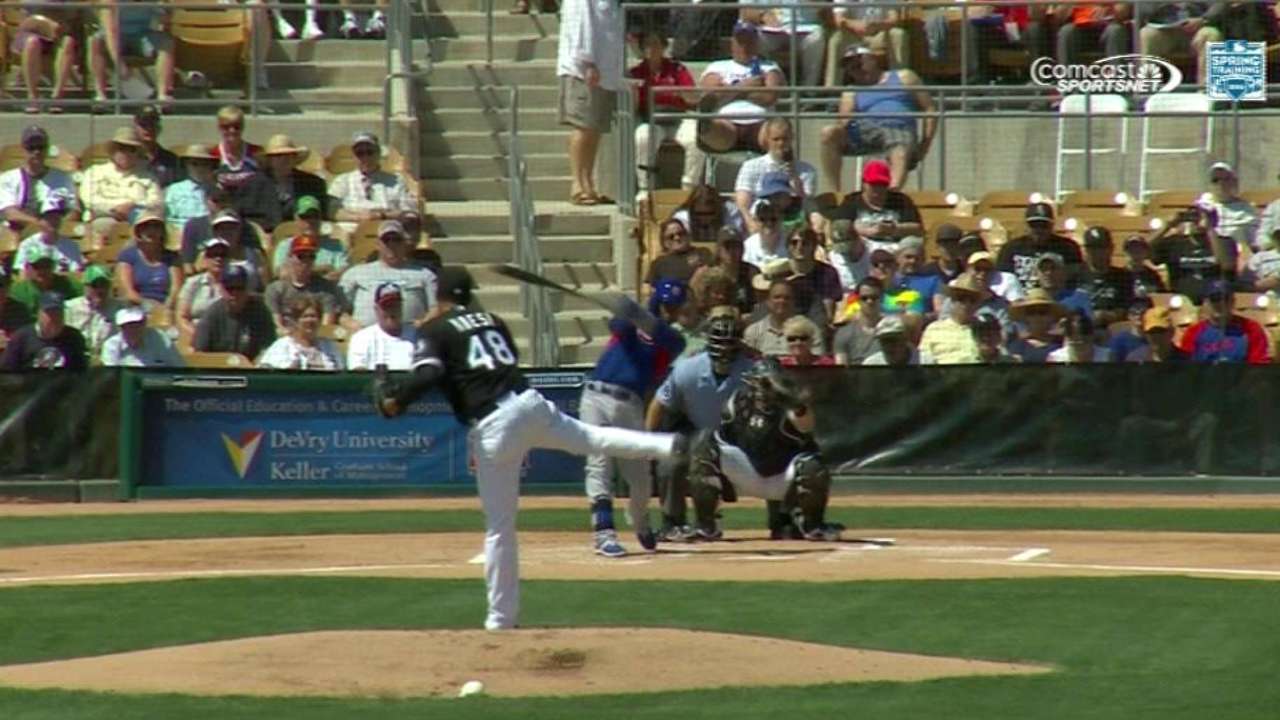 • Despite a strong Spring Training, during which Hector Noesi has posted a 2.89 ERA, he doesn't see himself as a roster lock. Ventura listed Noesi as a safe bet to be part of the White Sox rotation, but appreciates his sentiment.
"Anybody that has been in his spot, you look at where he was last year and where he's at, he's getting after it and not taking anything for granted," Ventura said. "You appreciate a guy like that."
Scott Merkin is a reporter for MLB.com. Read his blog, Merk's Works, and follow him on Twitter @scottmerkin. This story was not subject to the approval of Major League Baseball or its clubs.