Crain disappointed, but not deterred, by setback
Reliever forced to slow down rehab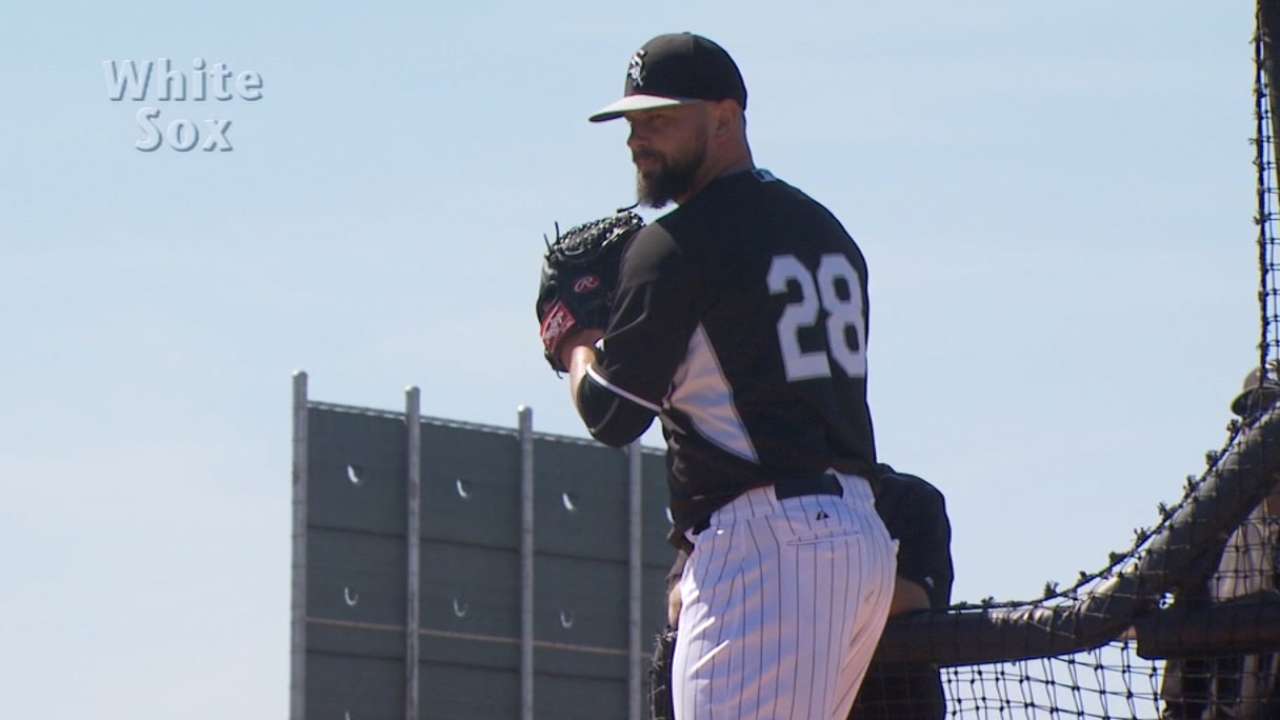 GLENDALE, Ariz. -- Jesse Crain's performance during live batting practice seemed to provide an outside shot for breaking camp with the team if his ensuing game action went well. But the veteran right-hander felt shoulder soreness Monday following what was deemed as his last live BP Sunday, keeping him out of taking that next step and leading to a few days break.
Crain, who has not thrown in a game since June 29, 2013, with the White Sox because of shoulder issues, tossed lightly on Friday and plans to do the same on Sunday or Monday. He has no idea when he'll be able to build back up to where he was Sunday, let alone return to game action.
"Given how long it's been since he pitched at the big league level, we kind of expected this was going to, for one reason or another, drift into the season in terms of his readiness," said White Sox general manager Rick Hahn. "What's going on with his shoulder barking at him and mild inflammation is not structurally a big deal and not totally unexpected. He still has a very real chance of helping us at some point, just not April 6."
Because he's with a team that knows him well, patience not only has been a virtue but has been required.
"I was trying to say from the very beginning I don't know how long it's going to take and what I'm going to go through," said Crain. "There's not an exact time frame or plan. It's just something that if it's another stepping stone, down a step, but hopefully to climb four or five more.
"When I was coming in, I was doing so well that there was an outside hope for maybe forcing the decision. Obviously at this point, I don't know how long it's going to take. I learned some things and hopefully we can figure out the right concoction to get me healthy."
That session thrown by Crain on Sunday, which drew rave reviews from the pitcher and White Sox manager Robin Ventura, marked his 10th time off the mound this spring. Experiencing the pain Monday was a bit frustrating because Crain knew immediately it was more than just regular soreness.
But the setback does not serve as a big-picture deterrent for Crain.
"I've been battling this for a year and a half, a year and three months since surgery and three months prior to surgery, so it's been a long road," Crain said. "I have to get to that point where I can do what I was doing Sunday and do it after that as well. It's walking a fine line, especially with your shoulder, just figuring out what you can do and the best way to get to that point. I'm not even going to say a [return date]. Hopefully sooner than later."
Scott Merkin is a reporter for MLB.com. Read his blog, Merk's Works, and follow him on Twitter @scottmerkin. This story was not subject to the approval of Major League Baseball or its clubs.