Kershaw hit by comebacker, but avoids serious injury
Left-hander takes broken-bat liner off jaw, chips tooth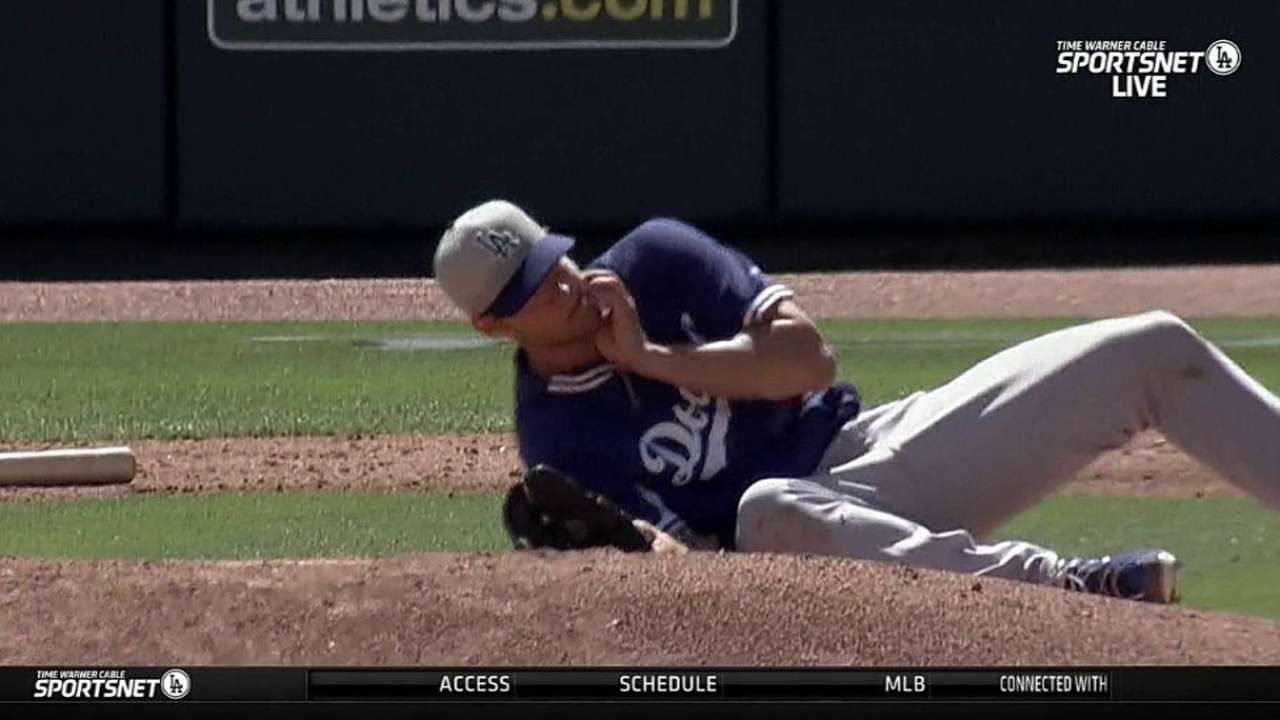 MESA, Ariz.-- After it was clear that 2014 NL MVP and media guide cover boy Clayton Kershaw's injury was nothing more serious than a broken back tooth, the jokes started flying.
"My first reaction: I felt that Gold Glove was a sham," catcher A.J. Ellis said after Kershaw was hit on the left jaw by a third-inning line drive Friday. "A broken-bat changeup? He should have made a double play."
Oakland infielder Andy Parrino's broken-bat liner was so soft, Kershaw conceded he "overshot it," throwing both hands in front of his face, but turning away as the ball struck his left jaw.
There was a red welt under his stubble afterward, but no blood on his face or in his mouth.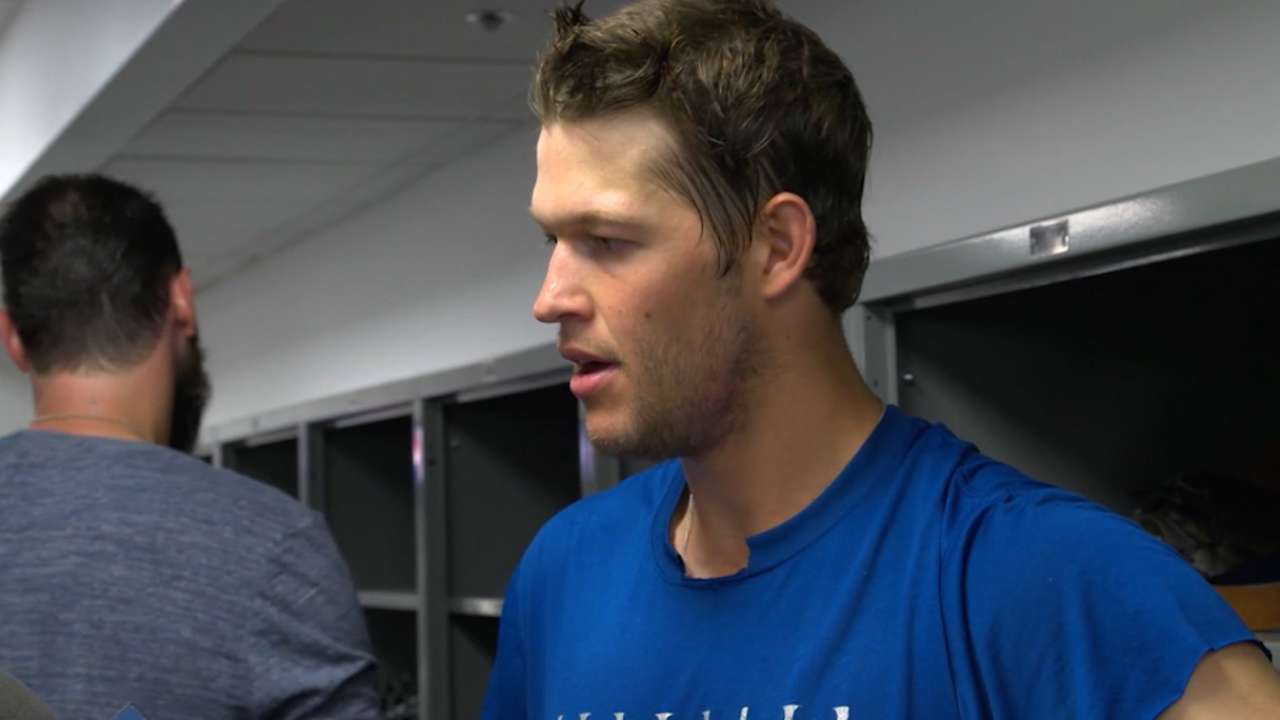 "I thought it was coming back faster than it was," Kershaw said, adding that he felt fine, but expected the area of contact to be sore on Saturday.
On the play, third baseman Juan Uribe took the carom and threw it past first base for an error that set up the only run Kershaw allowed in the Dodgers' 3-2 loss.
Kershaw didn't allow the incident to cut short his outing. Initially, he went to his knees and sat on the mound while being checked out by VP of medical services Stan Conte.
Once the medical department determined there was no serious injury, the baseball department went back to preparing Kershaw for Opening Day, only hours after it was announced that Hyun-Jin Ryu has a sore left shoulder that will probably put him on the disabled list.
Kershaw -- who earlier singled in the first at-bat by a Dodgers pitcher this spring -- took a warmup throw and went back to work.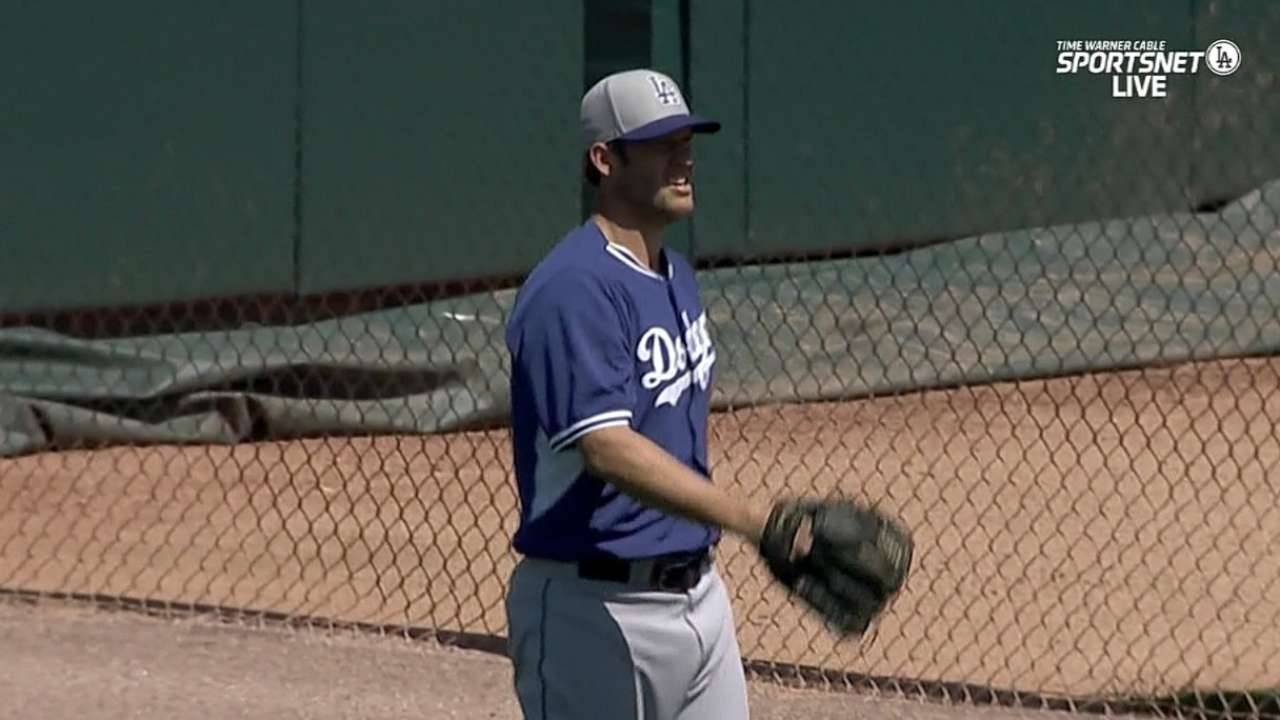 "If it was serious, I wouldn't have stayed in," Kershaw said. "It's not worth it in Spring Training. At the same time, there's only a couple more [starts] left, and I need to build up pitch count. That's kind of an important thing, to stay out there."
Kershaw finished with his anticipated five innings, allowing three hits (only one left the infield) and striking out four with no walks. He threw 15 more pitches in the bullpen afterward, and he considered the outing much improved over his previous start, which was aborted after 3 1/3 innings because of pitch count.
Kershaw retired the first seven batters he faced in the game, three on strikeouts. After being struck, he retired the eight of the next nine batters, including the last seven.
"My fastball command was better today, better slider depth," he said. "The curveball hit and miss, a few at the end I'd like to have back. Definitely an improvement from the last time out."
Manager Don Mattingly said he was "kind of scared a little bit. It scared all of us a little bit. But once we got out there, we could tell [Kershaw] was totally fine."
Pitching coach Rick Honeycutt said his clipboard hit the ground when he saw Kershaw hit the ground.
"He's got a hard jaw, I guess," Honeycutt said.
Asked if he was initially scared, Kershaw said, "Yeah, I guess so. It felt like getting hit by a pitch. Nothing serious. I don't think I panicked too much. I knew it wasn't super serious."
Parrino confirmed the bat broke on the fastball.
"I didn't square it up, but hit it at the right spot, I guess," Parrino said. "I don't think he saw it too well."
Kershaw said he'd never before been hit in the face by a liner, and he rejected the thought of wearing the caps that have added protection designed specifically for pitchers.
"It makes you look like Mario from Nintendo," he said. "I'm not a huge appearance guy, but I'd have trouble taking myself seriously."
Ken Gurnick is a reporter for MLB.com. This story was not subject to the approval of Major League Baseball or its clubs.