Prospect Drury among three optioned to Double-A by D-backs
Brito, Locante also sent to Minor League camp
SCOTTSDALE, Ariz. -- The D-backs made three roster moves prior to Friday's Cactus League game against the Brewers at Maryvale Baseball Park.
Outfielder Socrates Brito, infielder Brandon Drury and left-handed pitcher Will Locante were all optioned to Double-A Mobile and sent to the Minor League camp, D-backs general manager Dave Stewart announced.
"They all have bright futures in the organization," D-backs manager Chip Hale said before the game. "We want them to just continue their progress. Brito and Drury both have had plenty of at-bats in big league camp, but those at-bats are going to dry up pretty quick. Guys are going to be going nine innings. We're just running out of time."
Drury, ranked as the No. 7 prospect in the D-backs organization by MLB.com, had a fine spring, batting .435 (10-for-23), with three doubles, three homers, nine RBIs and a .533 on-base percentage in 15 games.
"[Drury] impressed in a lot of ways," Hale said. "We saw him in the Fall League and you could see the raw talent in bating practice and fielding ground balls. But to actually get him in games we had control of, he just played winning baseball. He just did all the right things and learning to play second base while doing it."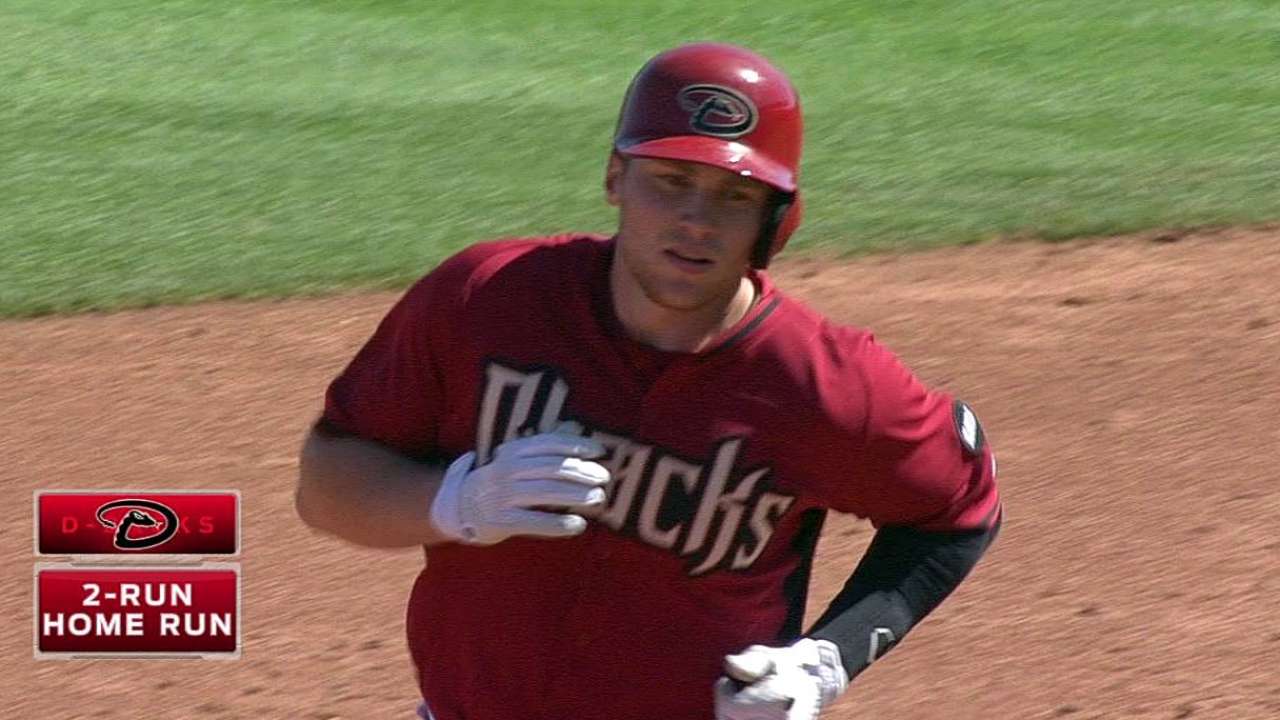 Brito, in his sixth season with Arizona, hit .222 (6-for-27) with two doubles and two RBIs in 16 games.
"[Brito] was really impressive," Hale said. "We all knew about Drury because of the Fall League, didn't know a whole lot about Brito, but he was just as impressive. He showed us a lot of instincts. You know people in camp are going to have physical talent, but you don't know if they're going to have that little edge. Both guys did."
Locante, in his fourth season with the D-backs, pitched in relief in three Cactus League games and allowed five runs (all earned) and eight hits in 2 1/3 innings.
"There were a few outings where right-handers were able to hit him," Hale said. "We want him to be able to get righties and lefties out and he knows that. His stuff plays in the Major Leagues right now. His fastball, velocity and slider are all big league quality. We just want him to be more consistent."
Barry M. Bloom is a national reporter for MLB.com and writes an MLBlog, Boomskie on Baseball. Follow @boomskie on Twitter. This story was not subject to the approval of Major League Baseball or its clubs.