Weeks' work at first delayed after illness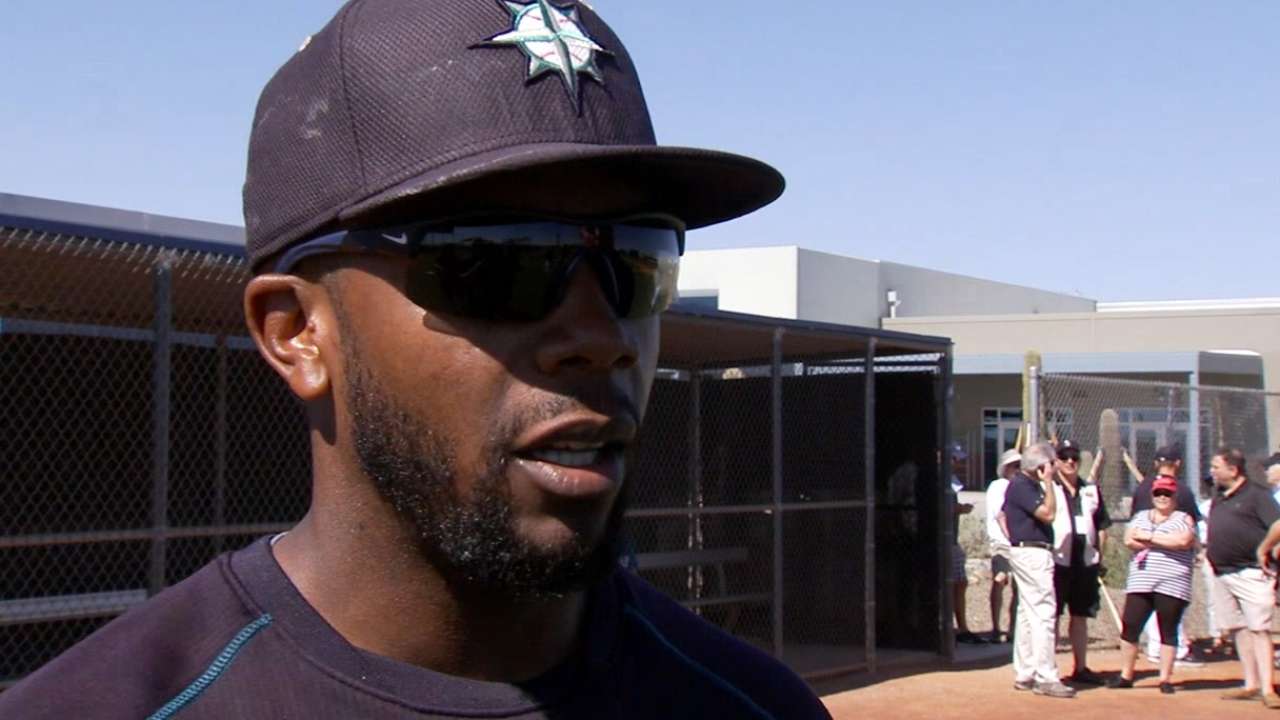 PEORIA, Ariz. -- The continued transition of Rickie Weeks to a Mariners utility player has been delayed slightly after the 32-year-old missed time Thursday with illness when he'd hoped to get some initial playing time at first base.
Weeks was back at work Friday and received extra at-bats in a Minor League contest, but didn't take part in the Mariners' Cactus League game against the Rangers. Manager Lloyd McClendon had hoped to get Weeks some work at first this week after spending the first month of camp working strictly in the outfield.
"We'd planned to take him out yesterday [against the Indians], but he was a little dehydrated and throwing up," McClendon said Friday morning. "He's going to get some at-bats at the Triple-A side today. He'll take it easy and we'll get him back out there tomorrow. As he progresses, we'll try to get him out there to start doing some things."
Weeks has played seven games and hit .294 in 17 at-bats, but McClendon acknowledged he's had little chance to show how he's progressing in the outfield in live action while splitting time in left field with Dustin Ackley.
"He really hasn't had a lot of plays out there," McClendon said. "It's amazing. He's getting his work in. He looks very good in the drills. [Outfield coach Andy Van Slyke] is pleased with his progress. But every time he gets in a game, nothing is hit to him. I think he's caught one fly ball. Ackley gets all of them.
"So we'll keep hoping some get hit out there to him. But I think he's going to be just fine. He's not going to be a Gold Glover in left field, but he'll catch the balls he's supposed to catch."
As for first base? McClendon has toyed with the idea of having Weeks available to back up Logan Morrison, but sounded less inclined in that direction Friday. Willie Bloomquist can also play first base and Ackley played there at North Carolina before being drafted by Seattle in 2009.
"I don't know," McClendon said. "We'll see what we've got over there. I'm not making any promises. One thing I will say, Ackley played college first base and he's pretty adept at it. I talked to him about doing it as well and he said, 'Yeah, I've got my first base mitt in my bag.' So he seemed like he was ready. We have some options."
Weeks never played anything but second base during his 11 years with the Brewers, but accepted a utility role when signing a one-year, $2 million deal with a Seattle club that already has Robinson Cano at that position.
Greg Johns is a reporter for MLB.com. Follow him on Twitter @GregJohnsMLB as well as his Mariners Musings blog. This story was not subject to the approval of Major League Baseball or its clubs.