Versatility key for Blackmon on offense
Rockies center fielder brings power to leadoff spot, but his focus is getting on base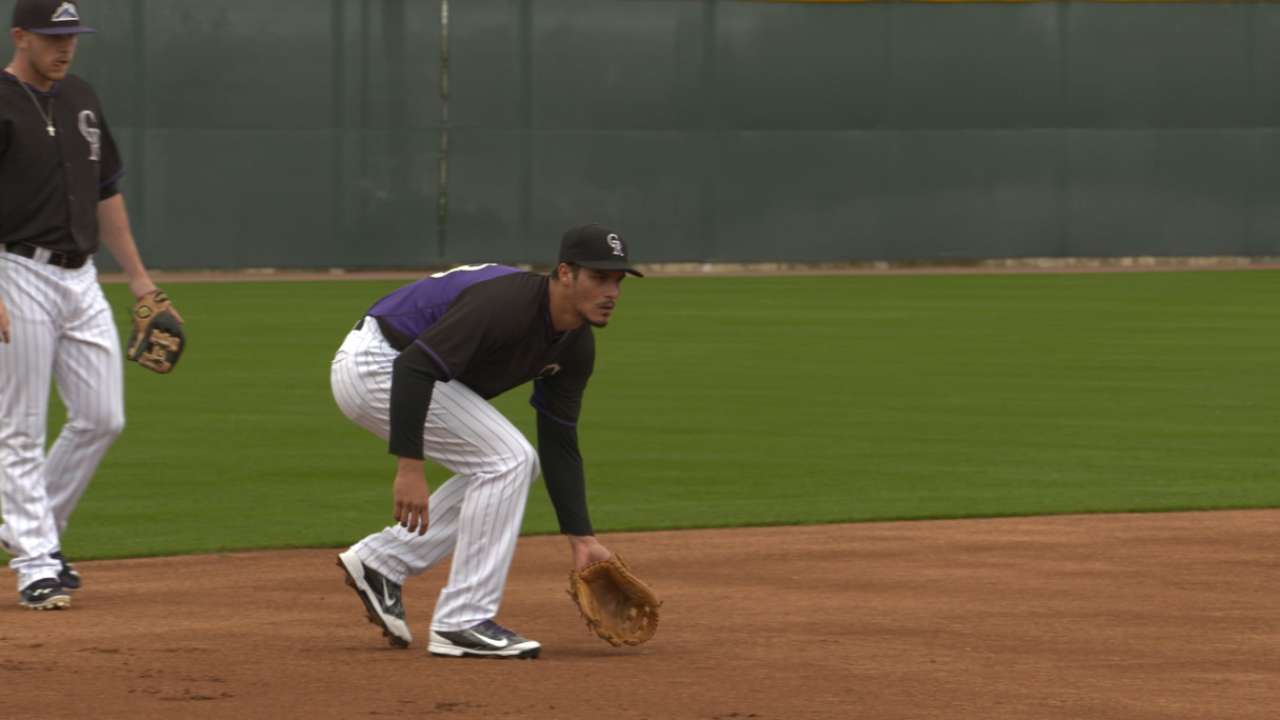 SCOTTSDALE, Ariz. -- Rockies center fielder Charlie Blackmon didn't care that Royals pitcher Jason Vargas and third baseman Ryan Roberts were expecting him to attempt to bunt for a hit with runners at first and second in the second inning on Thursday.
Blackmon had squared the first pitch of the at-bat, which missed for a ball. Blackmon then bunted the next pitch, and all runners were safe easily.
"I wanted to see what I could get away with," Blackmon said. "It was a good situation to do it."
It's all part of Blackmon's offensive growth, which should come in handy for a club that scores big at home, but needs to do more with the bats on the road.
"I want to take those situational at-bats in Spring Training and use them for what they are," he said. "For me, there's more of an emphasis on executing team at-bats."
Blackmon's 19 home runs from the leadoff spot in 2014 were one fewer than the Major League leader, the Brewers' Carlos Gomez. But Blackmon has leadoff-type speed, as evidenced by his 28 steals last season, including six of third. He finished last year with five bunt hits. While he's not going to morph into Dee Gordon (20 bunt hits, but just two homers), Blackmon can run well enough to make it a way of keeping an inning going when the lineup turns over.
"You don't want to take away things he does well, but in situations where we need him to do leadoff hitter things, he needs to be able to execute," first-base coach Eric Young said. "He has to be the one to get the inning to those big guns, with him on base. If he's able to do that at a high rate, you'll see us score more runs, you'll see the big boys smile a little bit more, and you'll probably see a higher on-base percentage on a consistent basis. He's done a lot of homework this Spring Training to get himself in that position. He'll have a higher on-base percentage."
Blackmon started later than usual because of abdominal tightness early in camp. He also started his spring by taking more pitches than normal. He has a .200 batting average (3-for-15), but he went 2-for-4 on Thursday, which seemed to be a sign that Blackmon is approaching regular-season aggressiveness.
"I'm starting to crank up the intensity," Blackmon said. "I've got a few different approaches during the season and I'm getting toward using those."
Thomas Harding is a reporter for MLB.com. Read his blog, Hardball in the Rockies, follow him on Twitter @harding_at_mlb, and like his Facebook page, Thomas Harding and Friends at www.Rockies.com. This story was not subject to the approval of Major League Baseball or its clubs.