Velocity down, Henderson exits big league camp
Former closer will continue to pitch at Minor League camp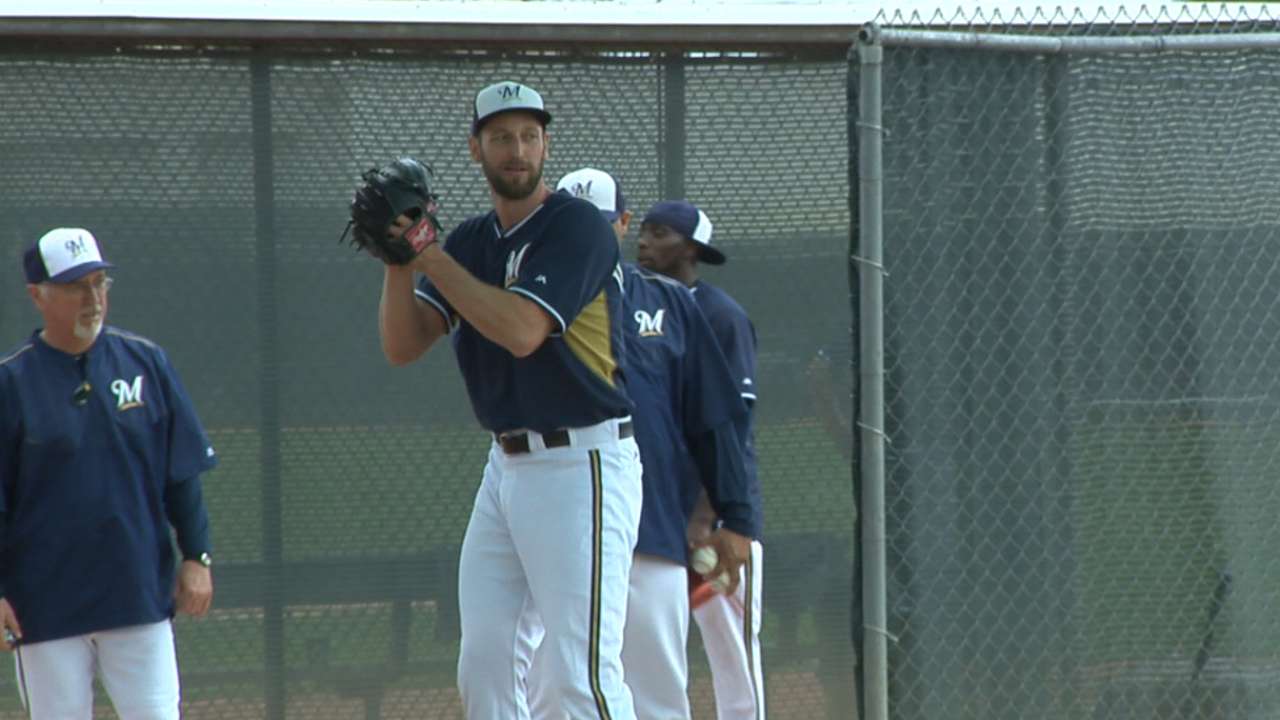 PHOENIX -- Jim Henderson's slow comeback from shoulder surgery will continue in the Brewers' Minor League camp.
Without immediately making a formal roster move, the team on Thursday removed its former closer from big league camp and sent him across the parking lot at Maryvale Baseball Park, where Henderson will seek to reclaim lost velocity amid the more informal Minor League environment. Since having surgery last August to remove bone spurs and repair a frayed rotator cuff and labrum, Henderson's fastball velocity has been 5-10 mph lower than its peak two years ago.
"We'll have some clarity here shortly," assistant GM Gord Ash said. "We're just kind of in a grey area here."
Henderson passed an entry physical at the start of Spring Training, has said repeatedly this spring he feels healthy and strong, and owns a 2.25 ERA in four Cactus League appearances, with three hits, one walk and three strikeouts in four innings.
But after averaging 95.3 mph and routinely hitting 96-98 mph with his fastball in 2013, when Henderson spent most of the season in the closer's role, he was mostly at 88-89 mph this spring. In his most recent outing on Wednesday, Henderson touched 90 mph only once while pitching a 1-2-3 inning against the Royals.
He has a full complement of Minor League options remaining.
Sending him to the Minor League side was in part a matter of innings.
"As we're winding down camp here, the guys that you know are going to be on the club need to get their innings, and it becomes a reduced opportunity," Ash said. "If you're over there [in Minor League camp], you can pitch all the time."
"We'll see if we can get him going," manager Ron Roenicke said, "and bring back that stuff good enough to pitch up with us. … I think the big thing with him when we talked to him [Thursday] is getting back and getting healthy and feeling good, like you can go out there and get out Major League hitters. That's the thing when you have surgery, getting back to where you know you can get people out."
The fact Henderson was finding some success at reduced velocity was encouraging, said Roenicke, who suggested Henderson may have to embrace a new style.
"We talk about velocity a lot, but a guy doesn't have to get back to that velocity if he makes pitches," Roenicke said. "There's a lot of guys in our clubhouse who throw 90-91 [mph] and get people out."
Adam McCalvy is a reporter for MLB.com. Read his blog, Brew Beat, and follow him on Twitter at @AdamMcCalvy. This story was not subject to the approval of Major League Baseball or its clubs.