Smith has rough outing against Blue Jays
Right-hander looking to claim rotation spot, allows six runs on six hits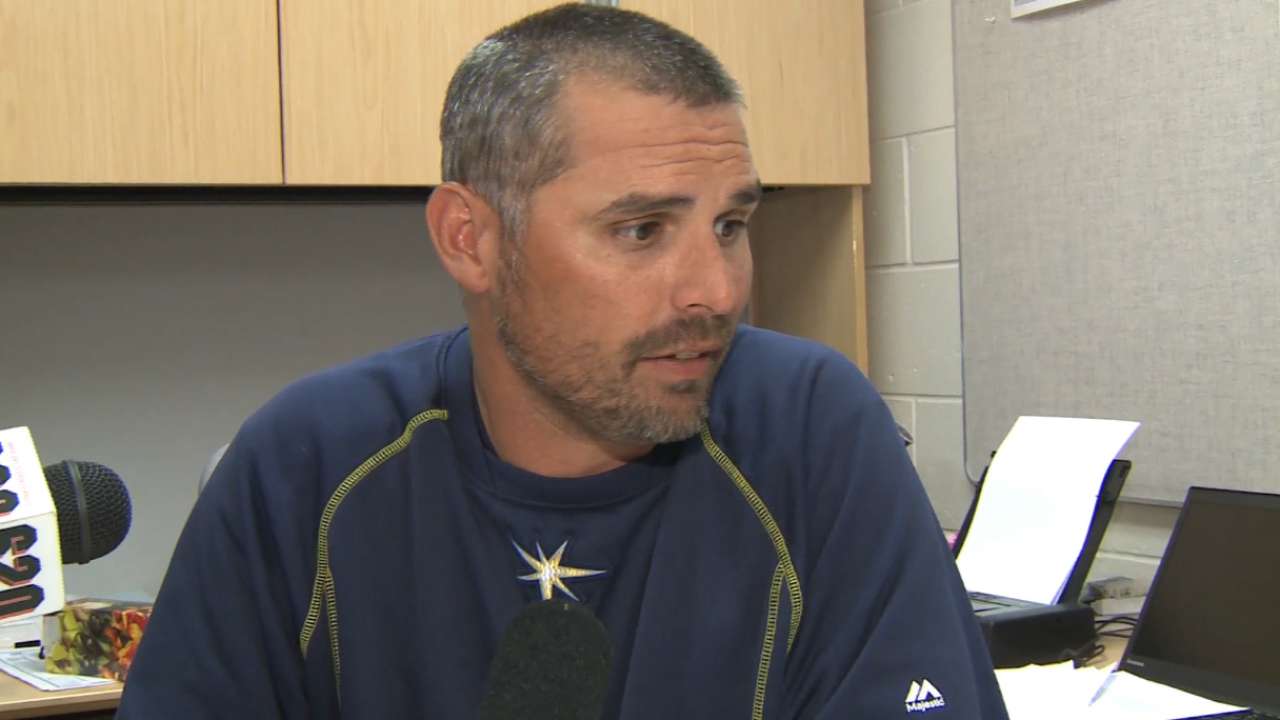 PORT CHARLOTTE, Fla. -- The Blue Jays defeated the Rays, 11-5, on Friday at Charlotte Sports Park.
The Blue Jays jumped on Rays starter Burch Smith in the first. Ezequiel Carrera tripled to right to start the game and scored on Maicer Izturis' single to right. Izturis later scored on first baseman Logan Forsythe's error on a fielder's choice.
Izturis exited the game in the top of the third with a strained groin, and pinch-hiter Mitch Nay replaced him.
Justin Smoak's two-run homer in the third pushed the Blue Jays' lead to 4-1.
Carrera's fourth-inning bunt drove home Ryan Goins, and Daric Barton had an RBI double for a 6-1 Blue Jays lead.
Smith, who is battling to claim one of the Rays' three spots in the rotation, allowed six runs on six hits and three walks while striking out three in 3 2/3 innings.
"Can't look at results. Just going off how I feel. I felt good," Smith said.
The Blue Jays' offense stayed busy in the fifth. Smoak added his second home run, a monster blast off Ernesto Frieri that landed on the roof of the Rays' offices in right field. Later in the inning, Goins added a two-run homer, giving the Blue Jays a 9-1 lead. A sacrifice fly by Josh Thole in the sixth brought the score to 10-1.
The Rays managed three runs in the bottom of the seventh with an RBI double by Joey Butler and a two-run double by Tim Beckham. Taylor Motter added one more on a fielding error in the bottom of the eighth to bring the score to 10-5.
Nay's RBI single in the top of the ninth gave the Blue Jays their final run.
Daniel Norris started for the Blue Jays. The left-hander is competing for the fifth spot in the rotation and allowed a sacrifice fly to Evan Longoria in the first and nothing else. He allowed five hits while striking out five in 5 2/3 innings.
"I threw like one curveball that was bad and sticking out in my mind, but I did a lot of good things," Norris said. "They were swinging early, so I kind of started playing towards that. A lot of sinkers down, getting a lot of ground balls. It was a good outing."
Up next: Jake Odorizzi will make his third start of the spring Saturday afternoon at Charlotte Sports Park when the Rays play the Twins in a 1:05 p.m. ET contest. Jeff Beliveau, Brandon Gomes, C.J. Riefenhauser, and Steve Geltz are also scheduled to pitch. Trevor May is slated to start for the Twins.
Bill Chastain is a reporter for MLB.com. This story was not subject to the approval of Major League Baseball or its clubs.