Pirates react to Olney's World Series prediction
Players proud they're being recognized, know they still have to go out and do it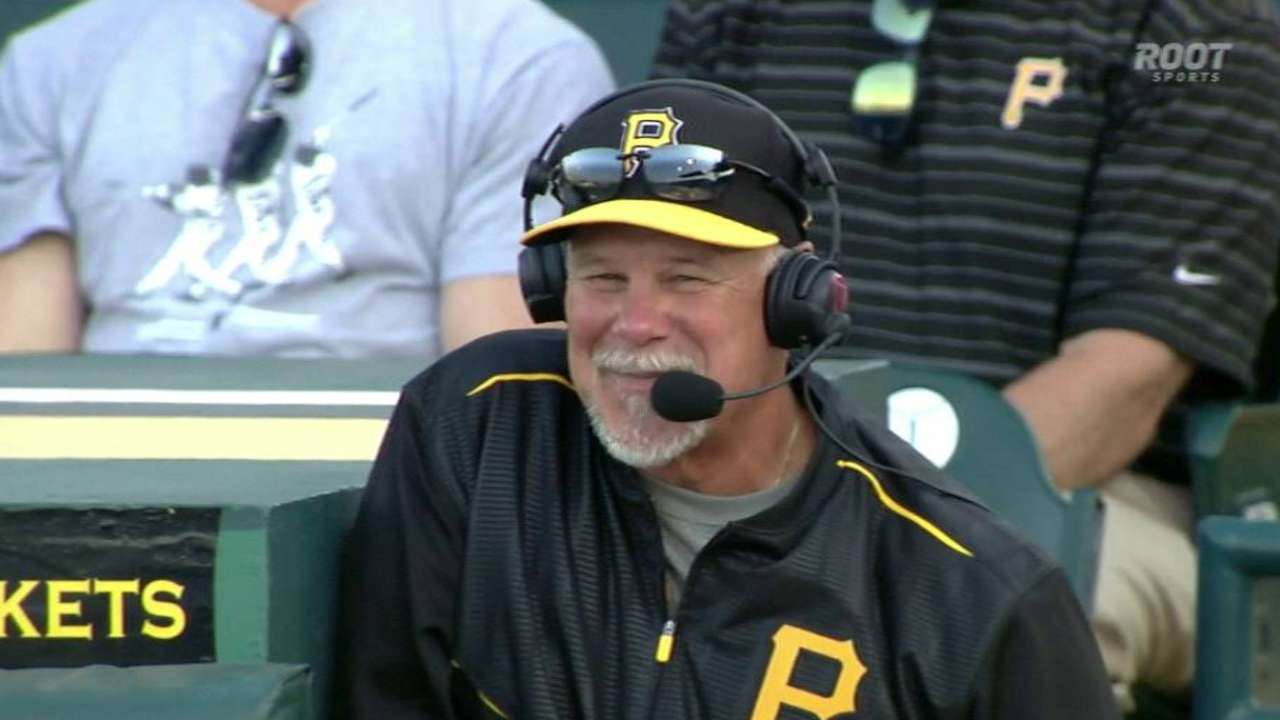 BRADENTON, Fla. -- Being chosen by a nationally recognized and respected reporter/broadcaster to win the 2015 World Series did not provoke the perhaps expected brush-offs in the Pirates' clubhouse.
Rather, the prediction by Buster Olney of ESPN ignited the pride of Pirates players -- particularly of those who were on the scene for the final laps of that 20-season losing marathon.
"It shows what we've been doing, and that people are paying attention," Andrew McCutchen said. "It's good to hear that from him."
In his preseason predictions, Olney foresaw the Bucs winning the National League Central title -- the Cardinals do land a Wild Card spot in his view -- and eventually besting the Seattle Mariners in the World Series.
"Guess he's smart," McCutchen smiled.
"He did? That's quite a compliment," Tony Sanchez said. "Three years ago, you wouldn't have seen anyone picking the Pittsburgh Pirates to the win the World Series -- not with a straight face. It just shows you how far this organization has come, from top to bottom. There's a lot of depth in this organization, and a lot of talent on this team.
"It's a compliment to the guys busting their butts right now to do everything they can to make sure that prediction comes true."
Being approached for his reaction elicited a grin from Charlie Morton, as he sat in front of his locker looking at the screen of his phone.
"I just got texted about it by my brother-in-law," Morton said. "What that says, and deservedly so, is that we're a good ballclub. You've still gotta go out and do it, and that's the hard part. But it's nice that people, especially a big face in baseball, has nice things to say about us."
"He's a very reputable name in baseball," Neil Walker said, "but you're not gonna see guys in here celebrating. He knows a lot, I'm sure he's done his homework and has his reasons why he believes that. Obviously, we believe that in here, but sometimes it's cool to hear it from the outside."
"Did he? That's sick." Vance Worley said a few minutes before taking the McKechnie Field mound to face the Phillies. "... That means he thinks something of us, and he's somebody who has a lot to say in baseball."
"It is just one man's opinion ... but it's a man who follows baseball pretty closely and has been doing it for a long time," Jeff Locke said. "It's a good guy to have in your corner."
Tom Singer is a reporter for MLB.com and writes an MLBlog Change for a Nickel. Follow him on Twitter @Tom_Singer. This story was not subject to the approval of Major League Baseball or its clubs.