Jones, Romero among 11 players sent to Minors camp
Top prospects Peterson, Kivlehan re-assigned by Mariners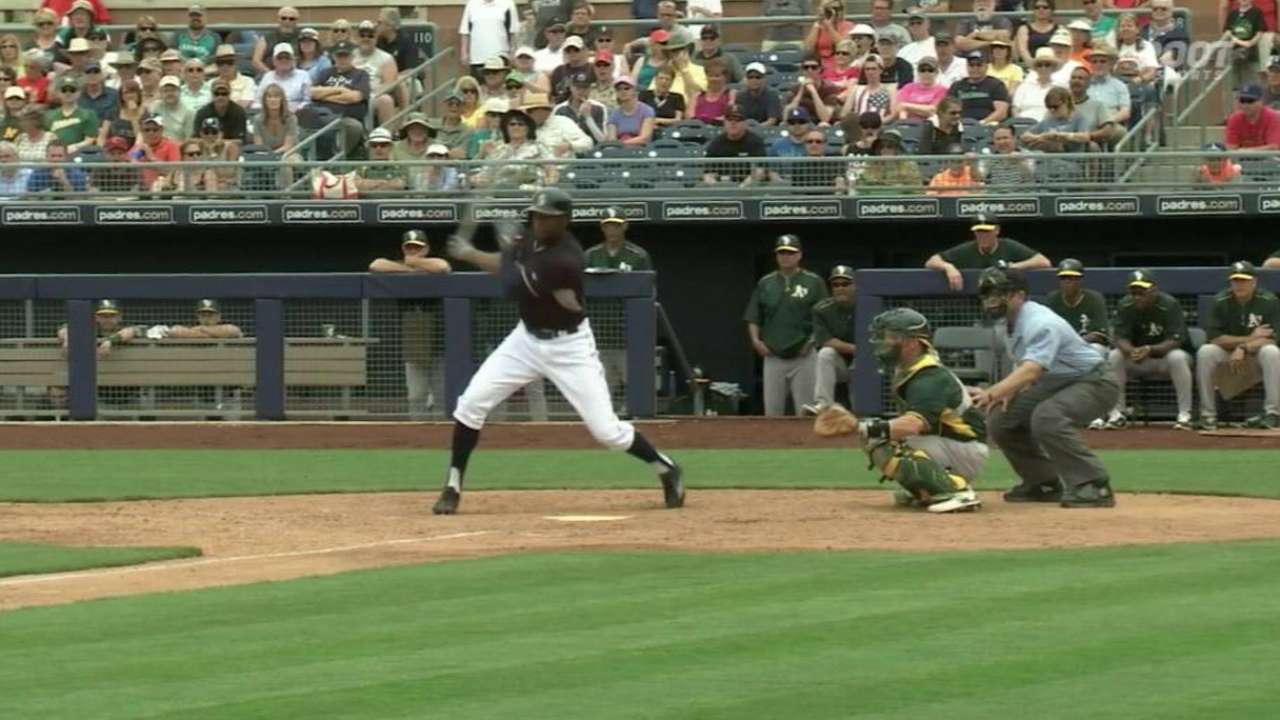 PEORIA, Ariz. -- James Jones and Stefen Romero, two young outfielders who saw considerable playing time for the Mariners last season, were among 11 players sent to Minor League camp on Friday as the club continued getting closer to its final 25-man roster.
Also optioned to Triple-A Tacoma were first baseman Jesus Montero, shortstop Ketel Marte, catcher John Hicks and lefty reliever Lucas Luetge, all of whom are on the 40-man roster.
The club also re-assigned five players to Minor League camp who were non-roster invitees, including veteran outfielder Franklin Gutierrez. Also in that group were highly regarded infield prospects D.J. Peterson and Patrick Kivlehan and two veteran pitchers, right-hander Justin Germano and southpaw Rafael Perez.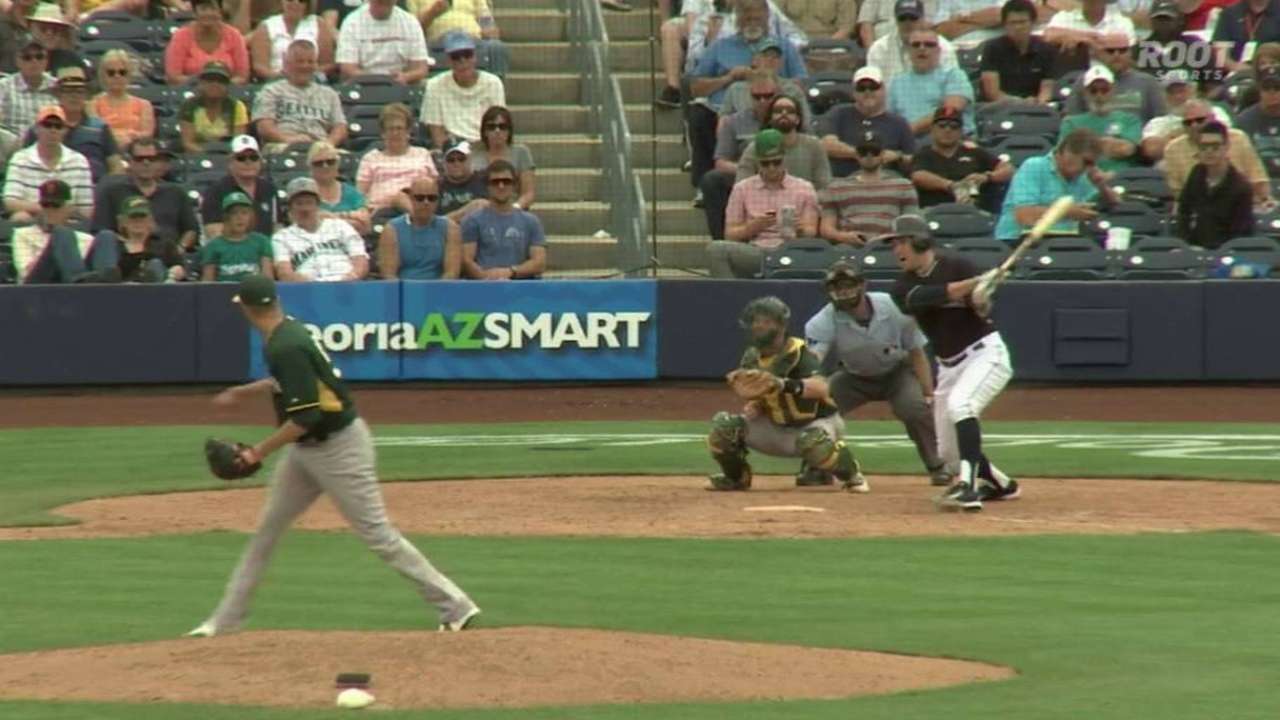 The moves leave 39 players remaining in big league camp with 2 1/2 weeks remaining until Opening Day on April 6.
"All these young men have done a nice job in camp for us," said manager Lloyd McClendon. "It's a combination of two things. No. 1, the innings, the at-bats, the playing time is not here for them anymore. And the second part of it is, they need to go get ready for a season. They've got to get at-bats and build the innings up and get ready to pitch. It's just that time of the year."
Jones, 26, played 108 games for Seattle last season and hit .250 with a team-leading 27 stolen bases. Romero, 26, hit .192 in 72 games in 2014. But the offseason addition of veterans Seth Smith, Justin Ruggiano, Rickie Weeks and Nelson Cruz has made the outfield situation far more crowded this spring.
Both Jones and Romero played well this spring -- Romero hit .364 and Jones hit .267 with a team-leading 10 runs scored -- but faced long odds from the beginning.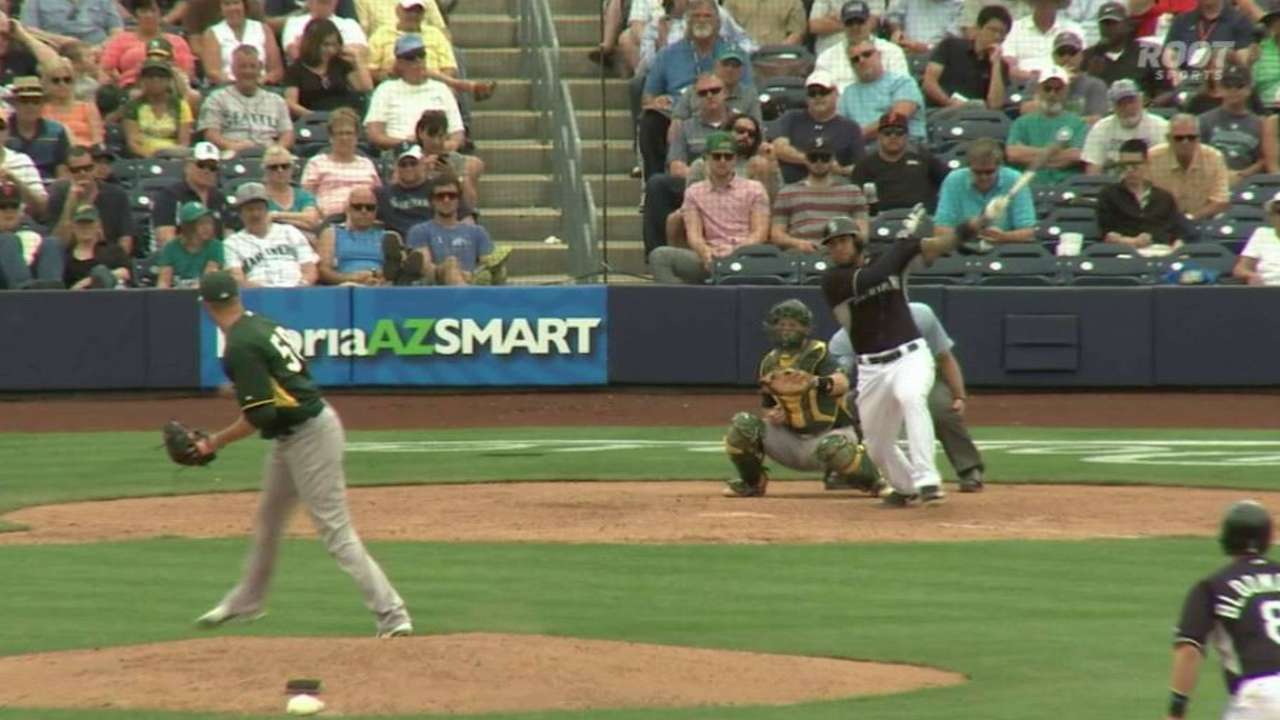 "It was tough," McClendon said. "One thing I explained to the club when camp opened, when you become good, it becomes very difficult to make a club. The options become tougher and I think that was the case with both these young men. It's not so much what they did or didn't do, it was just the type of talent we've acquired that they're pushed back to Triple-A."
Montero arrived at camp with much fanfare after losing 40 pounds and re-dedicating himself over the winter. But he, too, faced a numbers crunch with no opening at first base or designated hitter. After batting .200 (3-for-15) in seven Cactus League games, he'll get an opportunity to work at first base in Tacoma.
"He just needs to play," McClendon said. "The at-bats weren't here. And one thing I told him, the competition at Triple-A is going to be tough and stiff. You've got to go compete and compete for at-bats. I think he's prepared to do that."
Gutierrez, a former American League Gold Glove center fielder attempting to come back following a year away from baseball, hasn't played since March 8 due to a sore groin muscle and will attempt to get healthy now on the Minor League side.
"It's quite simple," McClendon said. "He just hasn't been able to get out on the field. That playing time is not there any more. The opportunity is there at the Triple-A level and we'll see if he can get over there and get back out on the field and compete."
By sending down Luetge and Perez, the Mariners have three remaining candidates to be the No. 2 lefty reliever in the bullpen -- veteran Joe Saunders, Rule 5 Draft pick David Rollins and former Gonzaga standout Tyler Olson.
The club also has three catchers remaining in camp with starter Mike Zunino, backup Jesus Sucre and non-roster veteran John Baker.
The remaining outfielders are Dustin Ackley, Austin Jackson, Endy Chavez, Smith, Ruggiano, Weeks and Cruz.
Infielders still in camp are starters Logan Morrison, Robinson Cano, Brad Miller and Kyle Seager, along with Willie Bloomquist, injured shortstop Chris Taylor and non-roster invitees Shawn O'Malley and Carlos Rivero.
Greg Johns is a reporter for MLB.com. Follow him on Twitter @GregJohnsMLB as well as his Mariners Musings blog. This story was not subject to the approval of Major League Baseball or its clubs.