Core relievers all submit strong showings for Tigers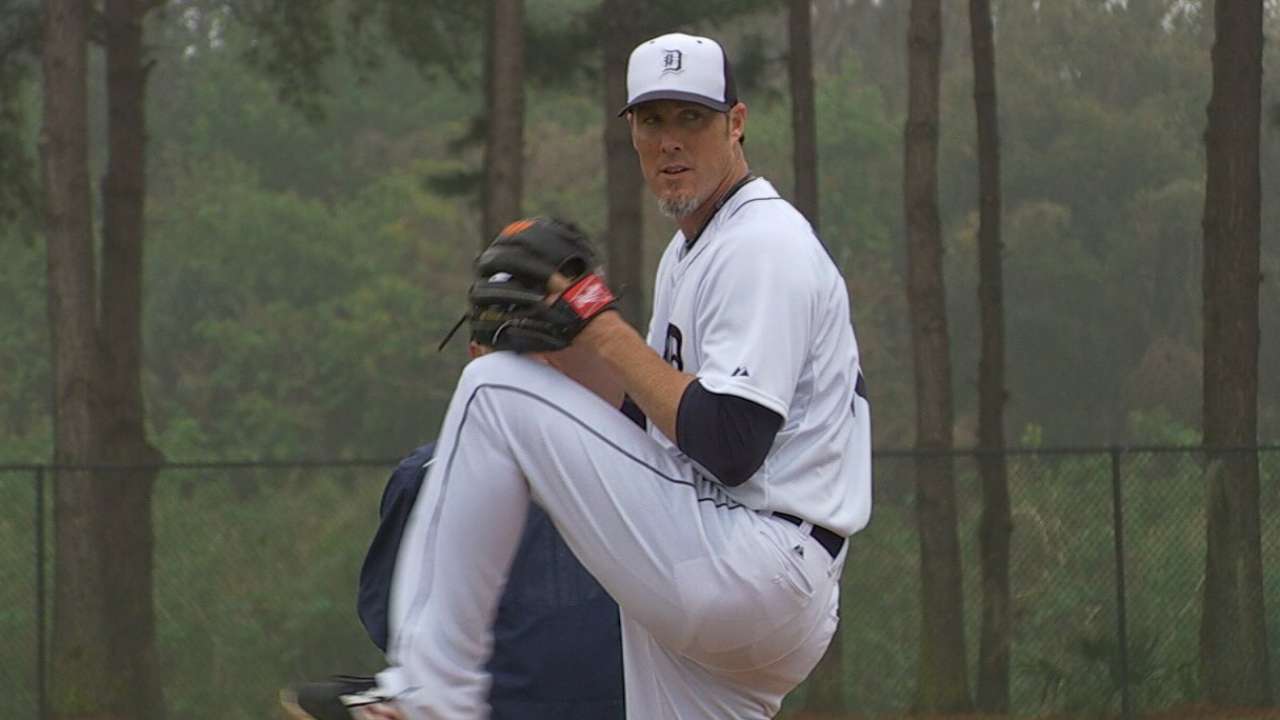 LAKELAND, Fla. -- The final score might make it hard to believe that Friday's 11-2 loss to the Yankees was a good day for any Detroit pitchers, but the game actually featured a rather impressive showing from the Tigers' core relievers.
The expected back end of the Tigers' bullpen -- Joe Nathan, Bruce Rondon, Joakim Soria and Joba Chamberlain -- combined to allow just one run on one hit while striking out six batters over four innings. Nathan, Soria and Chamberlain each tossed a perfect frame, while Rondon served up a solo homer to Alex Rodriguez in the midst of striking out the side in the fifth.
For Nathan, it was his third straight scoreless outing, and the sixth time in seven spring appearances that he hasn't allowed a run. While it may only be Spring Training, it's still an encouraging start after Nathan's ERA jumped more than three full runs to 4.81 last year in a rough 2014 campaign.
"I'm just continuing to learn and adjust and talk to [pitching coach Jeff Jones] about what's been effective," Nathan said. "We preach it all the time that we need to adjust. We're creatures of habit, but we also have to be very good at adjusting."
Chamberlain made some adjustments of his own on Friday, bouncing back from a subpar outing his last time out by tossing a 1-2-3 sixth inning against his former club. He also notched a pair of strikeouts, his first two of the spring, in the process.
"I thought Joba was particularly good today," manager Brad Ausmus said. "I thought his slider was very sharp. There's enough of a track record with Joba that we know he thrives on the energy of big situations, but he was good today for sure."
As was Soria, who worked a perfect inning for a third consecutive appearance. The veteran right-hander has now retired 10 straight batters overall and has yet to allow a run in his five innings this spring. Rondon was also impressive, the one blemish aside, in striking out the side with an electric fastball that hovered in the high 90s.
Nathan, meanwhile, believes he's slowly starting to fully adapt to the adjustments he's had to make -- from fixing his arm slot last year to a new offseason training regimen to working in a changeup this spring.
"When baseball players are successful -- and Joe's been extremely successful in his career -- when they're successful a certain way for years, or even over a decade, it's tough to tell yourself to change," Ausmus said. "I don't think it's bad if Joe's looking at himself and trying to figure out ways he can be better as he's matured in his career."
With the help of Jones, that's exactly what Nathan has been doing, dating back to mid-2014. Next up for Nathan will be trying to carry his recent success into his first back-to-back appearances of the spring -- something that should happen sometime next week -- and then, more importantly, into the regular season.
"It's natural to go out and do something that's been working for a long period of time -- until it doesn't work," Nathan said. "So the only way to know that something's not working is to experience it and battle through it, so that's where I'm at."
Paul Casella is a reporter for MLB.com. This story was not subject to the approval of Major League Baseball or its clubs.