Simon goes three frames after bumpy first vs. Yanks
Righty rebounds after six-run opening inning; Cespedes hits second homer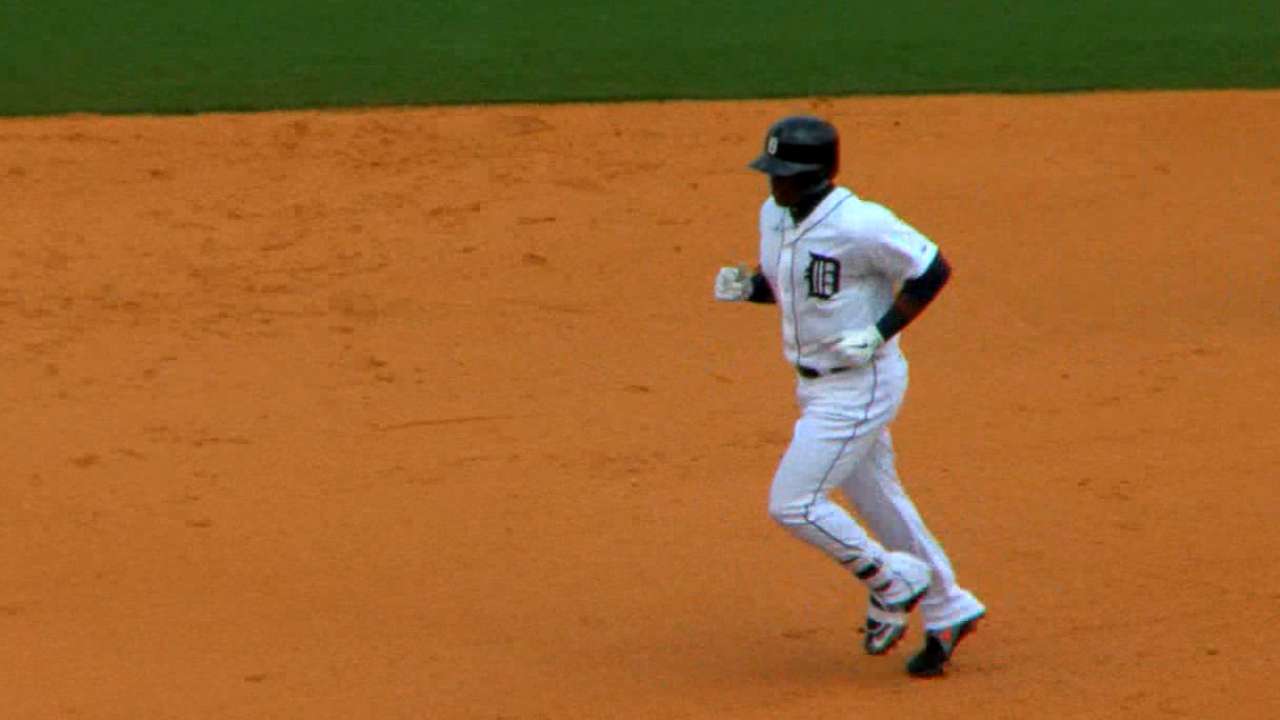 LAKELAND, Fla. -- Yankees right-hander Adam Warren made a strong statement in his bid to land a starting gig and Alex Rodriguez hit his second homer of the spring on Friday as the Yanks rolled to an eventual 11-2 victory over the Tigers at Joker Marchant Stadium.
Long before Rodriguez took Tigers reliever Bruce Rondon deep to right field in the fifth inning, however, the Yankees had already pounced all over starter Alfredo Simon earlier in the day. They pushed across six runs on six hits -- including four for extra bases -- off Simon in the first inning alone and, although the righty bounced back with two scoreless innings, the damage had already been done by that point.
"It's Spring Training, so it's better to happen right now because the season is going to start soon," Simon said. "So it's better to happen now than in the season."
Yankees outfielder Brett Gardner got the whole thing started when he led off the game with a triple off the wall in right field. He then came around to score one batter later when Stephen Drew, making his spring debut, laced a double into left field.
That would prove to be just the beginning as Brian McCann tacked on a run-scoring single before prospect Jose Pirela continued his blistering spring with a two-run double later in the frame. Fellow second-base prospect Rob Refsnyder immediately followed with a two-run homer, his first of the spring, to push the lead to 6-0.
Staked to the early lead, Warren cruised through five solid innings in his latest bid to land the final spot in the club's starting rotation. He held the Tigers scoreless through the first four frames before serving up a leadoff homer to Tigers outfielder Yoenis Cespedes to start the bottom of the fifth.
Cespedes' blast -- his second of the spring -- proved to be the lone blemish on the day for Warren. In all, the rotation hopeful allowed four hits, two of which he immediately erased with double plays, while racking up three strikeouts and no walks over a spring-high five innings.
Aside from Cespedes' homer, Rajai Davis provided most of the Tigers' remaining offense on Friday, as the leadoff man went 3-for-3 with a double and a run scored. Davis had not logged multiple hits in any of his first 11 Grapefruit League appearances.
While the Yankees improved to 11-7 in Grapefruit League play with Friday's victory, the Tigers are now winless in their last eight games (seven losses, one tie), and 11 of their last 12 overall.
Up next: David Price will take the mound Friday afternoon against the Mets at Joker Marchant Stadium, just one day after being named the club's Opening Day starter. It'll be the fourth start this spring for Price, who has allowed four runs off 10 hits, while striking out 10 batters over eight innings. The Mets will counter with their No. 1 prospect, Noah Syndergaard, in a 1:05 p.m. ET game that can be heard on Gameday Audio.
Paul Casella is a reporter for MLB.com. This story was not subject to the approval of Major League Baseball or its clubs.