Wieters out until at least Wednesday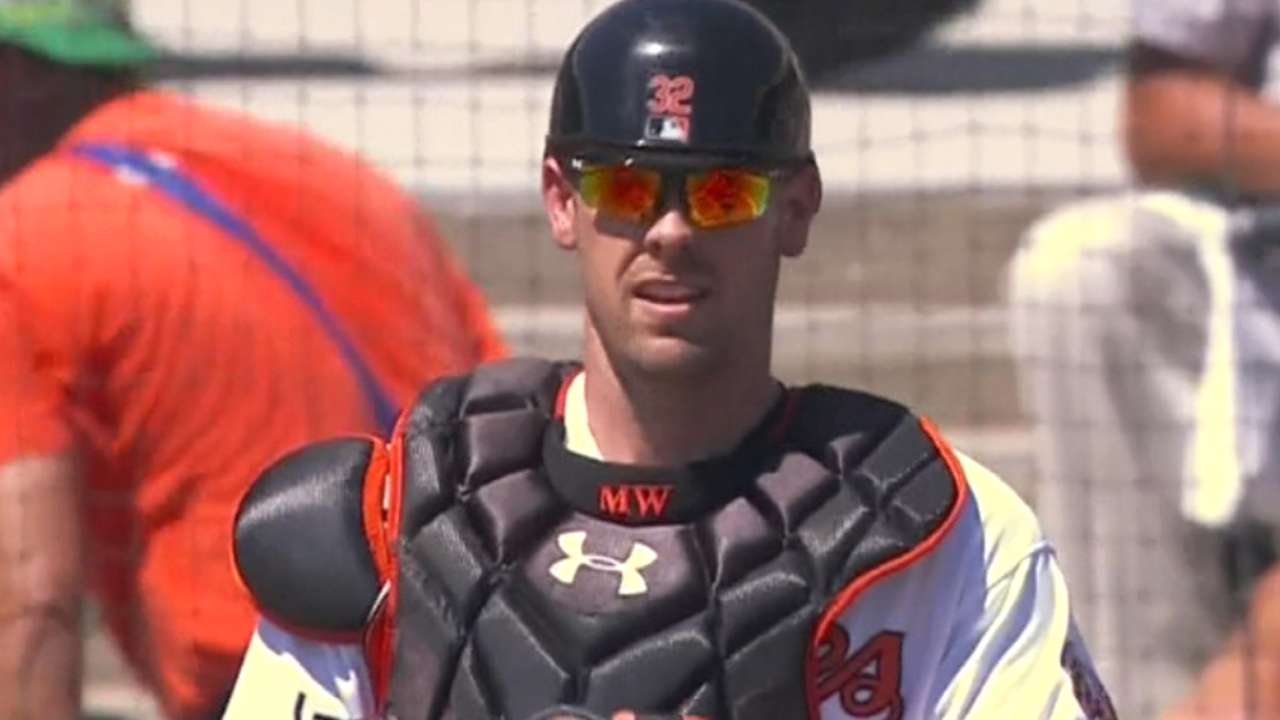 FORT MYERS, Fla. -- The Orioles continue to be cautious with catcher Matt Wieters. Manager Buck Showalter said Friday afternoon that Wieters won't play -- even at designated hitter -- until at least Wednesday.
Wieters, who is dealing with right elbow tendinitis, will soon be seen by team orthopedist Dr. Michael Jacobs though he had an X-ray on Thursday that came back clean.
The O's want to make sure everything checks out with Wieters, who took ground balls and did light throwing Friday morning, before putting him back in a Grapefruit League game.
"We are going to start looking at this thing week to week as opposed to day to day," Showalter said of the situation with Wieters, who underwent Tommy John surgery last June.
"I don't think that's healthy for Matt. That mentality. He's such a pleaser. It'll happen at some point. I'm not going to get into, 'OK if we don't reach this today.' I know the way you have to term it [in the media] is it was a setback. We don't. It was expected. I was surprised it took so long to get to this point."
Wieters agreed that he didn't view this as a setback, but rather a good time to give his elbow a break.
"It was more of the body telling me to slow down so we don't have that setback, that was more of it than anything," said Wieters, who was shut down a day after making his spring debut at catcher on Tuesday.
"We've done a lot to it in the span of nine months and nine months was always the quickest possible scenario to get to a game. We felt comfortable when I got in a game, like we had gotten the strength up to where it needs to be. The strength is there to play in a game, now it's just a matter of letting everything settle down and let my elbow tell me when I'm ready to get back behind the plate."
Showalter didn't want to speculate on whether Wieters could be left off the Opening Day roster, though it's certainly a possibility given where they are in camp.
Wieters said he wouldn't have to restart a throwing progression because he'll keep up with some light activities and he didn't seem overly concerned with missing a few more days.
"We'll take a look at it on Wednesday and see how it is and make a decision after that. Hopefully it will be good by Wednesday and be able to get back going," Wieters said.
"The hardest thing is when you come in each day, I'm trying to test it out each day and sometimes that doesn't allow you to get the most rest. I really think the best decision was being able to kind of shut down the mental side of trying to test it every day. See how it is and now we can actually let it sort of relax for a week and see where we are after that."
Brittany Ghiroli is a reporter for MLB.com. Read her blog, Britt's Bird Watch, and follow her on Facebook and Twitter @britt_ghiroli. This story was not subject to the approval of Major League Baseball or its clubs.