MLB.com Columnist
Phil Rogers
Twins' young talent goes beyond big names
Emergence of Vargas, Santana clear evidence that Minnesota is on the rise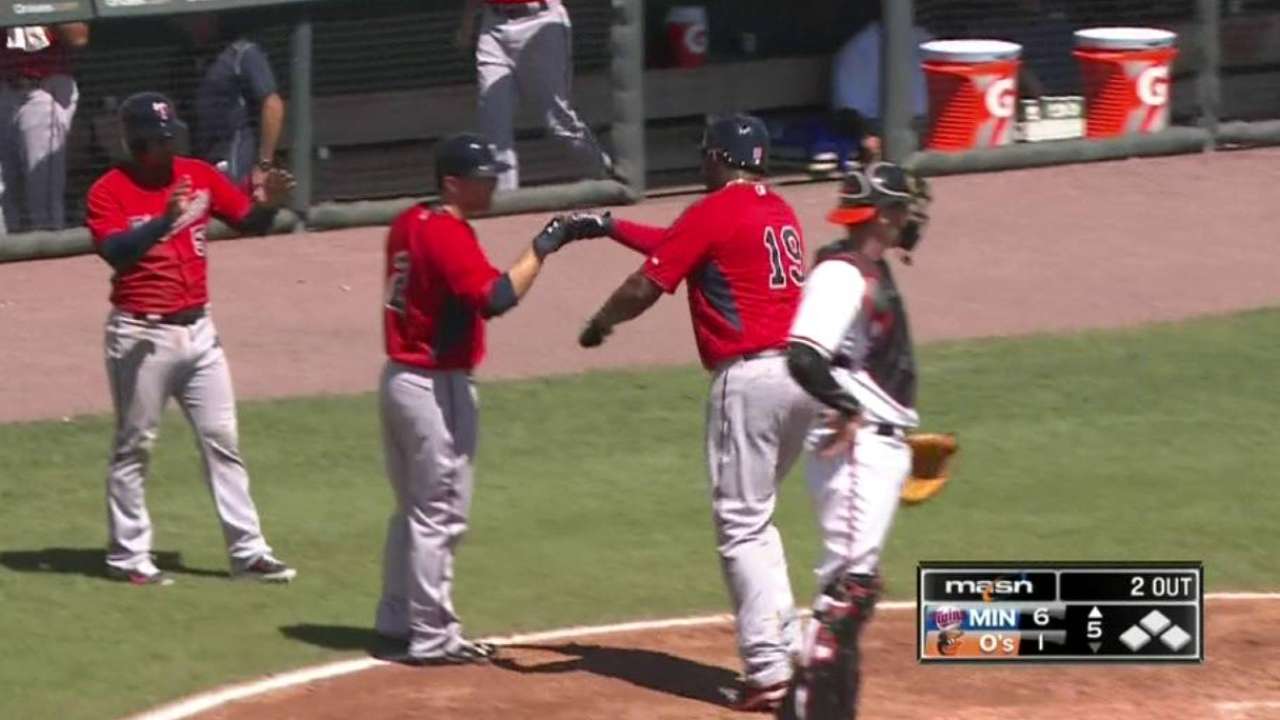 FORT MYERS, Fla. -- Sure, you hear about Byron Buxton and Miguel Sano all the time. But what about the two 24-year-olds with jersey numbers that tell you they've already arrived?
While Sano and Buxton have spent their time in big league camp wearing Nos. 61 and 70, respectively, Kennys Vargas and Danny Santana have claimed Nos. 19 and 39, for at least the next few years -- if not a decade or more.
All the smart guys say the Twins' farm system is among the best in baseball, but Santana and Vargas are proof that rankings like MLB.com's aren't infallible.
Either that, or maybe the Twins just have too much young talent.
Yeah, like that's possible.
Neither Vargas nor Santana were ever ranked among the Top 100 prospects. Yet when they arrived at Target Field last year -- Santana in May and Vargas in August -- they didn't skip a beat.
They staked their claims to spots in the lineup the old-fashioned way: They earned them. The only question for Paul Molitor now is how they fit in.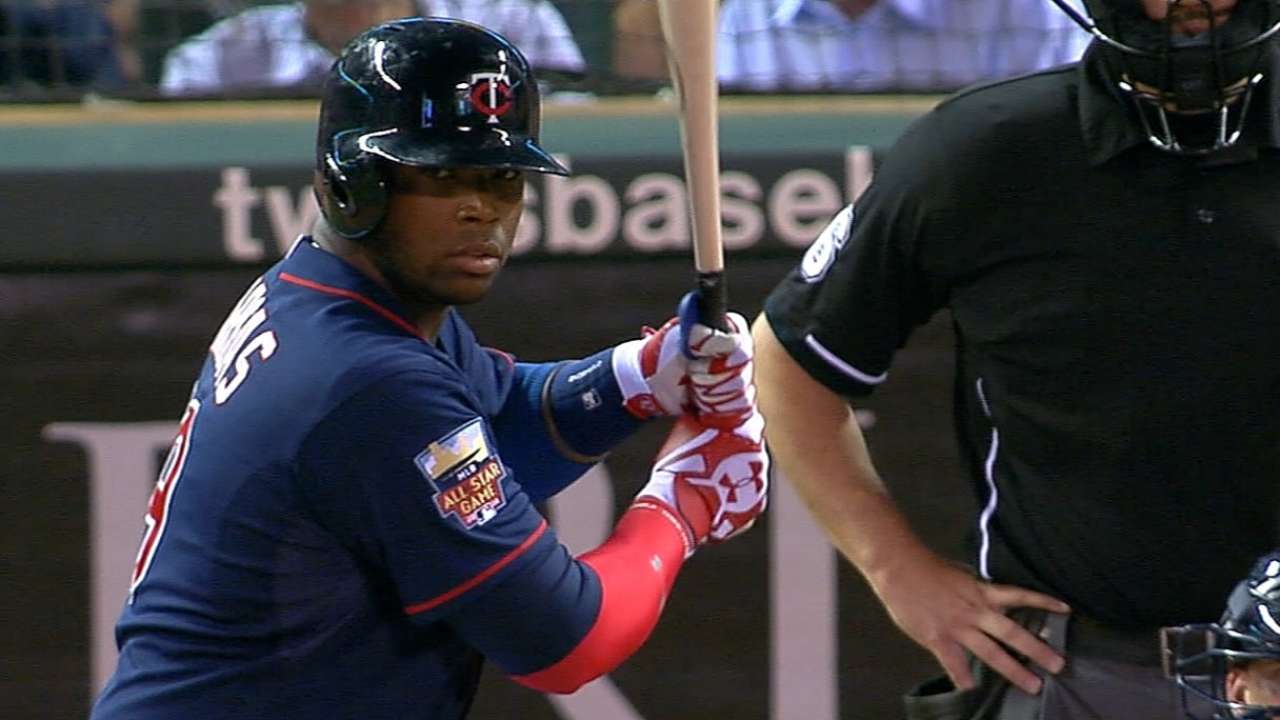 Will Santana beat out Eduardo Escobar to establish himself as the long-term shortstop? Or will he return to center field, knowing another position shift is likely when Buxton is promoted? Will the 6-foot-5, 290-pound Vargas play some first base? Or will he leave that spot to Joe Mauer, serving almost exclusively as a DH?
These are fine-tuning questions. From all accounts, Santana and Vargas have already passed their test to be big league certified.
"I think last year Santana and Vargas changed the dynamic of our offense," Molitor said. "Danny's been on people's radar for a long time. Kennys was one of those mystery men. We weren't sure how or if he'd ever figure it out to get here. It shows that [our farm system] goes beyond the big names. You've heard about Buxton and Sano, Alex Meyer, but for [Santana and Vargas] to come up and have the impact they did shows we have a nice core of guys."
Molitor throws another name into the conversation: Eddie Rosario.
The 23-year-old Puerto Rican was forced to move to the outfield from his natural position, second base, because of the power and all-around play of Brian Dozier, another homegrown Twin. Rosario has been crushing the ball this spring (.586 slugging percentage through 11 games) and is competing against Aaron Hicks, Jordan Schafer and Santana for the center-field job.
The competition out there has made this a very encouraging camp for general manager Terry Ryan.
"We have flexibility on this team, for the most part," Ryan said. "We're not too locked into too many things here. That's why there are so many guys left in camp, why there is so much competition in camp. We've got some people who have responded, which is good. Coming into this camp, we had numbers -- competition, whatever you want to call it. But people have to respond and perform to get that competition flowing, and we've had quite a bit of that, which is good. There's nobody just eliminating themselves."
You can't respond much better than Santana and Vargas did when they got their chances last season.
Santana, a natural shortstop, was hitting .268 when he was promoted from Triple-A to replace Hicks, who has yet to make his first-round skill set work against Major League pitching. Santana hit .319 with seven homers and 20 stolen bases. Even if his success was aided by his .405 BABIP, that hardly lessens the impression he made by carrying himself confidently as the highest level.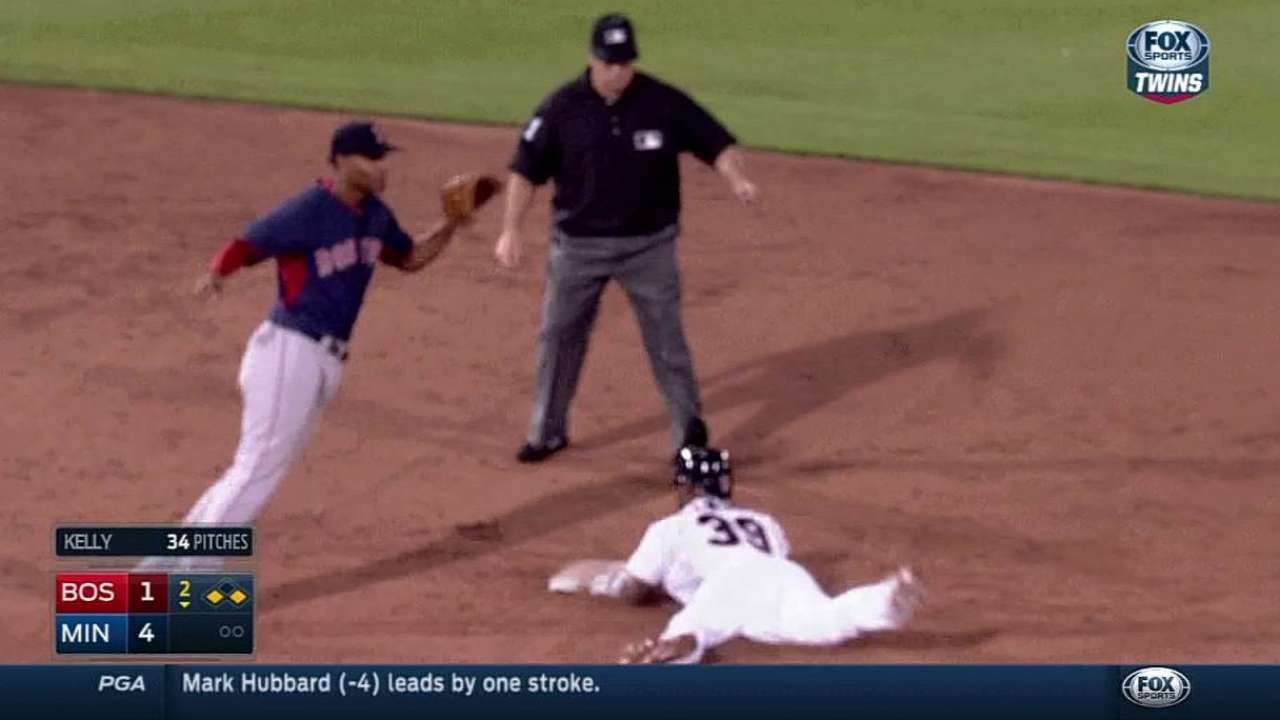 "I don't know if any of us were anticipating he would be able to make that transition from short to center and still be able to produce offensively," Ryan said. "The outfield piece of it, he hadn't played much of it. But he did a reasonable job out there, and we salvaged that position. He hit leadoff, stole bases, drove the baseball."
Vargas was old for his league when he hit .267 with 19 home runs at Class A Advanced Fort Myers in 2013, but he made a smooth move to Double-A last season. He was hitting .281 with 17 homers in 97 games at New Britain when he was picked to succeed Kendrys Morales as the DH after Morales was dealt to the Mariners for reliever Stephen Pryor in late July.
"We needed a DH to protect [Mauer and Trevor Plouffe] in the middle," Ryan said. "He did a nice job as well."
Vargas hit .274 with nine homers and 38 RBIs in 53 games as a Major League neophyte. If he and Santana can repeat the success they had as rookies, it would be huge for the Twins. But the club's real strength remains the depth of its young talent.
Not that long ago, Minnesota won the American League Central six times in a nine-year stretch. The foundation for those teams was a core of mostly unsung prospects that included Torii Hunter, Jacque Jones, A.J. Pierzynski, Doug Mientkiewicz, Michael Cuddyer, Cristian Guzman and Luis Rivas. And then there were the teams that won the World Series in 1987 and '91, with homegrown stars like Kirby Puckett, Frank Viola, Kent Hrbek, Gary Gaetti and Greg Gagne.
Look beyond the Twins' Major League record in recent seasons, and you start to wonder if that history is going to repeat itself over the next decade.
"We have a wave coming," Ryan said. "That's a safe assessment. Whether these guys are going to develop [like the stars in the past] is the question. A lot of those guys played 15, 18 years in the big leagues. That's a rarity. A lot of those guys performed at a high level. Some of these guys are certainly capable of doing that, but I think it's premature to start talking about that until they do something up here."
Fair point, Terry. But it's easy to dream about this team.
Phil Rogers is a columnist for MLB.com. This story was not subject to the approval of Major League Baseball or its clubs.