Rays host special Make-a-Wish guest
Souza Jr. escorts 16-year-old Cook, a cancer survivor who takes BP among activities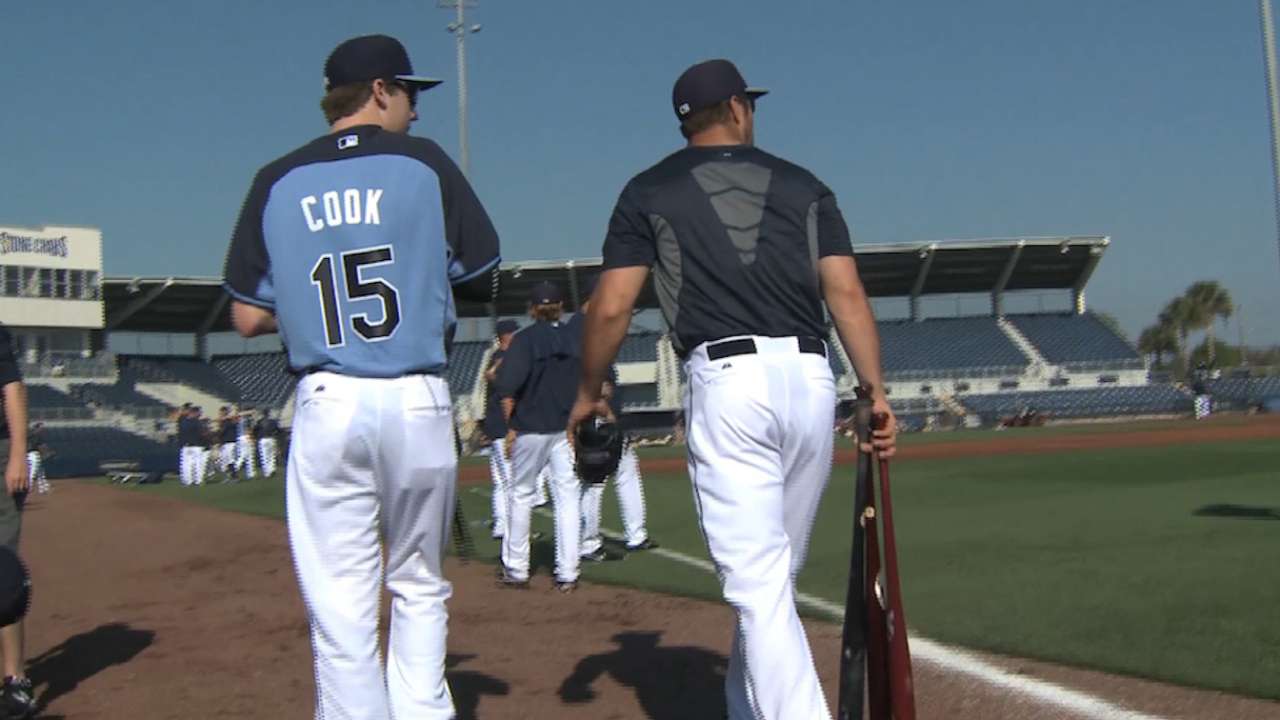 PORT CHARLOTTE, Fla. -- When Jonathan Cook arrived at the Rays' camp on Friday as a special guest, he found a surprise in the clubhouse: He had his own locker.
"That was crazy, I was not expecting that," Cook said. "I was expecting to just meet the guys, maybe hit a few balls, talk to them and stuff, but this has been amazing. I was just looking forward to meeting everybody."
Cook, a 16-year-old cancer survivor, came to camp via the Make-a-Wish Foundation. He flew to Florida from Leesburg, Va., with his family on Thursday. The smiling high school sophomore noted that it snowed in Leesburg on Thursday.
Cook was born in Tampa, which brought him an allegiance to all the Tampa Bay sports teams.
Steven Souza Jr. escorted Cook around for his day, which included taking batting practice in full uniform, throwing out the ceremonial first pitch and spending a few innings in the dugout.
"Souza was really nice," Cook said. "He was great. He showed me around, told me how they do stuff around here."
Cook bats left-handed and took his hacks under the watchful eyes of hitting coach Derek Shelton. Cook listened to Shelton's instruction.
He said to "keep my head down and in it, drive through the ball, keep my hands in," Cook said.
Souza said Cook had a "pretty nice stroke."
Though initially nervous, Cook reported that the experience proved to be really fun.
"It's crazy to be out on this field," Cook said. "It's so nice out. The field is beautiful. It's really fun to be around. ... [Everybody was] super nice. They're all great guys. Great people. And it's so fun to meet them all."
Bill Chastain is a reporter for MLB.com. This story was not subject to the approval of Major League Baseball or its clubs.