Sabathia's Opening Day streak could come to end
Manager Girardi acknowledges getting southpaw ready for season paramount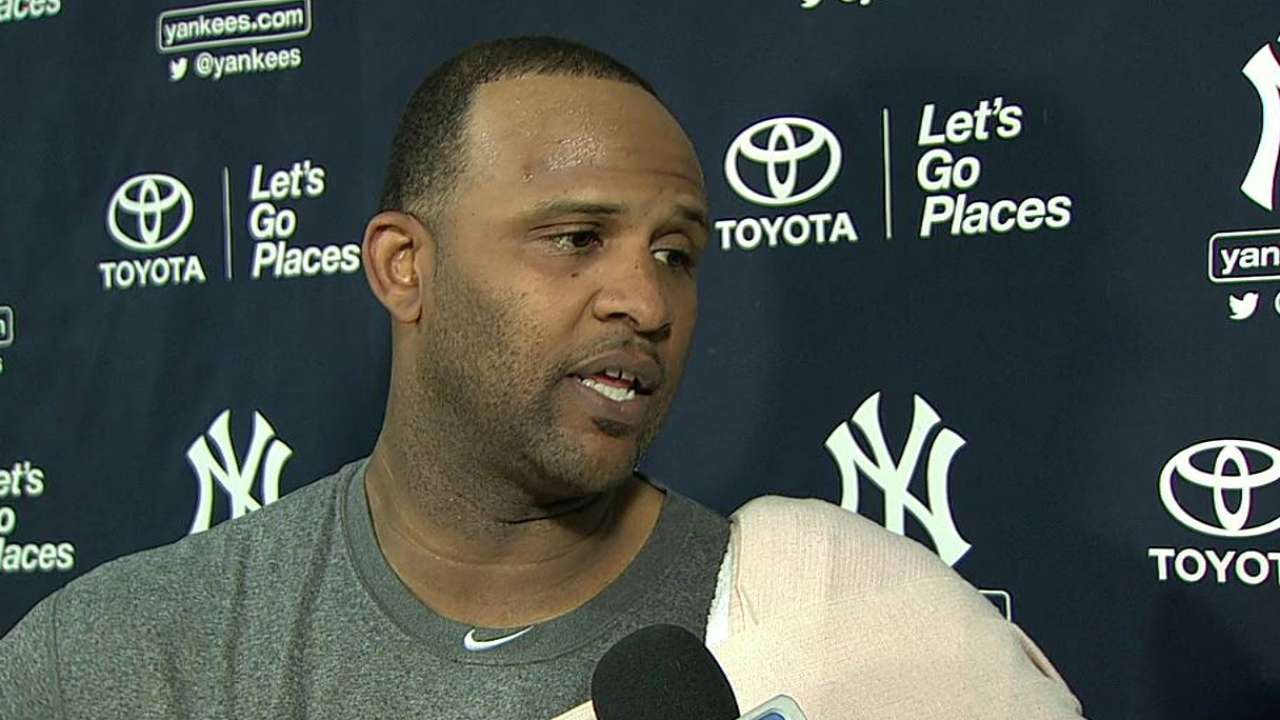 TAMPA, Fla. -- CC Sabathia has taken the ball on Opening Day in each of his previous six seasons with the Yankees, but that streak may come to an end this year, manager Joe Girardi acknowledged on Friday.
Girardi said that the Yankees are still ironing out how their rotation will be set, but because Sabathia is coming off arthroscopic right knee surgery, it is unlikely that the 34-year-old left-hander will be handed the April 6 assignment against the Blue Jays at Yankee Stadium.
"I've got to make sure he's ready," Girardi said. "A lot of times it's a big story for who's the Opening Day starter, but after Opening Day, does anyone really care? I think it's a bigger story who's the Game 1 starter in the playoffs. That's a bigger story to me, but I understand why it's a big story because it's Opening Day and there is a little something that goes with it."
Girardi said that much of his decision on how to set the rotation will depend on how Masahiro Tanaka and Sabathia are feeling coming out of camp. Sabathia was limited to just eight starts last year, going 3-4 with a 5.28 ERA before his season ended in May.
"I can't sit here and say it's going to make or break me if I don't start Opening Day. I've done it a lot," Sabathia said. "I want to be there in September and for Game 1 of whatever playoff series. I leave that up to them. I hate to sound like I don't care, because I do. But whenever I get out there, I'll be happy with that."
Sabathia has made 11 Opening Day starts in his career and is the fifth pitcher in Yankees history to make at least six Opening Day starts for the club, joining Whitey Ford (seven), Ron Guidry (seven), Mel Stottlemyre (seven) and Lefty Gomez (six).
"I think when players look back on their career, they're not going to say, 'I was the Opening Day starter only 11 times instead of 12,'" Girardi said.
Girardi said that he has does not believe Sabathia would be bothered by allowing someone else to take the ball on April 6.
"I think I have four or five guys who could actually make that start," Girardi said. "We want everyone to basically make 32 starts, so if you start on Wednesday or Thursday, does it really matter? If you start on Monday, does it really matter? The reality for me is, your No. 1 starter is the guy who's starting that day."
Bryan Hoch is a reporter for MLB.com. Follow him on Twitter @bryanhoch and read his MLBlog, Bombers Beat. This story was not subject to the approval of Major League Baseball or its clubs.