Rusney begins spring debut with a power surge
Outfielder had been sidelined since March 3 by left oblique injury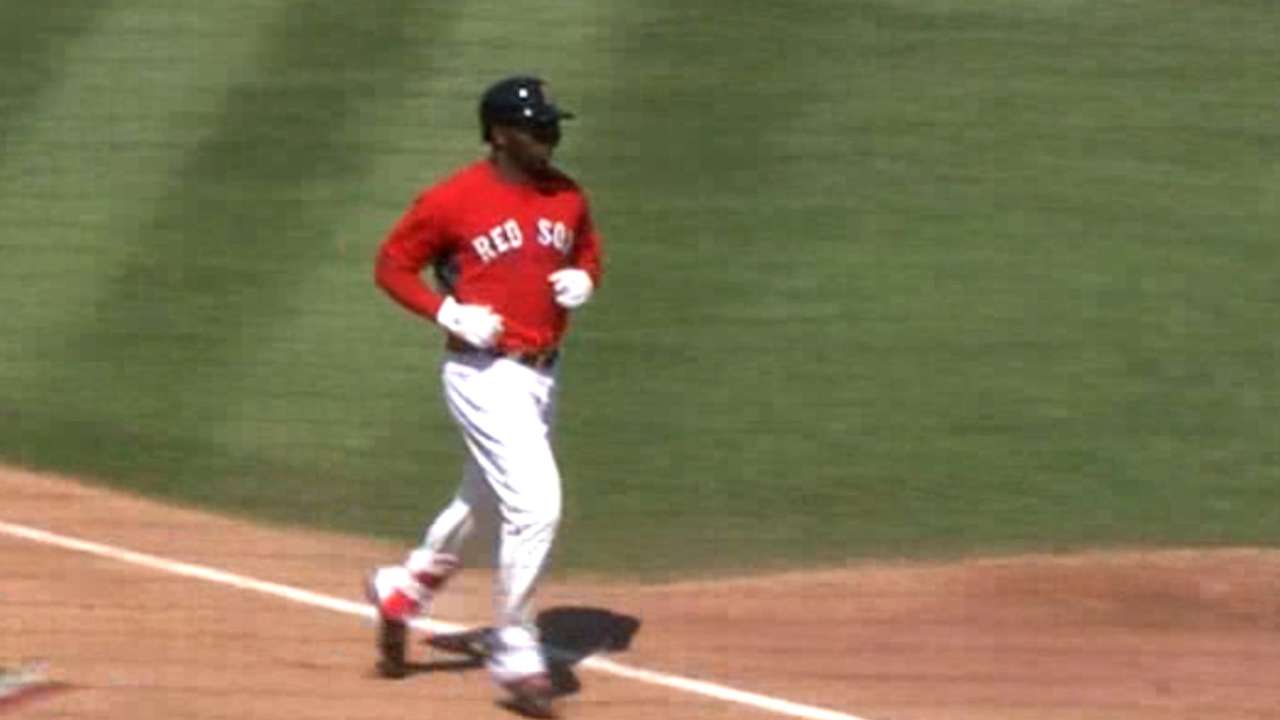 FORT MYERS, Fla. -- The two tedious weeks that Rusney Castillo spent rehabbing from a left oblique injury paid off nicely. The center fielder walloped a towering three-run homer in his first at-bat of Grapefruit League action on Friday in the Red Sox 11-5 loss to the Orioles.
Castillo entered the game on defense in the top of the seventh inning for Mookie Betts. In the bottom of the frame, he unloaded with a drive that cleared the Green Monster in left-center.
"Yeah, it felt pretty good coming off the bat," Castillo said through interpreter Adrian Lorenzo. "I was obviously happy it turned out to be a home run. More than anything, I was just happy that I was able to go out there completely healthy and pain free and felt really good out there. It's really good to be back out there."
Castillo will make his first start on Saturday in Bradenton, Fla., against the Pirates.
Castillo suffered his injury taking an awkward swing against Boston College on March 3, and it took a while for the injury to heal. The nagging injury was unfortunate, because the Red Sox were hoping to get an extensive look at the player they signed to a seven-year $72 million contract last August.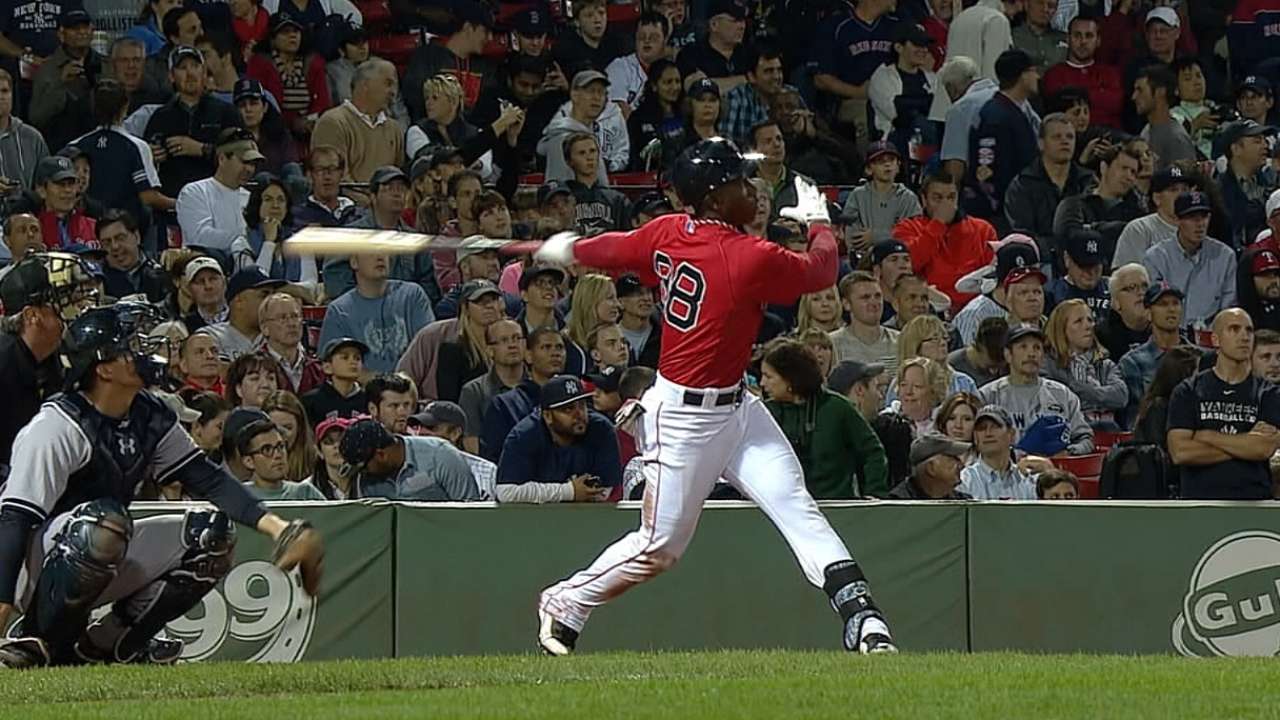 Now, the club will have to make the best evaluation it can in an abbreviated sample size.
"Well, for his first at-bat in Spring Training, he steps in, makes a pretty quick impression -- not just because of squaring up a ball but the way he drove it," said Red Sox manager John Farrell. "He's starting tomorrow and will continue to get regular at-bats."
Betts is highly likely to break camp as Boston's starting center fielder. Shane Victorino, coming off back surgery, is expected to hold down right field if he makes it through camp healthy.
So unless Daniel Nava or Allen Craig are traded, it seems Castillo is more likely to begin his season at Triple-A. Castillo said he wouldn't complain about that, and Red Sox general manager Ben Cherington recently mentioned how the outfielder is still expected to be a key part of the team going forward, and he said that the signing was made with the long term in mind.
Due to the contract Castillo signed, there is bound to be some scrutiny. But the outfielder said that doesn't concern him.
"Yeah, to be honest, it's not something where I've ever felt any pressure to play baseball," Castillo said. "Baseball is my one safe haven. I've just never felt pressure playing, even with the contract and everything. It's not something I think about."
In 10 games with the Red Sox last season, Castillo hit .333 with two homers and six RBIs.
Asked if Castillo needs to play regularly, be it in Boston or the Minors, Farrell said, "We probably need to get to that point and see where we are in the next 10-14 days."
Ian Browne is a reporter for MLB.com. Read his blog, Brownie Points, and follow him on Twitter @IanMBrowne. This story was not subject to the approval of Major League Baseball or its clubs.