Ryu could start season on DL with shoulder tightness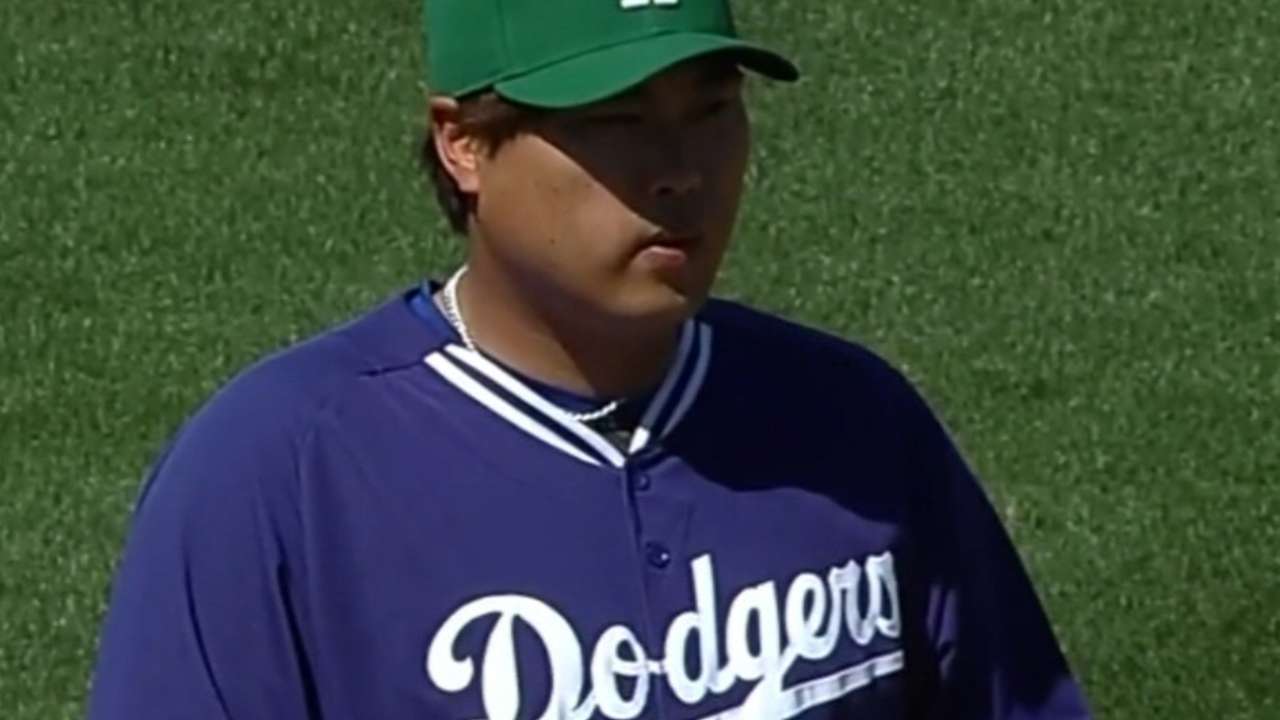 GLENDALE, Ariz. -- Dodgers starting pitcher Hyun-Jin Ryu received an anti-inflammatory injection in his left shoulder on Wednesday, but the left-hander sounded optimistic that he'd be ready for the start of the regular season.
Manager Don Mattingly, however, said the club wants to be cautious, and he hinted that Ryu could start the season on the disabled list. The team doesn't need a fifth starter until April 13 or 14.
"It's a safe assumption, with a setback -- we definitely want to be cautious," said Mattingly. "Timing-wise, it's pretty good for us."
Ryu, 27, reported stiffness on Wednesday, the day after pitching three innings against the A's. Ryu said the discomfort is similar, but less intense, than what sidelined him twice last year. The club did not feel an MRI was necessary.
He will be shut down for three days to allow the inflammation to subside.
"On a scale of one to 10, maybe a four," Ryu said Friday of the discomfort level. "I'm not too worried about it this time. It's a little thing, but I felt it."
Mattingly conceded he is concerned about Ryu's shoulder because the injury has recurred, but that's mitigated by the fact the medical staff believes it knows what's at play and how to deal with it.
"Obviously, we're still concerned and cautious, and we'll err on the side of caution," Mattingly said.
Ryu said he didn't believe this discomfort was related to the mid-back stiffness he experienced earlier this spring. The left-hander said he was frustrated by the setback because he arrived in Arizona a month early to work out with the LG team from the Korean League so he would report in better shape and hopefully avoid injury this season.
"I am frustrated," said Ryu. "I put a lot of preparation into this, but what can I do? Just start all over."
When asked if his goal of pitching 200 innings was in jeopardy, he said: "There's still two more weeks [of Spring Training]. I don't think this is a major problem. This is just three days. It still gives me plenty of time."
Ryu went on the disabled list with shoulder tenderness last year from April 28-May 21 and missed his final two scheduled starts in September with a recurrence, but he returned to allow one run in six innings against the Cardinals in the National League Division Series.
Mattingly said David Huff, Saturday's scheduled starter, will instead make Ryu's scheduled Sunday start, and Chad Gaudin will start on Saturday.
Ken Gurnick is a reporter for MLB.com. This story was not subject to the approval of Major League Baseball or its clubs.