Price tabbed for Tigers' opener, ending Verlander's streak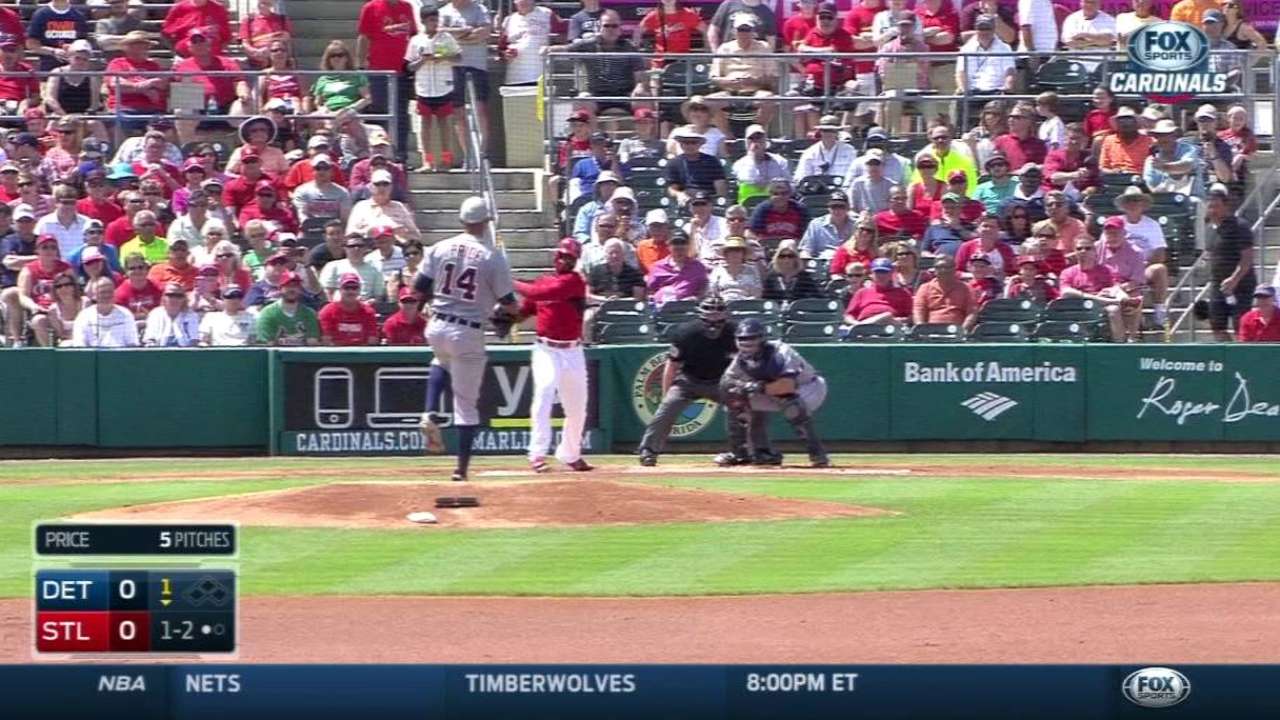 LAKELAND, Fla. -- David Price's status as the Tigers' ace was cemented on Friday morning when manager Brad Ausmus named him the club's Opening Day starter. It marks the first time since 2007 that anyone other than Justin Verlander has gotten the call for Detroit's season opener.
"I'm extremely honored to take the ball on that day, because it's a very special day in baseball," Price said. "It caught me by surprise, to say the least. I definitely thought it'd be Ver out there."
Price will be making his fourth career Opening Day start -- and first for the Tigers -- when Detroit opens the season against the Twins on April 6 at Comerica Park. While Verlander's streak of seven consecutive Opening Day starts will come to an end, Price will extend his personal run of season-opening starts to three years after getting the call in each of the last two seasons as a member of the Rays. He also started Opening Day for Tampa Bay in 2011.
"It's a tough decision when you have two guys like that," Ausmus said. "I think I could have gone either way. I could have gone Verlander-Price, but I decided to go Price-Verlander."
Either way, Ausmus would have been sending a pair of former Cy Young Award winners to the mound for the season's first two games. Verlander took home American League Cy Young Award -- and MVP -- honors in 2011, while Price captured the AL Cy Young Award one year later, a season in which Verlander finishing as the runner-up.
"Looking at it from a baseball perspective, I felt like this was the [right] decision -- and it wasn't an easy decision," Ausmus said. "Justin Verlander has been an outstanding pitcher for a long time. He's done a lot for the Detroit Tigers and the organization, but ultimately, I have to make a decision based on baseball and what I think is best for the 2015 team."
Keep in mind that Ausmus had a similar decision to make last year when he ultimately elected to start Verlander in the season opener over then-defending AL Cy Young Award winner Max Scherzer. Scherzer was coming off a dominant 2013 campaign in which he won an AL-best 21 games while posting a 2.90 ERA, but Ausmus penciled him in behind Verlander in that instance.
That wasn't the case this time around. Acquired from the Rays as part of a three-team deal last July, Price tallied a 15-12 overall record last year to go along with a 3.26 ERA over 34 combined starts between the Tigers and Rays. He also turned in eight solid innings, allowing just two runs off five hits, in his lone postseason start in Detroit's AL Division Series loss to the Orioles.
As for Verlander, the veteran righty is coming off a disappointing season in which -- despite having an identical 15-12 record as Price -- he struggled to an uncharacteristic 4.54 ERA. He also yielded three runs off six hits while lasting just five innings in his Game 2 start of the ALDS.
"I can't say I'm surprised," Verlander said of the Opening Day decision. "I didn't have a good season last year by anyone's measure, especially my own. I feel like Opening Day is something that is earned, not given. You need to prove yourself, and I didn't do that last year."
While Verlander's current Opening Day run may be coming to an end, Ausmus said he isn't counting out the righty starting a new one next year -- and that's the goal for Verlander, as well.
"I want to earn Opening Day. I don't want to be handed Opening Day," Verlander said. "Hopefully at this time next year, we're talking about me having earned it and done all the things that I've worked so hard to do to get back to being that guy. I'd rather be on the mound [Opening Day], but like I've said many times, I've got to earn it -- and I plan on doing that."
Whether Verlander indeed has a bounce-back season remains to be seen, but the one thing that seems certain for the time being is that he won't be getting that first chance at redemption on Opening Day. Instead, it'll be Price looking to set the bar for 2015 -- one which Verlander will surely be shooting to raise when he toes the rubber for Game No. 2.
"He just told me, 'Congrats,' and that if he lost it to anyone in baseball, he's happy that it was me," Price said. "And he said he hopes I'll be here next year, so he can win it back. So I definitely appreciated him saying that to me, and I'm excited about it."
Paul Casella is a reporter for MLB.com. This story was not subject to the approval of Major League Baseball or its clubs.