Tigers' latest moves include optioning VerHagen, Machado
Valdez, Fields also sent to Triple-A Toledo; Bernard to Double-A Erie
LAKELAND, Fla. -- The Tigers made another round of cuts on Friday morning, highlighted by sending right-hander Drew VerHagen and middle infielder Dixon Machado out of Major League camp.
VerHagen and Machado, along with right-hander Jose Valdez and outfielder Daniel Fields, were all optioned to Triple-A Toledo, while outfielder Wynton Bernard was optioned to to Double-A Erie. The club also reassigned right-hander Tim Melville and catcher Miguel Gonzalez to Minor League camp.
VerHagen, the club's No. 15 overall prospect according to MLB.com, allowed three runs off five hits, while striking out five and walking two over six innings. He made three Grapefruit League appearances this spring, the most recent of which came on March 12. VerHagen made one spot start for Detroit last season, making him the only one of the seven players to leave camp on Friday that had logged any time with the Tigers in 2014.
"VerHagen needs to pitch, and we've got guys up here who need to pitch," manager Brad Ausmus said. "So there just wasn't enough innings for everybody."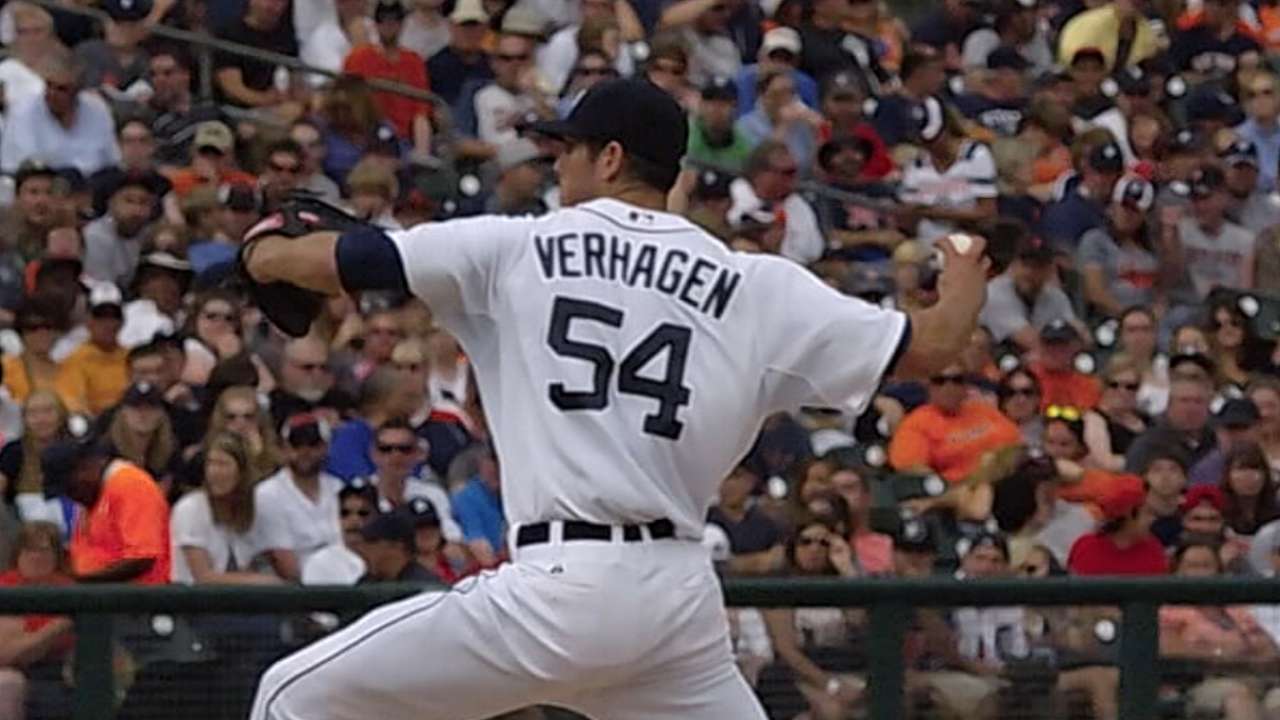 While the Tigers already knew what they had in VerHagen to an extent, Ausmus said players such as Machado, Fields and Valdez all opened some eyes this spring. He came away highly impressed with the play of Machado and Fields, while adding that Valdez showed "the most dramatic improvement" from last spring.
"I'd say those three guys, in particular," Ausmus said, "did nothing but help their own cause with the way they played."
Machado, the club's No. 12 overall prospect, could even figure into the picture for the Tigers this season, especially given their overall lack of depth up the middle. The 23-year-old went 7-for-22 (.318) with a double, two RBIs and a stolen base in 14 Grapefruit Leage games this spring.
"Machado was as impressive as anybody," Ausmus said. "The total package -- the defense, the offense, everything. He was one of the guys I was most excited to see play, quite frankly, coming into spring. And he didn't disappoint."
The series of roster moves leaves the Tigers with 45 players in Major League camp.
Paul Casella is a reporter for MLB.com. This story was not subject to the approval of Major League Baseball or its clubs.