MLB Pipeline checks in from Mets camp
DePodesta excited about young talent the club will have at Triple-A Las Vegas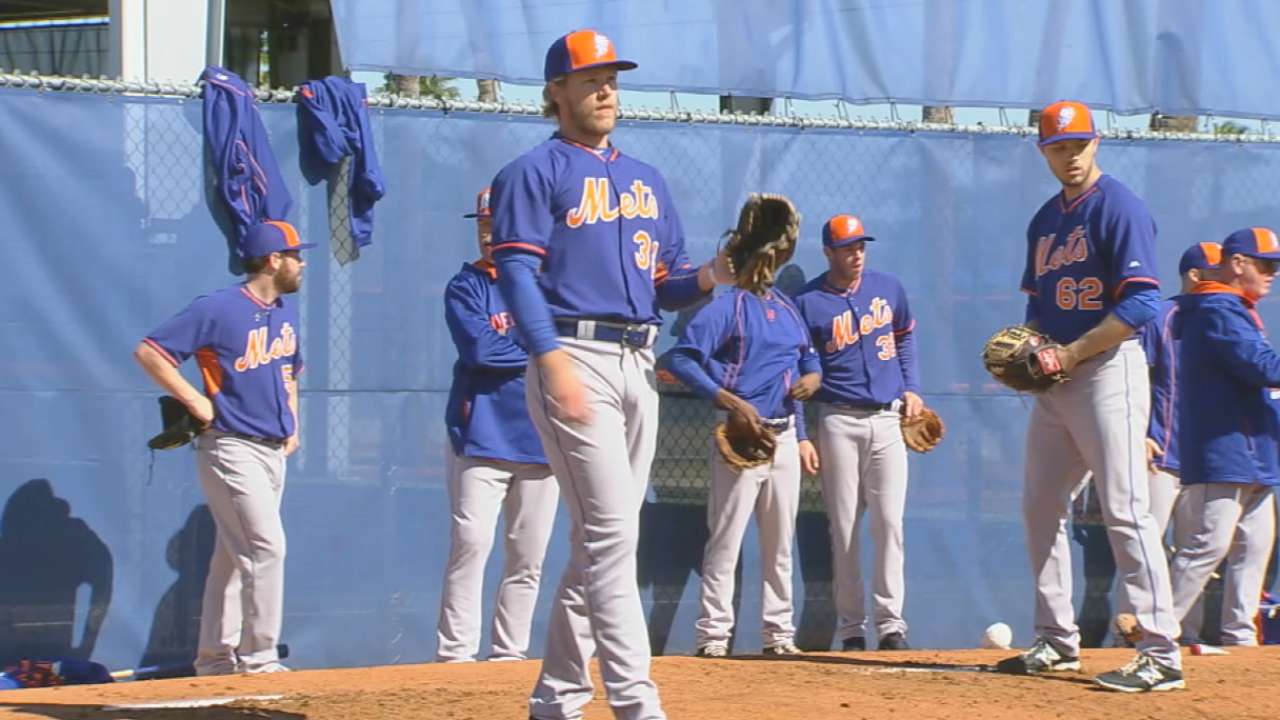 Every Spring Training, prospects get a chance to show what they can do as they prepare for the season ahead. Some are competing for jobs in big league camp, while others are prepping for the season as they vie for spots at Minor League affiliates throughout the team's system. MLBPipeline.com is visiting all 30 camps this spring. Today, we check in on the New York Mets.
PORT ST. LUCIE, Fla. -- The Mets brought a large group of prospects with them to Major League Spring Training this year, and though most of them won't break camp with the club, they won't be going far.
Many of the Mets' top prospects will be ticketed for Triple-A Las Vegas this year, and several of them could find themselves playing in the Major Leagues sometime later in the season. That possibility excites vice president of player development and amateur scouting Paul DePodesta, who is eager to see how the latest group of homegrown talent impacts the Mets in the near future.
"I've been in organizations in the past where we can say, 'Boy, we have a lot of talented players, they're just all in [Class] A ball,'" DePodesta said. "This year, we can look at our Vegas team and say there's a chance -- and I don't know how it's all going to shake out -- we could have [Kevin] Plawecki, [Dilson] Herrera, [Matt] Reynolds, [Brandon] Nimmo, [Noah] Syndergaard, [Steven] Matz, [Cory] Mazzoni all in Triple-A. You think of Triple-A usually as more of a veteran team and you sign six-year [Minor League] free agents. We're going to have a lot of prospects there that we feel are basically ready for Citi Field or at least very, very close to being ready for Citi Field, and those are some of our high-end guys. So that's exciting to have so many of them close sort of at the same time. Sort of a whole wave of them."
Camp standouts
The Mets' young pitchers in Major League camp have been led by Syndergaard and Matz, the club's top two pitching prospects. Syndergaard has struck out nine batters in 7 1/3 innings, and Matz has held hitters to three hits and a walk in six innings. But the whole group has impressed, including right-hander Akeel Morris, who hasn't pitched above Class A Savannah, but has thrown three hitless innings this spring.
Outfielder Michael Conforto has also opened some eyes. At this time last year, he was playing for Oregon State. But the No. 10 overall pick in last year's First-Year Player Draft hasn't looked overmatched in big league camp. In four games, he has collected four hits and driven in three runs.
"I don't think there's anything that intimidates or overwhelms him at all," DePodesta said. "I think he feels very comfortable in the box no matter what the environment. That's certainly showed through in the Major League at-bats he's had so far."
Breakout candidates
Gavin Cecchini, SS: After injuries slowed his progress in his first two professional seasons, Cecchini stayed healthy in 2014 and advanced from Savannah to Double-A Binghamton by the end of the year. Still, DePodesta believes he's capable of more.
"I think Cecchini may have a really big year this year and people may be surprised by what he's capable of doing," DePodesta said.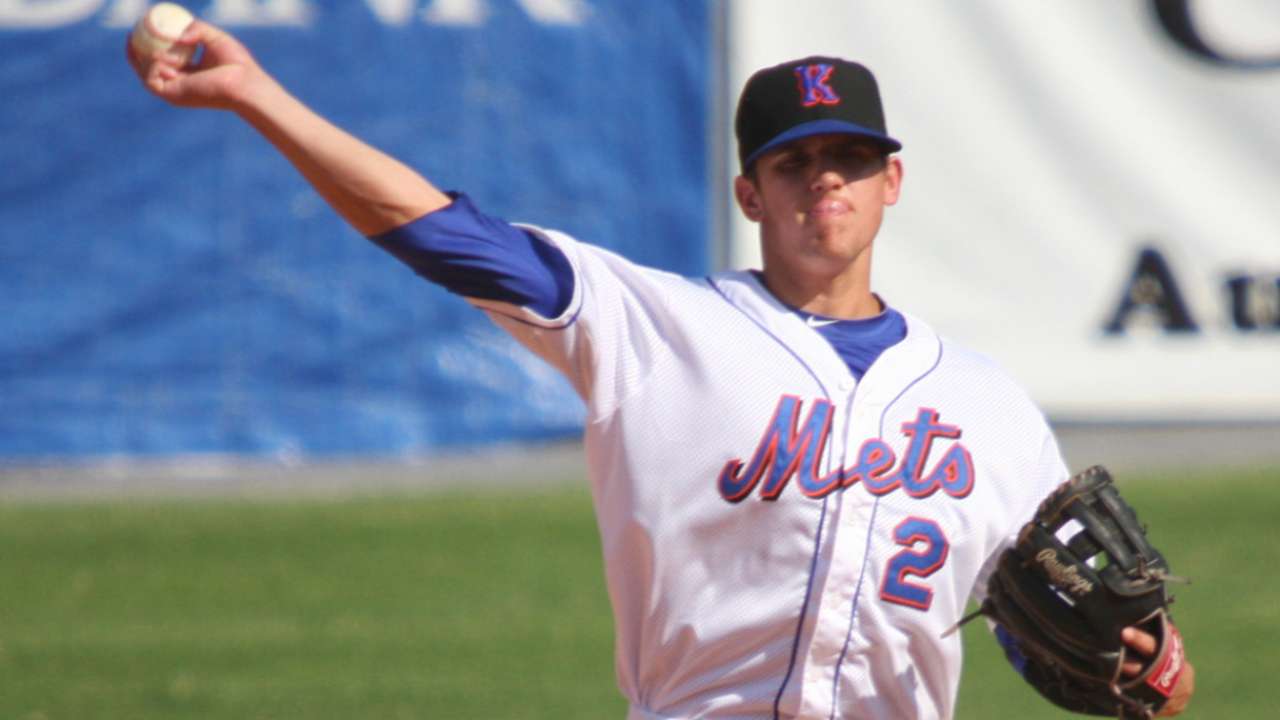 Casey Meisner, RHP: Right-hander Marcos Molina captured headlines last season with his breakout with Class A Short-Season Brooklyn. Now it might be his rotation mate's turn. Meisner finished second to Molina in the New York-Penn League with 67 strikeouts, and he excelled down the stretch, knocking three runs off his ERA in his last six starts of the season.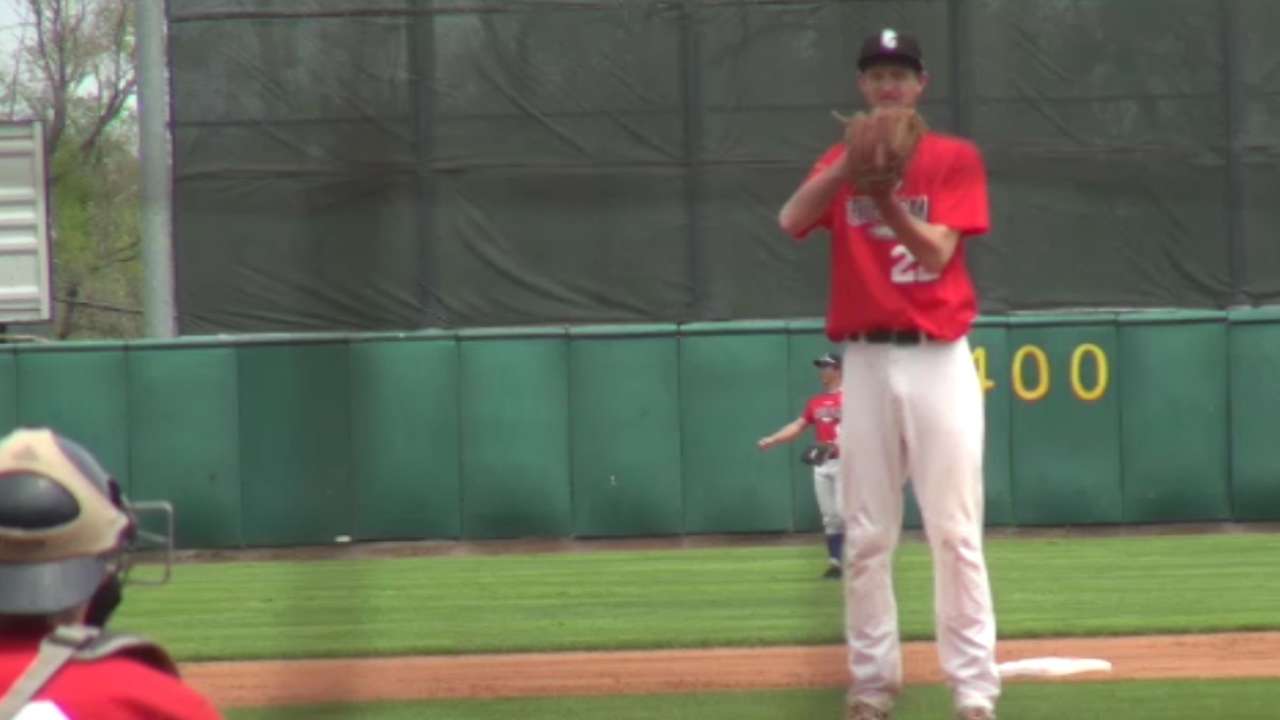 Three questions with Kevin Plawecki
The Mets drafted Plawecki 35th overall in 2012. The catcher advanced to Triple-A last season and played for the U.S. team in the SiriusXM All-Star Futures Game.
MLBPipeline.com: How important is the experience of being in Major League Spring Training for you?
Plawecki: The second time around in big league camp is a lot easier than the first. I just have a familiarity with the other guys in the locker room and just continue to grow with the great pitchers we have in this room. It's just important for me to take advantage of my time over here.
MLBPipeline.com: There are a lot of good young pitchers in the Mets' system. What's it like to be able to work with them?
Plawecki: It's great. It's a real honor to be able to catch them and work with them on a day-to-day basis. Just to be over here, while I know I'm in here with these guys, it's important to learn as much as I can from them and try to establish that good relationship with them so when my time does come, we're not a step behind, we're just moving right along and not missing a beat.
MLBPipeline.com: Here in the big league clubhouse, your locker is right next to Travis d'Arnaud's. Are you able to play off each other?
Plawecki: Me and Travis are great friends on the field and off the field. He's one of my best friends in here. He's a tremendous help to me. If he sees something that can help me out, he definitely lets me know. And if I want to bounce something off of him, I definitely don't hesitate to ask him. He's been a tremendous help to me, and he's been nothing but positive and supportive of me, so I can't ask for anything better.
Teddy Cahill is a reporter for MLB.com. Follow him on Twitter at @tedcahill. This story was not subject to the approval of Major League Baseball or its clubs.