From stocking shelves to halting rallies, Martin living dream
Tall right-hander thought his career was over, but help from a friend reignited his dream
TAMPA, Fla. -- The alarm clock would buzz at 5:30 a.m. five days a week, alerting Chris Martin that he had a half hour to get to Lowe's and get on the forklift in the lawn and garden section. He'd finish the evening in the UPS warehouse at Dallas/Fort Worth International Airport, loading boxes onto trailers until 11 p.m.
The double-duty paid the bills, Martin says, but it was not the kind of career he wanted. As he sipped an energy drink on a much less hectic morning in front of his Yankees locker, the 6-foot-8 right-hander looked around the room and said that he has come to appreciate the perspective of those experiences.
"I'm sure everyone has their own little thing that keeps them going, but I know how fast baseball can get taken away, so I don't take it for granted," Martin said. "I stay humble because of it."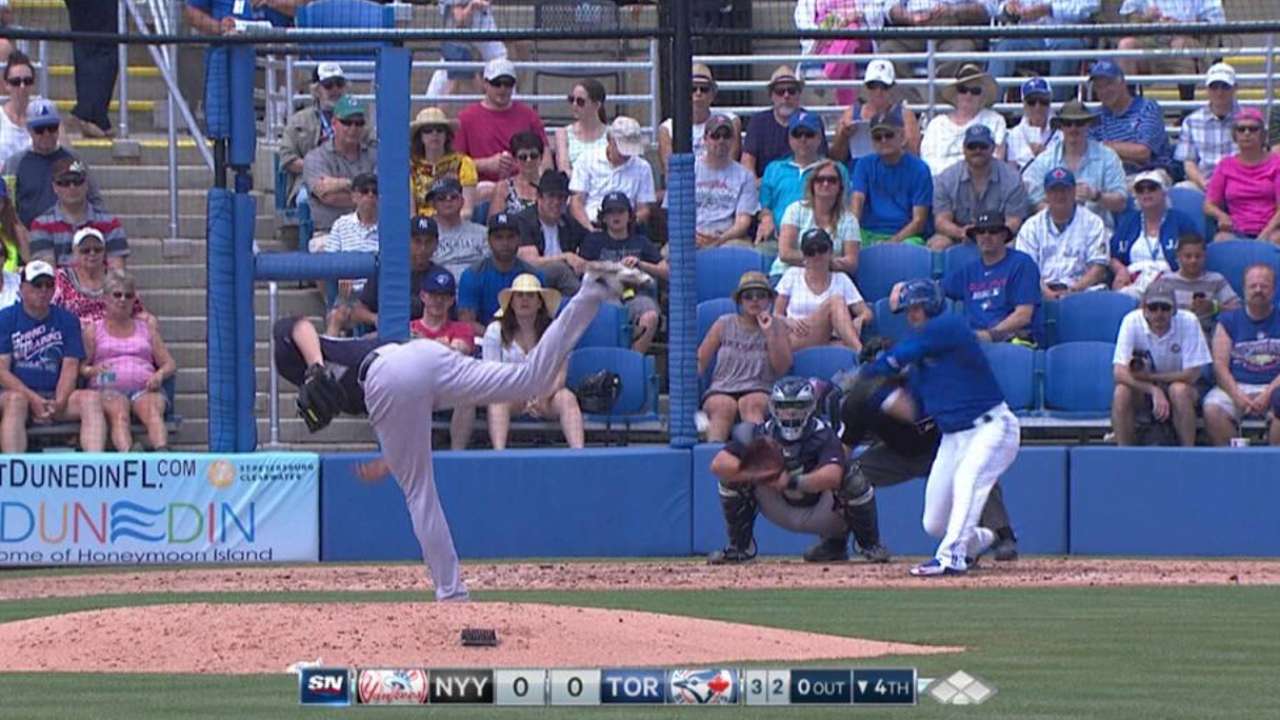 Twice drafted but unsigned, Martin thought his pitching days ended in the fall of 2005, when he was injured while wearing the uniform of Navarro Junior College in Corsicana, Texas. He tried rest and rehab on the advice of Keith Meister, the Rangers' team physician, but ultimately had surgery in August 2007 to repair his labrum and shoulder capsule.
After healing, Martin tried out for an independent team, but his shoulder continued to bark with sharp pain with every toss. He made the difficult decision to put the glove and spikes away, filling out an application with Lowe's and tacking on the UPS job to score health insurance.
"I was always going to go back to school and always wanted to be a weather guy; I wanted to chase the tornadoes," Martin said. "My favorite movie is 'Twister.' I remember I saw it as a kid and I was like, 'Man, this is awesome.' That was the plan, but I never really got to it. Then baseball came back."
In an arc lifted from cinema, a chance encounter with a high school buddy flipped Martin's script. Jordan Bostick was a year behind Martin at Arlington High School, and over beers at a local bar, he suggested that Martin come work for him at Texas Appliance in Arlington, just off Interstate 20.
"I did everything, from stocking to delivering to installing," Martin recalled.
It was there, between the rows of refrigerators and dishwashers awaiting sale and shipment, that Bostick strapped a left-handed catcher's glove on and squatted. Martin had not picked up a ball for about three years, limiting his play to slow-pitch softball, but he went into his windup and fired. Pop!
The ball "nearly took my thumb off," Bostick would later tell The Associated Press.
"I was just messing around," Martin said. "I had no idea how hard I was throwing, but I knew my arm felt better and that maybe I could have a shot to play again. I had no idea."
Martin guesses that putting on about 30 pounds during his time away from the game, and perhaps moving around those heavy appliances helped heal the shoulder. Rest certainly didn't hurt. Whatever it was, Martin was thrilled to throw without pain.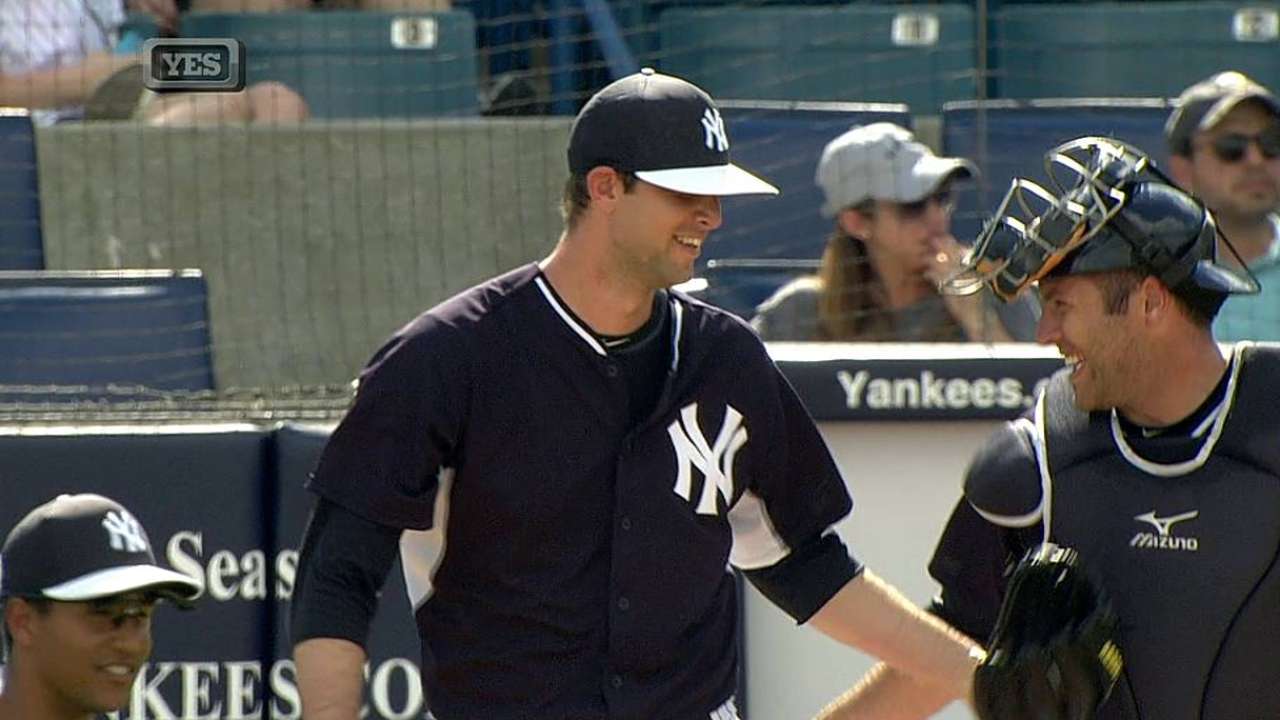 Martin pitched a few times in a men's league and had no issues, leading to a tryout with the independent Grand Prairie Airhogs, a team managed by former big league slugger Pete Incaviglia. The bullpen catcher's stinging hands secured Martin's spot on that roster, a job that paid $800 a month.
"I remember I played in a men's league game, and one of the guys said I was throwing 80 [mph]. A week later, I went to the tryout and I was hitting 95," Martin said. "I didn't have a clue; I thought I was throwing 80. I just knew my arm felt better and I had a pretty good chance to get back into it."
Incaviglia tipped off a Red Sox scout, Jamie Bane, who agreed to have Martin fly to Fort Myers, Fla., to throw in front of Boston officials -- with the caveat that he would be doing so on his own dime. It led to a Minor League contract, and Martin's father has kept the check that the Red Sox later provided to reimburse for airfare and a room at the Ramada Inn.
"It was worth the trip," Martin said.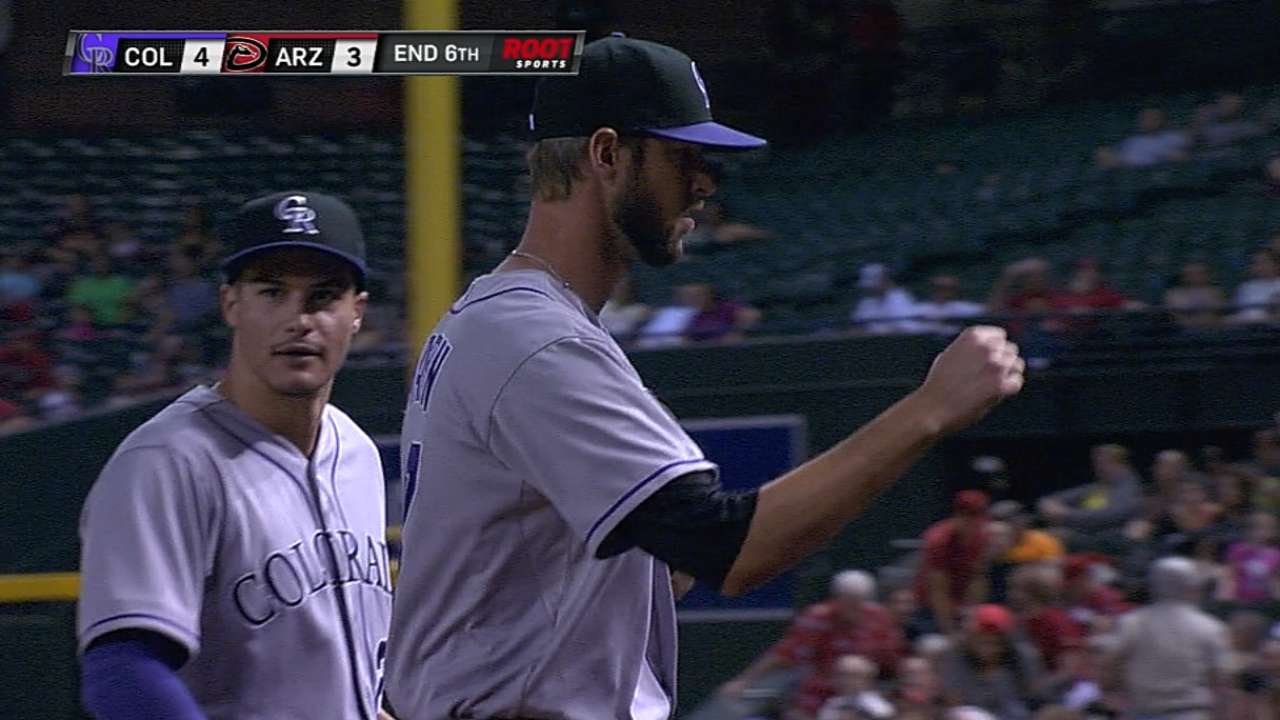 Stints with six Minor League teams followed, including a December 2013 trade to the Rockies, before Martin made his big league debut last April 26 at Dodger Stadium. Martin compiled a 6.89 ERA in 16 appearances for Colorado, showcasing a restored mid-90s fastball that helped produce solid strikeout numbers (12.2 per nine innings) in Triple-A last year.
Designated for assignment by the Rockies in January, his rights were sold to the Yankees, who invested $750,000 to see if he can continue his terrific comeback as a member of their bullpen.
"I was surprised the Yankees got me; it's a great organization and I'm excited," Martin said. "I knew there was going to be a lot of competition coming in here, which makes you better as a pitcher."
Yankee Stadium would be a great place to finish the story, and told that his life resembles a Disney film just waiting to be made, Martin shrugs and says that he has heard similar thoughts before. He doesn't necessarily agree, though.
"This is my life," Martin said. "Ever since I was born, I had a baseball in my hand. When it was taken away from me, it was pretty hard. I went through a rough time. I'm super blessed to be back playing."
Bryan Hoch is a reporter for MLB.com. This story was not subject to the approval of Major League Baseball or its clubs.