Yarbrough practicing at third base to increase versatility
Angels prospect still sees himself as second baseman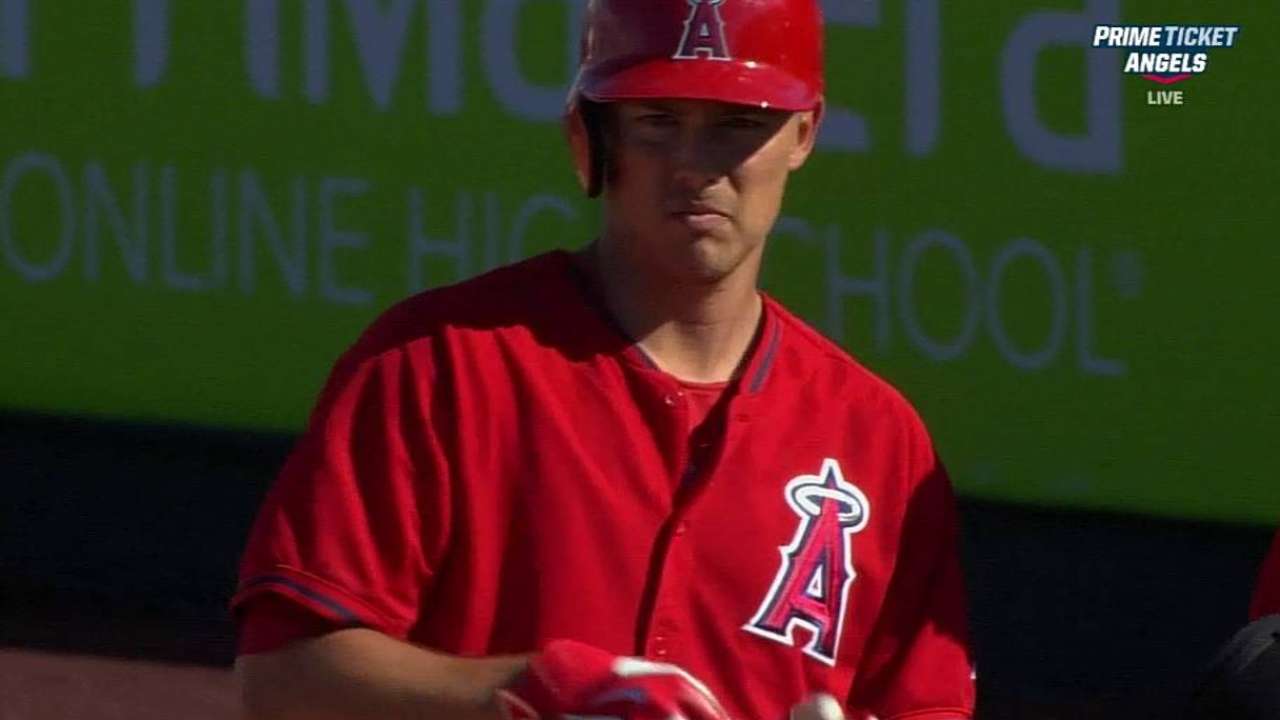 GLENDALE, Ariz. -- Alex Yarbrough took his position at third base in one of the backfields of the Angels' Spring Training complex last week. To his left was fellow prospect Eric Stamets, widely considered one of the best defensive shortstops in the Minor Leagues. Mike Scioscia would hit each of them 15 groundballs, and if they made every play, the Angels' manager would pay for their dinner at Mastro's City Hall, the high-priced steakhouse in nearby Scottsdale.
The last one was an expertly placed between-hop chopper with backspin, but Yarbrough made the play, won his bone-in ribeye and cashed it in with Stamets on Tuesday. It was especially gratifying for the 23-year-old right-handed hitter, who has been exclusively a second baseman since arriving at the University of Mississippi.
"I just got a 12-inch third-baseman's glove, too, about a week and a half ago," Yarbrough said. "There's still some balls where even if I catch it, it's not squeezing right yet. I was a little worried on some of those, but I got through it."
Yarbrough ranks 14th in the Angels' system, according to MLB.com, and posted a .285/.321/.397 slash line in his first season of Double-A last year. He's expected to spend the 2015 season playing full-time second base again, this time for the Triple-A Salt Lake Bees and in the hitter-friendly Pacific Coast League.
But the Angels have been getting him a lot of work at third base this spring, hopeful they could tap into some additional versatility and help Yarbrough carve a path to the big leagues.
"It kind of sounds like a cliche, but anywhere I can play that will get me on a team at some point is fine with me," Yarbrough said. "The goal is to someday be an everyday second baseman, just because that's what I played my whole time at pro ball. But anywhere they need me to fill in; as long as it gets you up quicker."
Worth noting
• Garrett Richards lines up to pitch in a Minor League game Monday, then perhaps against the Dodgers on March 28 and extended Spring Training, after the Angels leave Arizona five days later.
But Scioscia isn't worried about him hardly facing Major League hitters before getting activated, saying, "Garrett has proven his stuff plays in the big leagues, so I think it's just a function of getting him healthy and getting him stretched out."
• Nick Tropeano, also vying for the fifth spot of the Angels' rotation, gave up seven runs in four-plus innings in a "B" game against the Cubs on Thursday, giving up eight hits and striking out eight. The 24-year-old right-hander gave up two homers, one to Kris Bryant, but also struck out five of the last six batters he faced.
• Johnny Giavotella, competing for the second-base job, made his first appearance in left field in that "B" game. The 27-year-old has played 22 games in left field in his professional career, all of them in the Minor Leagues.
"Any time a player can show versatility, it helps him to get an opportunity," Scioscia said. "Johnny is athletic enough."
• The Angels play the Indians at 7:05 p.m. PT in Goodyear, Ariz., representing their only night game of the Cactus League schedule. The starters will take batting practice at the Indians' facility, but those who aren't playing will stay back for some workouts at Tempe Diablo Stadium.
Alden Gonzalez is a reporter for MLB.com. Read his blog, Gonzo and "The Show", and follow him on Twitter @Alden_Gonzalez. This story was not subject to the approval of Major League Baseball or its clubs.