Jones doing what he can to show he belongs in the Majors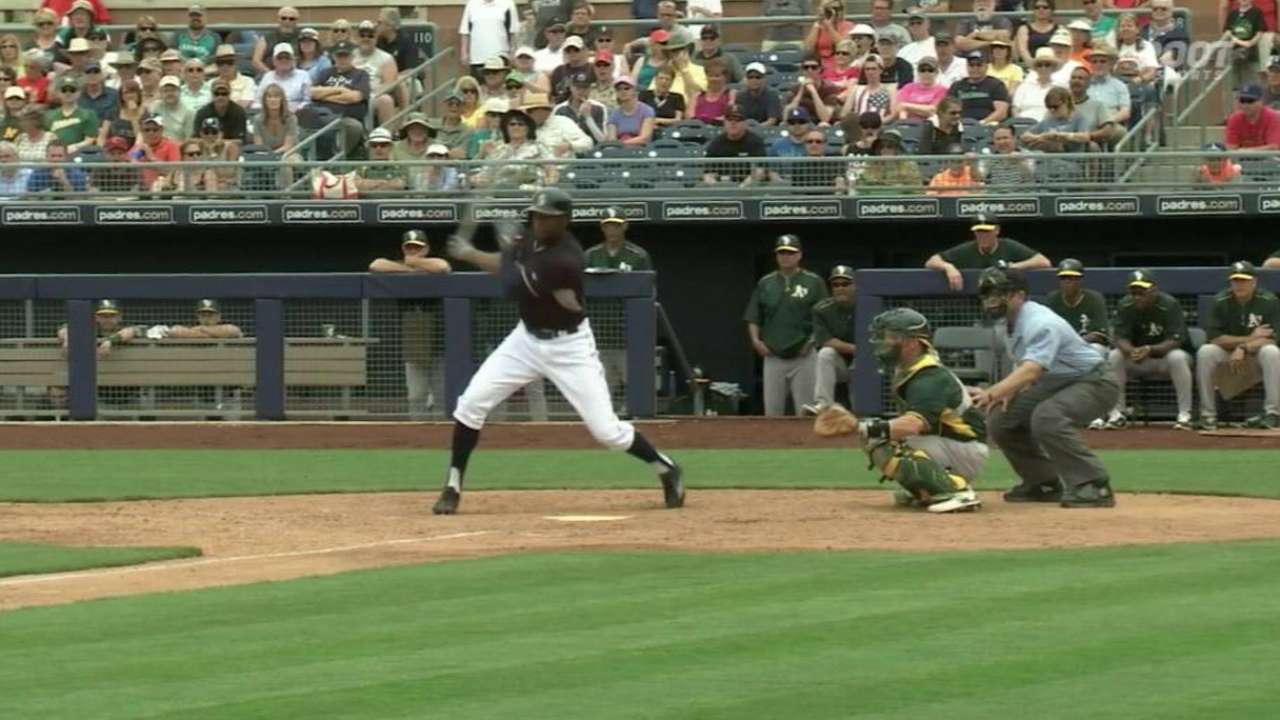 PEORIA, Ariz. -- James Jones understands the situation. The Mariners added a handful of veteran outfielders this offseason, making it difficult for the 26-year-old speedster, who played 108 games last season as a rookie, to make the 25-man roster.
But Jones came to camp with a new batting approach and his same love for the game, and is doing everything he can to show he belongs in the Majors.
"There's going to be competition wherever you go," Jones said. "If there's no competition, you have to ask yourself if you're even trying. I like the competition. It makes it good for everybody. This is a really talented group -- good hitters and guys who can play all the positions. I'm definitely picking their brains."
That's Jones' approach: Make the most of every opportunity. A year ago he stole 27 bases -- the second most among all MLB rookies -- while putting up a .250/.278/.311 slash line. His speed is a Major League asset, but the Mariners asked him to lower his hands at the plate to improve his hitting approach, and he's worked on that this spring.
The results have been coming. Jones is hitting .267 with a double, triple and six RBIs, and he was tied for second among all Cactus Leaguers with 10 runs scored entering Thursday.
"He's playing well," said manager Lloyd McClendon. "The bat speed is better. He's had some big hits this spring. He's improved quite a bit."
Still, a roster spot remains a long shot on a team that has returning starters Dustin Ackley and Austin Jackson in left and center, and new veterans Seth Smith and Justin Ruggiano splitting time in right. Once Rickie Weeks was signed and began working in left field alongside Ackley, Jones' chances got even tougher. And that doesn't even include the fact that designated hitter Nelson Cruz can and will play some right field as well.
Jones can play all three outfield positions, and his speed is an asset that would be welcome on the bench, though he'll need to prove he can hit more consistently after he succumbed to a second-half slump last season when he hit .118 in 68 at-bats after the All-Star break following a .287 first half.
"Last year in the box, the ball felt like it was really jumping on me at times," Jones said. "I feel like I have a better game plan now. I'm keeping my hands loose. They were higher last year. They were ear height last year, and now the highest I go is about my shoulder.
"It's just to keep my rhythm. A lot of good hitters have rhythm. They're not rigid or anything like that. It's like they're in tune with the pitcher, and that's something I'm trying to develop."
McClendon knows Jones isn't a finished product, but he sees a future for the 6-foot-4 speedster from Brooklyn.
"In the game of baseball, we get in such a hurry to see it come so quick," McClendon said. "This is a hard game to master. Is Jones getting better? Yeah. Will he strike out a little bit? Sure. But I see his game improving in every area.
"This is a game of failure, and until you fail you're not going to succeed. Jones is going to be OK. We just need to give him a little time. There's a lot to like. He's got weapons. He can steal a base, he can hit a double, he can run a ball down in the gap. He's a pretty nice player."
Greg Johns is a reporter for MLB.com. Follow him on Twitter @GregJohnsMLB as well as his Mariners Musings blog. This story was not subject to the approval of Major League Baseball or its clubs.