Swisher focusing on positives as he makes his way back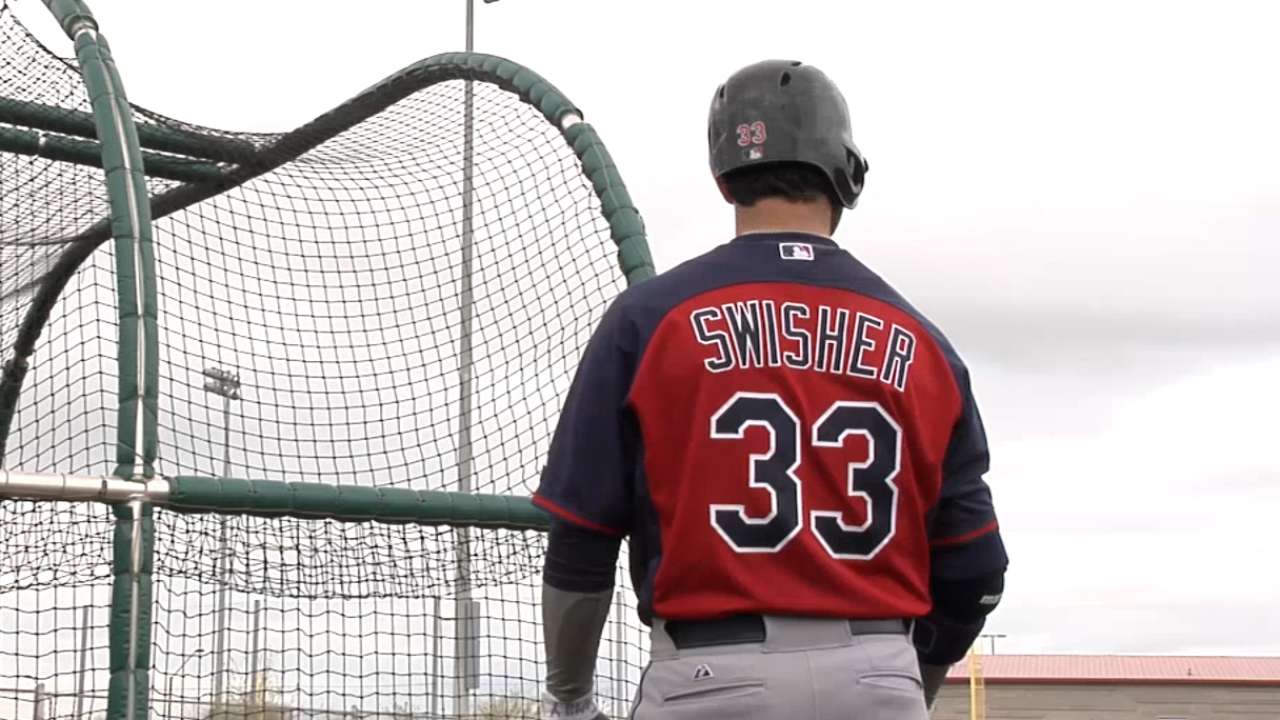 GOODYEAR, Ariz. -- Rain washed away Nick Swisher's on-field workout on Thursday afternoon, but the storm did nothing to dampen his spirits.
Swisher has come to terms with the reality that he might not be ready for the Indians' Opening Day, so he is choosing to focus on the positives that pop up each week in his monotonous rehab from double knee surgery in August. For instance, he ran the bases on Tuesday for the first time since the operation and bounced back well over the past two days.
"With what I went through, and where I'm at right now, I feel really good and I'm proud of myself," Swisher said on Thursday. "When you get into a situation like this, you can either shut it down or fight hard and fight to get back. I still have a lot of games to be played in this body, and I'm going to ride it until the wheels fall off."
The 34-year-old Swisher insists that Opening Day (April 6 in Houston) remains his target, but he understands that timetable might not be possible. He is hoping to run the bases again on Friday, and his schedule will soon include more position-specific drills. Decelerating remains one of the biggest hurdles for Swisher, who is itching to be cleared for a return to games.
After last season, when Swisher tried to play through the knee issues and wound up with a .208 average in 97 games, he does not plan on rushing through his rehab.
"I'm not going to do what I did last year," he said. "I tried to play through so much pain last year, and it just didn't work. I'm going to make sure everything is as close to 100 percent as we can get before we get back out there. Obviously, my goal is Opening Day, for sure. I want to be ready to go then, but if it's not [realistic], it's not going to crush me like it would have four months ago."
Manager Terry Francona, who has had multiple surgeries on both of his knees, knows that Swisher is facing both mental and physical obstacles.
"Anybody who's had knee surgery for the first time, every time you move, you think you're tearing something," Francona said. "That's what it feels like, and then it takes a while. The mental part is, OK, you do go out and you run, and you feel it, but you know that you're just either feeling scar tissue, or you're getting more range of motion than you've had.
"It hurts when you do that stuff, and it doesn't feel normal. But when you do it and you get used to it, and then you know you can do it, then the confidence comes back."
Swisher is slowly regaining that confidence.
"I feel like everything is progressing the way I'd like it to," Swisher said. "When I first had the surgery, I assumed I'd show up to Spring Training at 100 percent. ... I thought it would be a little faster, but it hasn't been, and I'm cool with that now. I've kind of come to grips with where I am. I just want to keep battling, keep grinding and keep getting better. Every day it's getting better."
Jordan Bastian is a reporter for MLB.com. Read his blog, Major League Bastian, and follow him on Twitter @MLBastian. This story was not subject to the approval of Major League Baseball or its clubs.