Francona's lineups taking on leftward lean at the top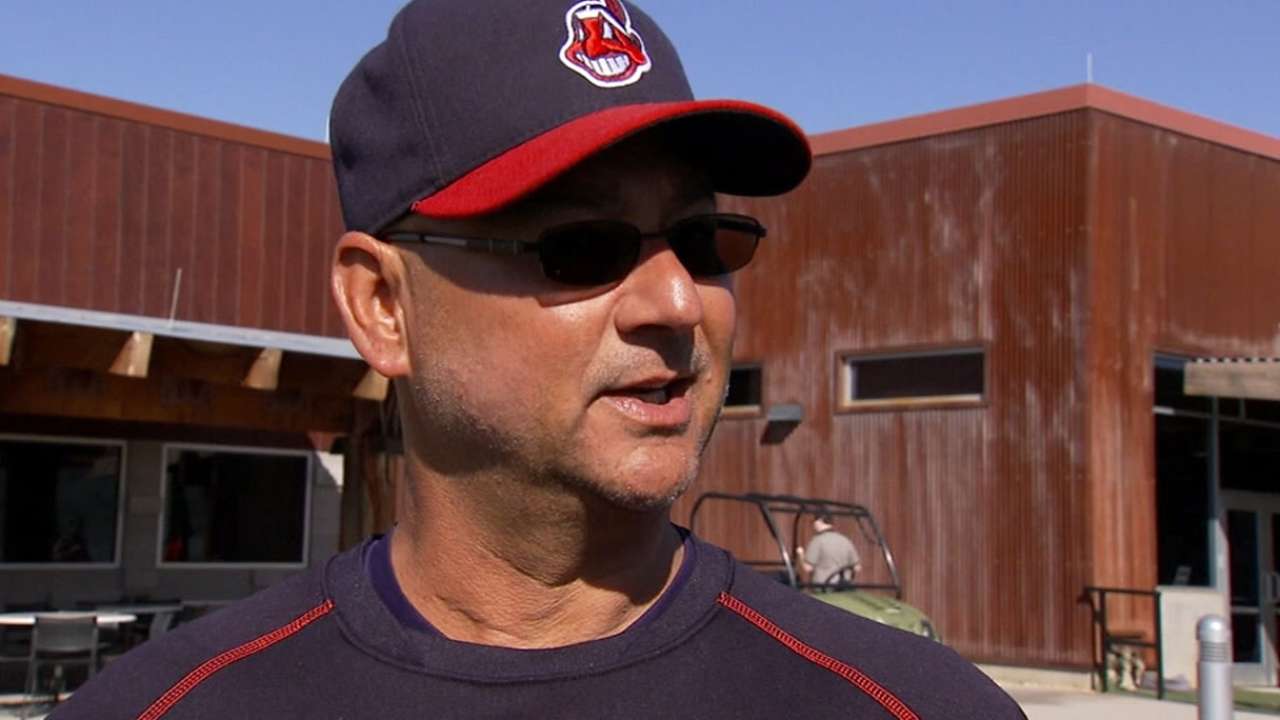 GOODYEAR, Ariz. -- The lineup that manager Terry Fracona initially rolled out for Thursday night's game against the Mariners might have represented the way he is leaning for the coming season. He was not going to bite, however, when asked if that was indeed the case.
"I kind of lined it up like I thought it would look OK," Francona said with a shrug. "But I didn't spend a ton of time on it."
After Wednesday's off-day, Francona was able to pencil in nine projected regulars for the Cactus League tilt against Seattle.
As expected, center fielder Michael Bourn was in the leadoff spot. From there the lineup included (in order) second baseman Jason Kipnis, left fielder Michael Brantley, first baseman Carlos Santana, right fielder Brandon Moss, catcher Yan Gomes, third baseman Lonnie Chisenhall, designated hitter David Murphy and shortstop Jose Ramirez.
Shortly before the game, Kipnis was scratched because of back spasms and replaced by prospect Erik Gonzalez, who slotted into the ninth spot. Murphy and Ramirez moved to the No. 2 and No. 8 spots, respectively.
Francona does what he can to break up left- and right-handed batters in his lineups, but he originally had three lefties (Bourn, Kipnis and Brantley) at the top of the order, and it sounds as though he is leaning toward sticking with the three left-handed hitters before the heart of the lineup.
"We have so many lefties anyway, they're going to be lined up somewhere," he said. "I would say that we're probably going to try to have our [best] guys hit up in the order. If Kip looks like he's going to swing the bat like he is, I'd like him to hit as many times as possible. If you have Kipnis, Brantley and Santana coming up in an inning, that's pretty good. It's hard to get through those guys. And then Moss behind them, that's pretty good. You'd have to navigate through some guys."
With so many left-handed batters, Francona said, striking balance throughout the order is not an easy task.
"'Beat the starter' is probably the priority," he said. "Then, as you get into the season, maybe a guy gets hurt or something happens. Then maybe you can make some changes and try to get a little bit more balance. I think, with the guys we have, I'd like to make sure certain guys hit early and maybe have that chance for that last at-bat."
Jordan Bastian is a reporter for MLB.com. Read his blog, Major League Bastian, and follow him on Twitter @MLBastian. This story was not subject to the approval of Major League Baseball or its clubs.