MLB.com Columnist
Barry M. Bloom
Vogelsong shakes off liner to leg in sharp outing
Right-hander improves case for Giants' rotation with 4 2/3 scoreless innings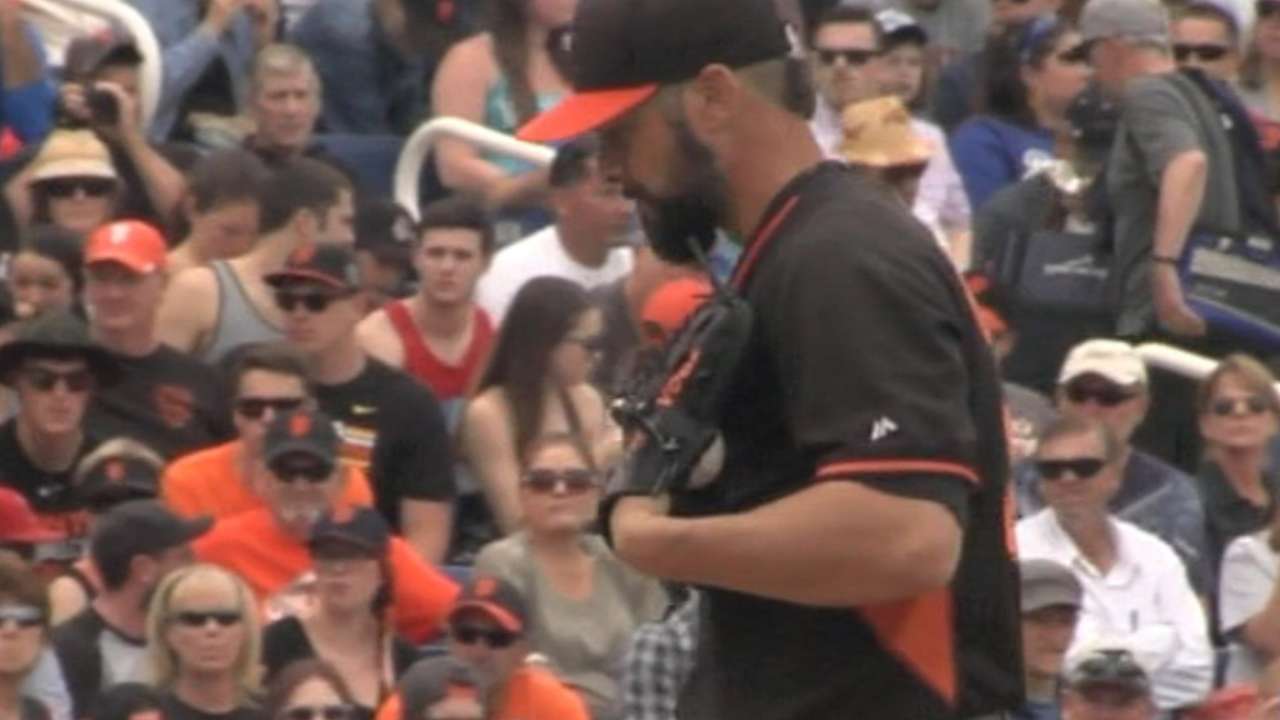 PHOENIX -- Giants right-hander Ryan Vogelsong took a shot off the inside of his left shin during the first inning of Friday's start against the Brewers at Maryvale Baseball Park and overcame the incident to record his best outing of the spring.
"I love to compete. That's why I didn't come out of the game today," said Vogelsong, who threw 4 2/3 innings of shutout, two-hit ball in the Giants' 3-2 win. "I want to compete and coming over here and facing two hitters doesn't get me ready for April 6."
Vogelsong walked two, struck out four, earned his first spring win and left after throwing 73 pitches. Seated in the visitors' clubhouse, the 37-year-old veteran of 10 big league seasons had his left shin wrapped in ice. Vogelsong opened his outing by striking out leadoff hitter Carlos Gomez. Scooter Gennett then lined the shot off Vogelsong's leg, the ball bouncing toward first baseman Brandon Belt, who picked it up in foul territory beyond the base and stepped on the bag for the out.
Vogelsong simply brushed it off. Manager Bruce Bochy and assistant athletic trainer Eric Ortega started out to the mound, and Vogelsong waved them off before they crossed the third-base line.
"They didn't spray it, no. I didn't even want to look at it," Vogelsong said. "I just told them I was fine. I said if it started hurting I would tell them. [Ortega] wanted to look at it and I said, 'We're not even going to look at it. I'll look at it when I'm done.'"
Vogelsong is vying for a spot in the rotation, which is very much up for grabs. It was his fourth appearance and third start of the spring. He's pitched 12 1/3 innings, allowing 11 hits and nine runs (eight earned) for a 5.84 ERA. Not pretty numbers. Previously, he'd been erratic, Vogelsong said.
"The other night against Arizona I thought I threw well from my arm side, but my glove side I wasn't really happy with that," said Vogelsong, referring to throwing inside to lefty hitters. "But today, that's where I want to be when the season starts. The breaking ball is still half and half, but it's better than it was five days ago."
The crowd evidently appreciated Vogelsong's effort. After Gomez walked to put runners on first and third with two out in the fifth, Bochy came to the mound to get Vogelsong. And he left to a standing ovation from the huge contingent of Giants fans in the crowd of 10,116.
"It's just our fans, man, it's just our fans," Vogelsong said. "They love us and we love them. It's really a mutual feeling. And the great thing about our fans is that they're smart, too. They know the game. They know when you have a good outing, and I'm sure they could see me out there doubting it a little bit after I got hit in the leg.
"It would have been easy to say after I got hit in the leg, 'Ah, I got hit in the leg. It's time to shut it down.' I think they understand that. So they're great, they're really great."
Barry M. Bloom is a national reporter for MLB.com and writes an MLBlog, Boomskie on Baseball. Follow @boomskie on Twitter. This story was not subject to the approval of Major League Baseball or its clubs.