Aided by bats, Walker continues dominant spring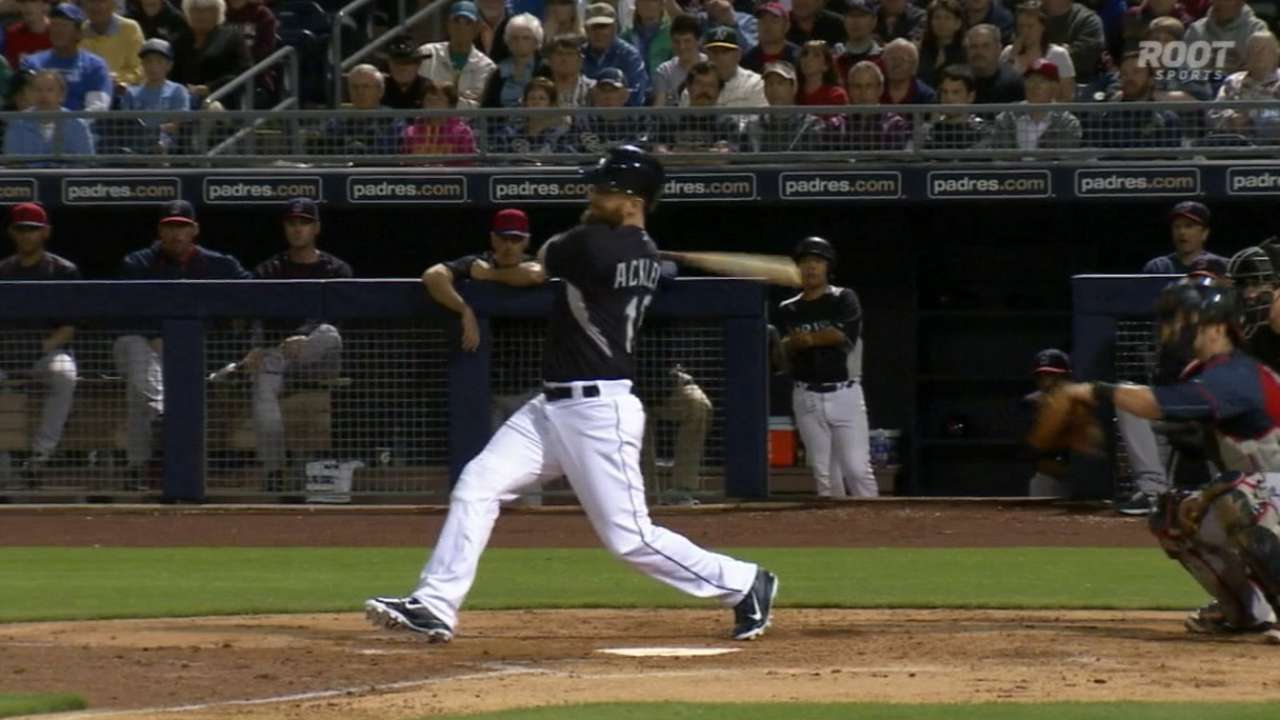 PEORIA, Ariz. -- Kyle Seager racked up three hits and Dustin Ackley had two hits and two RBIs, leading the Mariners over the Indians, 5-2, in a Thursday night Cactus League game at Peoria Stadium.
Cleveland left fielder Michael Brantley had a pair of hits and drove in a run for the Indians, who got 3 2/3 innings of one-run ball from starter Carlos Carrasco. Indians top prospect Francisco Lindor added a solo home run in the ninth.
Young right-hander Taijuan Walker continued his dominant spring for Seattle by allowing just two singles over four scoreless innings and made another strong statement in his bid for the fifth spot in the Mariners' rotation.
MOMENTS THAT MATTERED
No jam too tough for Taijuan: Walker hasn't given up a run in 12 innings in his first four Cactus League starts, but he needed to bear down in the second to escape a bases-loaded, one-out pickle. After a visit from pitching coach Rick Waits, the 22-year-old struck out Indians shortstop Jose Ramirez, who flailed so badly at a third-strike curve that his bat went sailing all the way to Cleveland's dugout. Walker then got Erik Gonzalez to pop to shallow left, where Ackley saved the day with a last-second diving catch after the ball nearly dropped between him and shortstop Brad Miller.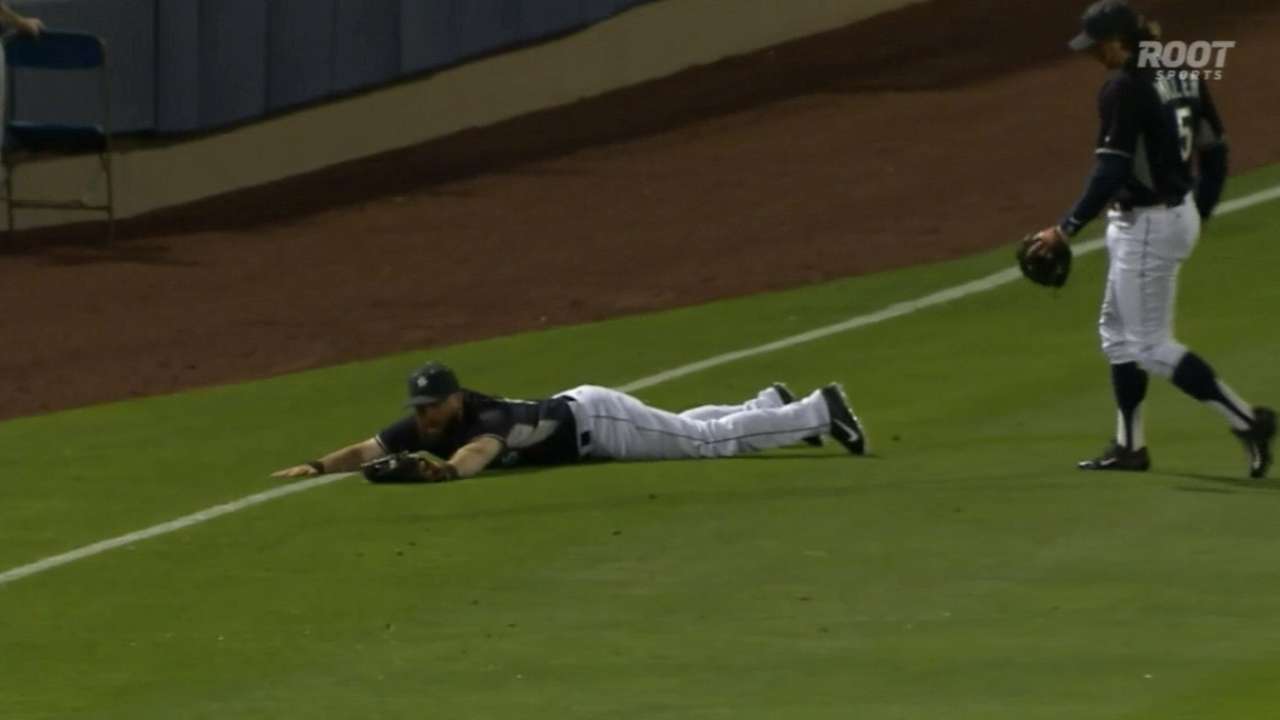 Did Ackley have that ball all the way?
"I did not, no," said Ackley, who also made a nice sliding grab of a fly ball to left in the first by David Murphy. "Actually, it kind of was above the bill of my cap, and it came down, and I don't even know how it went in there, to be honest with you. That was one of those, you just kind of prayed its way into your glove."
Escaping the fourth: Carrasco was supposed to log four innings and was on pace to do so before laboring through 26 pitches (12 strikes) in his final frame. Overall, he threw 58 pitches (35 strikes) and left with the bags full in the fourth. He struck out two, walked a pair and yielded one run on six hits. The damage might have been worse, but reliever Bryan Price entered and ended a bases-loaded threat by inducing a lineout off the bat of Jesus Sucre.
"Overall, I felt good," said Carrasco, who missed his previously scheduled start due to illness. "I had bases loaded [in the fourth] and I tried to get back to my mind-set like I did last year. I thought I did that, but I felt a little bit tired in the last inning, too."
"He had pretty much almost 10 days off," Indians manager Terry Francona said. "All things considered, I thought there was a little rust. I thought, as he got into that fourth, he was starting to get on the side of it a little bit [with his mechanics], which is to be expected. But I thought overall he was OK."
Twin killing: With no outs and the bases full of Mariners in the fourth inning, the Indians received a highlight-reel double play. Ackley chopped a pitch from Carrasco to first baseman Carlos Santana, who quickly fired a throw to catcher Yan Gomes to force an out at home. After stepping on the plate, Gomes rapidly returned the ball up the first-base line; the ball narrowly avoided the runner and was snared by Santana for the second out.
"If we're playing in the regular season," Francona said, "that's a play that saves a game. [Carrasco] was in a lot of trouble, and that was a heck of a play. I don't know if [Santana] knew that he caught it on the return, but it was a heck of a play."
Big man in the middle: While the Mariners have added some key veterans to their lineup, Robinson Cano remains the key to their offensive hopes, and the six-time All-Star second baseman delivered with his double in the fifth inning. The drive into the right-field gap scored pinch-runners Shawn O'Malley and Alex Jackson to give Seattle a two-run lead before Ackley added an RBI single for his second hit of the game. Cano is now batting .350 with three doubles in seven games this spring.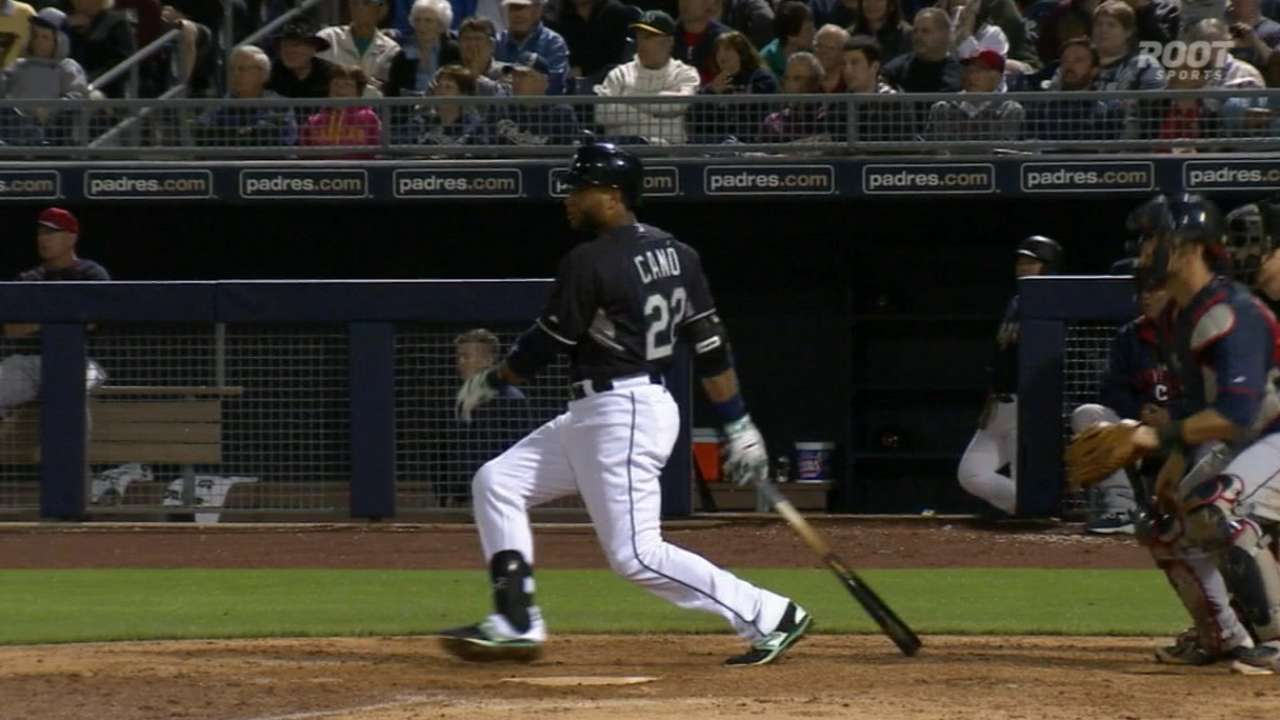 QUOTABLE
"One was a great catch, the other one was a circus catch. But an out is an out." -- Mariners skipper Lloyd McClendon on Ackley's two left-field grabs in the first two innings
"He sat there for eight innings tonight, you give him a bat and he whacks one. He's been fun to get to know. Man, it looks like his future is pretty bright." -- Francona on Lindor
SOUND SMART WITH YOUR FRIENDS
Seager went 3-for-3 in his latest game against the Indians. He has earned a reputation for tormenting the Tribe. For his career, Seager has hit .394 in regular-season play against Cleveland.
Walker's four shutout innings lowered the ERA of Seattle's starters to 1.61 in 16 games, the lowest of any Cactus League club. Mariners starters haven't allowed a run over 12 innings in their last three games between Hisashi Iwakuma, Erasmo Ramirez and Walker.
WHAT'S NEXT
Southpaw Roenis Elias makes his fourth Cactus League start on Friday as the Mariners travel to Surprise, Ariz., to face the Rangers at 1:05 p.m. PT. Elias has a 4.70 ERA in 7 2/3 innings as he competes for the No. 5 rotation berth. The 26-year-old Cuban started 29 games last season as a rookie. He'll likely throw five innings, with Yoervis Medina and Joe Saunders slated to come out of the bullpen.
Jordan Bastian and Greg Johns are reporters for MLB.com. This story was not subject to the approval of Major League Baseball or its clubs.