Pirela's spring likely not enough to earn roster spot
Prospect impresses with bat, in the field, but Yankees' bench set barring injury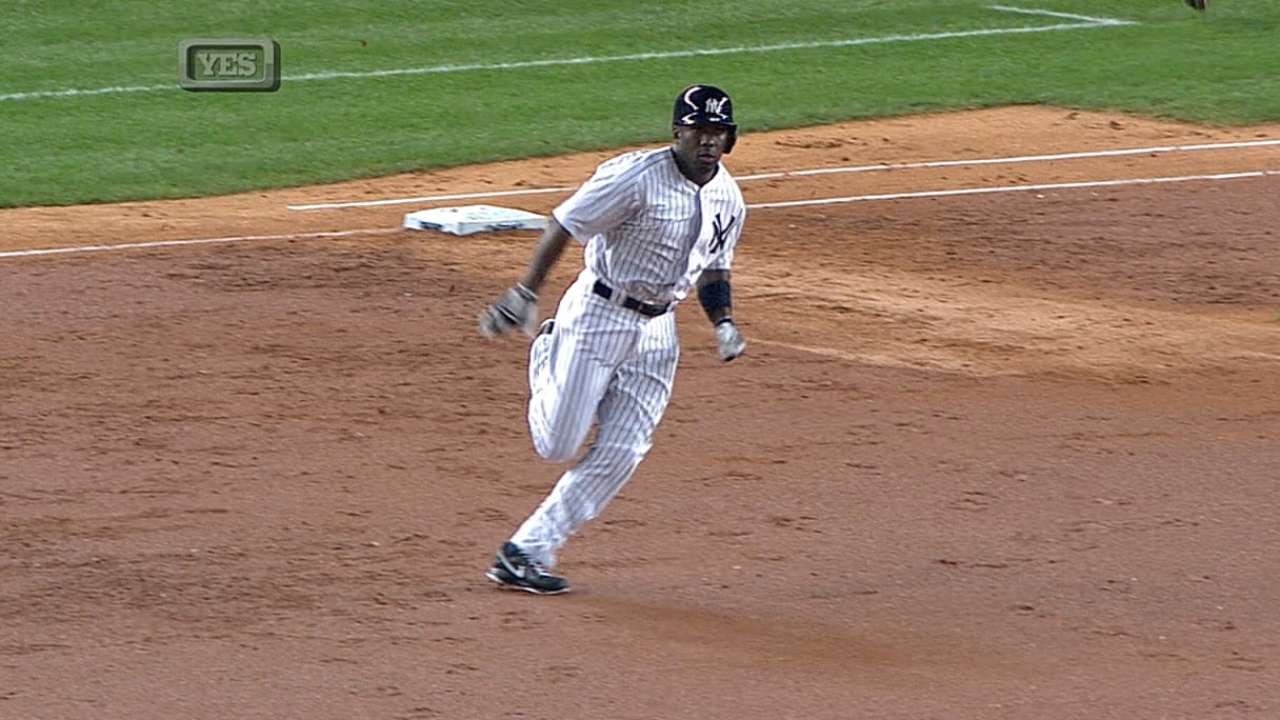 TAMPA, Fla. -- Jose Pirela has enjoyed a solid spring for the Yankees, showcasing his live bat and the ability to play several positions, but manager Joe Girardi is not able to promise there will be a spot for him on the Opening Day roster.
Pirela, 25, entered play on Thursday batting .391 (9-for-23) with two doubles, two triples and three RBIs in 12 Grapefruit League games. The Yankees believe that he can play all over the infield, and they will soon give him reps in center field, but it is likely that Pirela's season will begin with Triple-A Scranton/Wilkes-Barre. Pirela is ranked No. 25 among the Top 30 Yankees prospects.
"I don't want to have to say that there's no chance of him making our roster, but I think [general manager] Brian [Cashman] said it, our roster was fairly set," Girardi said on Thursday.
Girardi said that outside of the backup catcher competition, where John Ryan Murphy and Austin Romine are trying to win a spot, the Yankees were sure about 12 of their 13 position player spots coming into camp.
That includes second base, where Stephen Drew is guaranteed of being the Opening Day starter, and a backup infield job that will be handed to Brendan Ryan if healthy. Ryan has yet to appear in a game this spring because of a mid-back sprain, but he is listed on the Yanks' travel roster for Friday's game against the Tigers in Lakeland, Fla.
"You don't ever lock yourself in and say, this is exactly what it's going to be, but when we came to Spring Training, we were pretty sure -- excluding the second catcher -- who the 13 guys were going to be," Girardi said. "They were kind of signed to do that."
Girardi allowed that it is possible that an injury or a trade could change the landscape. As of now, the Yanks project to carry Alex Rodriguez, Garrett Jones, Chris Young and either Murphy or Romine as reserves, leaving Pirela on the outside looking in.
"I just want to continue being given the opportunities to play," Pirela said. "I just want to keep getting opportunities."
At one point this past offseason, Yankees people were talking about a potential second-base competition between Pirela and 23-year-old Rob Refsnyder. The Yanks signed Drew to a one-year, $5 million deal in January, putting an end to that talk, and Girardi said that he hopes Pirela and Refsnyder were not discouraged by the move.
"What you hope is, if you continue to play the way that you're playing, and continue to have success, you're going to have your opportunity," Girardi said. "Sometimes the opportunities don't come as fast as you want them as a player, and sometimes they come faster than you think.
"You have to be able to handle them and you have to be mentally strong enough to handle whatever comes your way, because you're going to have setbacks in this game. Whether it's at this level, the big league level, you've got to be able to handle them and get through it and say, 'It doesn't matter. I'm going to go out and play.'"
Bryan Hoch is a reporter for MLB.com. Follow him on Twitter @bryanhoch and read his MLBlog, Bombers Beat. This story was not subject to the approval of Major League Baseball or its clubs.