DeShields, Schierholtz trying to impress in outfield competition
Physical issues have kept both from having full spring with Texas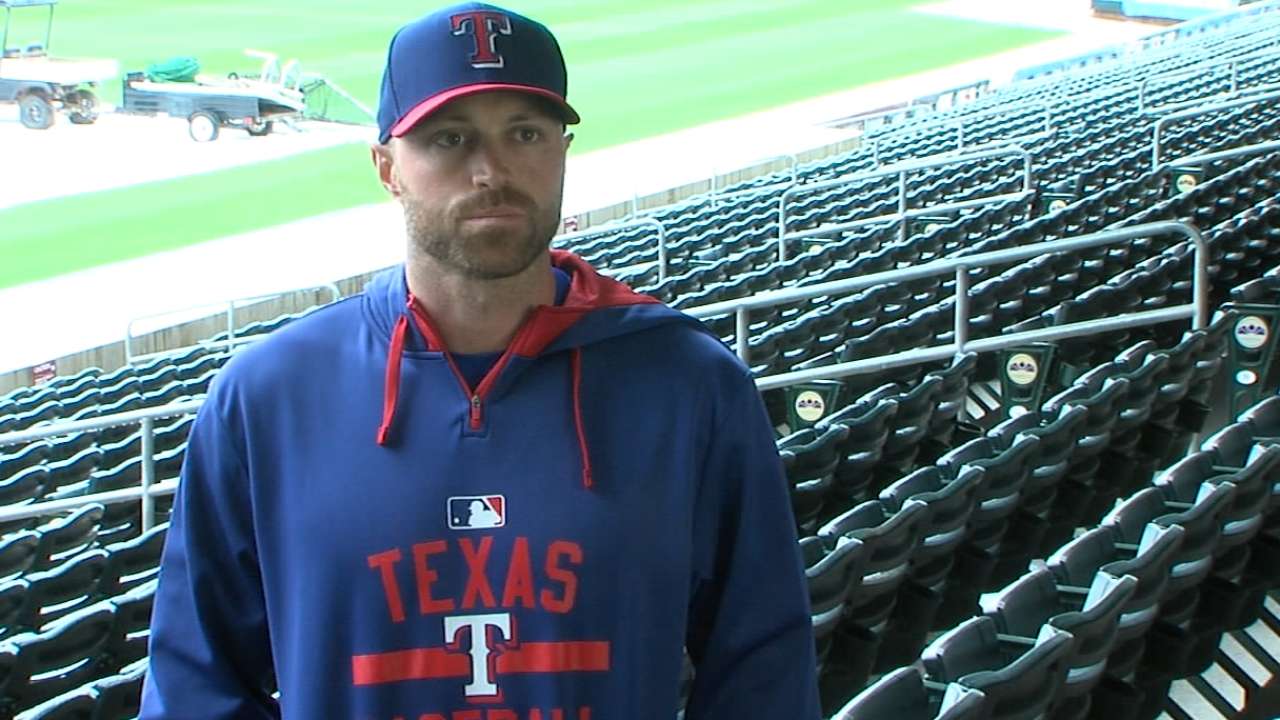 GOODYEAR, Ariz. -- Delino DeShields Jr. was supposed to be in center field for the Rangers on Thursday against the Reds and Nate Schierholtz was marked for right field. That was before the game was washed out by rain.
DeShields and Schierholtz have to wait another day to get back into the game and mount a late spring drive to make the Opening Day roster. Physical issues have kept them from being fully engaged in the competition.
The injuries were considered minor but any physical setback in Spring Training can be significant, especially with the steep competition that is going on in the outfield.
There are three spots open for outfielders (Leonys Martin is entrenched in center field). Left field is the coveted position, but the Rangers are also looking for a fourth outfielder and a versatile bat as the last player on the bench. The candidates include right-handed hitters Ryan Ludwick, Ryan Rua and Jake Smolinski, and left-handed swinging Carlos Peguero and Jared Hoying. Switch-hitter Antoan Richardson is also in the picture.
Nobody has claimed a spot, but Schierholtz is recovered from a sore left shoulder and DeShields is no longer limited by a tight right hamstring. Both have time to close ground.
"Still looking for somebody to step up, step forward," manager Jeff Banister said. "All these guys have gone at it very well. There are a lot of elements from all of them. It may take a while. I'm not looking to say this is the guy because we don't really have that just yet."
DeShields, a right-handed hitter, is a prospect who has never played in the Majors. Schierholtz is a proven veteran who hits left-handed. But their situations are similar in one respect. Both have to make the team or they could be gone at the end of Spring Training.
DeShields, whose father played 13 years in the big leagues as a second baseman, is a Rule 5 Draft pick from the Astros and the eighth overall pick in the 2010 Draft. He has tremendous speed and can play center field but didn't hit as expected coming up through the Astros system.
That's part of why he was left exposed for the Rule 5 Draft. He would have to be put on waivers and, if he clears, be offered back to the Astros if not on the Opening Day roster.
"I'm a little motivated but I have always played with a chip on my shoulder," DeShields said. "I played football in high school so I have that football mentality. I do want to prove the Astros wrong."
DeShields had a rough first full season with Low Class A Lexington in the South Atlantic League. He hit just .220 while transitioning from outfield to second base. He repeated the step the following year and hit .298. That went up to .317 with a .405 on-base percentage at Class A Lancaster in the California League. In 2014, he was at Double-A Corpus Christi and also moved back to the outfield. His average dipped to .236. But DeShields also has 241 stolen bases in four-plus seasons in the Minors.
"That first season wasn't that great but I had a good bounce-back year," DeShields said. "I had just moved from the outfield to second base and it was a very difficult position. A lot of people outside didn't know what that season was about. It was about getting good defensively.
"But people started saying stuff like I shouldn't have been a first-round pick. I heard what they said and I use it to motivate me."
Schierholtz was the last man to enter the outfield competition, agreeing to a Minor League contract just two weeks before camp. He has an out in the contract allowing him to take his free agency at the end of Spring Training if he is not on the Opening Day roster.
"It's always time to kick it into gear," Schierholtz said. "Obviously Spring Training is a time to get ready for the season, but I am trying to approach every at-bat like it is the regular season. Every day is important."
Schierholtz is an eight-year veteran who helped the Giants win a World Series over the Rangers in 2010. He hit a career-high 21 home runs for the Cubs in 2013. He can play all three outfield positions. But the sore shoulder has limited him to just six Cactus League games, fewest of all the outfield candidates.
"You want to be respectful to a guy that has put in the time he has," Banister said. "Big league time and the guy he is and how he's gone about his business. We want to allow him an opportunity to feel good, but also an opportunity to get out and compete. We wanted to make sure we treated him right so that gets an opportunity to show us exactly what he is."
T.R. Sullivan is a reporter for MLB.com. Read his blog, Postcards from Elysian Fields, and follow him on Twitter @Sullivan_Ranger. This story was not subject to the approval of Major League Baseball or its clubs.