MLB.com Columnist
Phil Rogers
Rays believe Rivera can be special behind the plate
Tampa Bay's new 31-year-old catcher hopes to show he belongs as a starter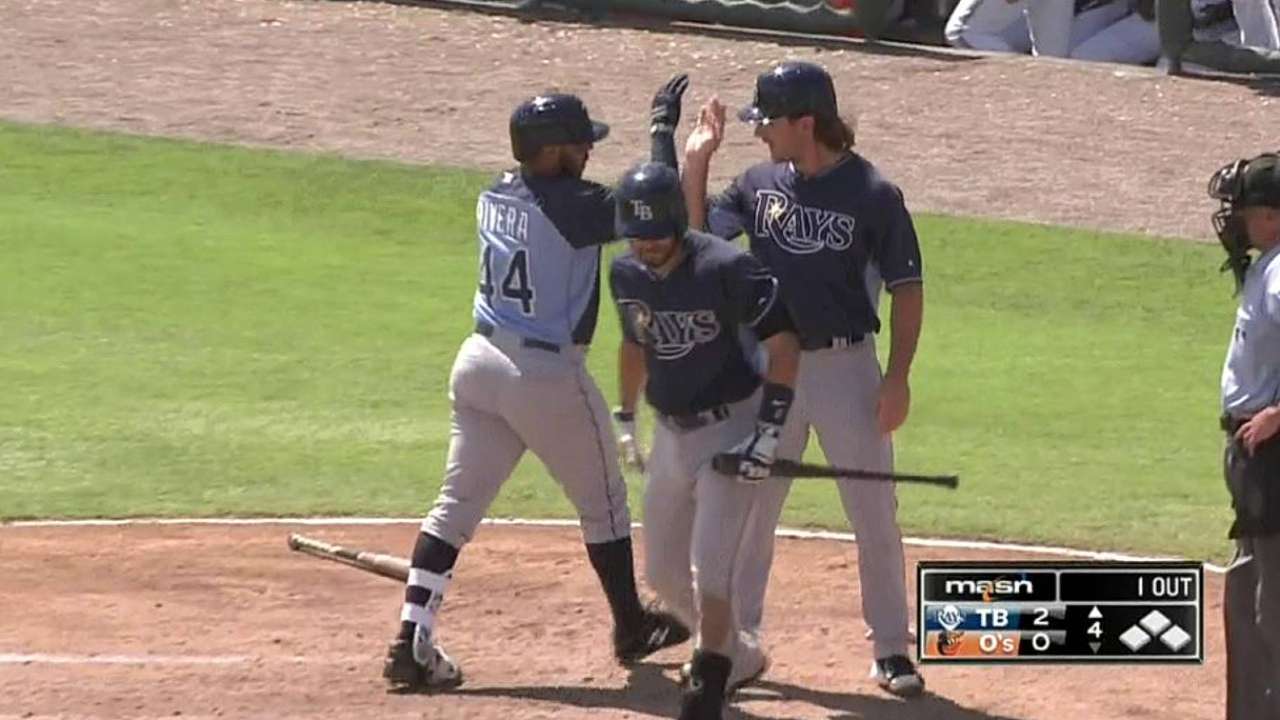 PORT CHARLOTTE, Fla. -- Boldness was never a problem for the Tampa Bay Rays when Andrew Friedman was running the baseball operations department. Turns out it's not a whole lot different with Matt Silverman in charge.
Consider the catching position. When Silverman included his No. 1 catcher in the three-team, 11-player deal that sent Wil Myers to the Padres, the consensus was that Ryan Hanigan would be badly missed, especially with Jose Molina also being cut loose.
What no one knew was how highly the Rays' deep thinkers valued Rene Rivera, who, at age 31, was dismissed as "just a backup" by one of the top transaction analysts.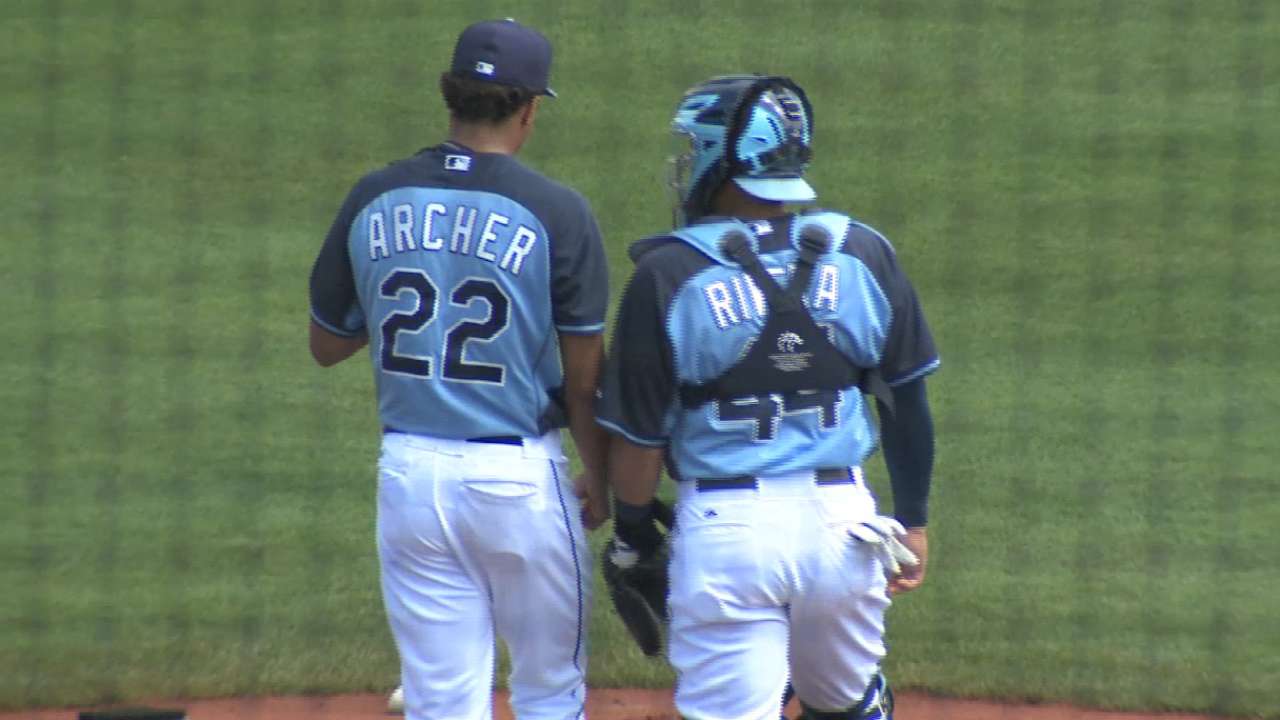 We'll see about that.
Rivera has moved to his seventh organization as an unquestioned survivor. He was a Minor League free agent six offseasons in a row -- and was actually home in Puerto Rico at the start of Spring Training in 2010, jobless -- but revived his career after a short stint in independent ball.
These days, Rivera has some prime real estate in Tampa Bay's clubhouse. He's the only player in a row of three lockers, but he sheepishly points out that only two are his.
"That one's lost and found," Rivera said, pointing to the one on the left.
Fitting, huh? Rivera had been lost before he found himself with San Diego in 2013, taking advantage of Yasmani Grandal's PED suspension to get the Major League playing time that had eluded him since 2006. He quietly outplayed both Grandal and Nick Hundley last season, emerging as a hitter while turning in his usual solid work behind the plate.
Rivera's WAR of 3.1 ranked eighth among 39 Major League catchers with at least 200 plate appearances, ahead of brand names Yadier Molina and Brian McCann. The Rays believe he's about to show this was no fluke.
"We expect Rene to be Rene," said Kevin Cash, the rookie manager who is replacing Joe Maddon. "He was a priority for us to acquire because of the things he can do offensively and defensively."
Rivera represents a classic case of arrested development. It would be a wonderful story if he found his way to Cincinnati for this summer's All-Star Game, and his emergence last season suggests all that he's lacking is the reputation.
Before Rivera was a Minor League free agent, he was a second-round pick by Pat Gillick's Mariners in the 2001 First-Year Player Draft, as the most highly regarded player in Puerto Rico. This was a critical pick for Seattle at the time, as it came from Texas as compensation for the Alex Rodriguez signing.
Always a gifted catch-and-throw guy, Rivera raced to the big leagues. He was only 21, with only four games above Class A, when he made his Seattle debut in 2004. Rivera had played only 18 games in Triple-A when then-GM Bill Bavasi made him the backup to Kenji Johjima for the entire 2006 season.
Rivera played only 35 games and caught just 266 innings that season. He hit .152 and lost every bit of his swagger, which only started to come back when Grandal's suspension created the need for him to play alongside Hundley for the Padres in the second half of 2013.
The work of manager Bud Black and highly-regarded pitching coach Darren Balsley, along with the spaciousness of Petco Park, are constants that have helped San Diego produce low staff earned run averages. But Rivera was part of the improvement from 3.98 to 3.27 last season.
Rivera has always been valued for his receiving skills, but the more widely accepted pitch-framing metrics quantify that skill. He ranked fifth among MLB's 113 catchers in pitch framing last season, ahead of Buster Posey, Russell Martin and both of the Molina brothers. On top of that, Rivera threw out 33 of 91 runners attempting to steal, a top-tier 36 percent in foiling would-be thieves.
But the biggest development was how Rivera took advantage of the chance to regularly face Major League pitchers. He hit .252 with a career-high 11 home runs. Away from Petco, Rivera built an .802 road OPS with one homer every 15 at-bats. Then he went and hit .275 for the San Juan Senators, earning a spot on Puerto Rico's team in the Caribbean World Series.
"Coming to San Diego, they gave me a chance to be back there a little more," Rivera said. "You take advantage of it. You find your rhythm to hit."
Could Rivera become a 20-plus home run hitter this season based at hitter-friendly Tropicana Field? That might be pushing it, but it would be a huge boost if he could. The Rays have never had a catcher hit more than 14 home runs, and it was 1999, their second season, when John Flaherty produced that total. Tampa Bay's catchers hit .194 with a combined .524 OPS last season.
Silverman expects Rivera to thrive as a regular, saying he hopes he'll fit "for many years to come." Nationals outfielder Steven Souza Jr. was perceived to be the Rays' biggest acquisition in the deal that saw them sacrifice Myers' power potential, but the annual search for a two-way catcher convinced Silverman to pounce on Rivera when A.J. Preller made him available.
"It's a challenge throughout the industry to find good offensive production at catcher while still preserving the defensive value," Silverman said at the time of the trade. "We look at Rivera as someone who is a respectable at-bat with some home-run pop and someone who should be a challenging at-bat for opposing pitchers."
Rivera knows it was his improved hitting that drew attention to his solid all-around play. But he says his priority remains on his receiving and his work with the pitching staff. That was Rivera's message to Cash in their first conversation after the December trade.
"I was complimenting his hitting, how he broke out offensively," Cash said. "He stopped the conversation. He said, 'That's all great, I'm going to hit, but my priority is those pitchers.' For me it was, 'Great, we're good to go.' His communication level this spring, getting to know the [pitchers], his energy level, it's all outstanding. He's going to be huge for us this year."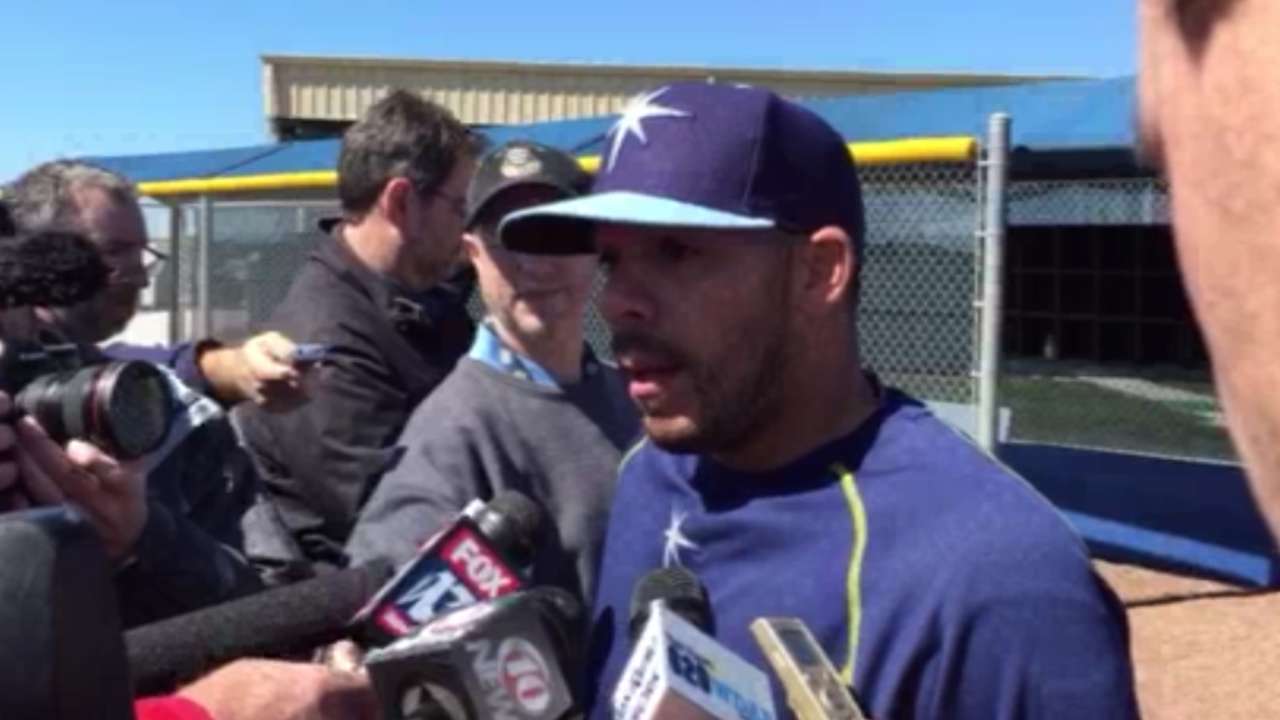 Rivera wasn't kidding when he said early this spring that he'd like to catch 162 games. He probably won't challenge for Randy Hundley's record of 160, but if he holds up physically, he will catch a lot. Rivera says it would be great if he could catch 130-plus, a level that only Salvador Perez, Jonathan Lucroy, Miguel Montero and Mike Zunino reached last season.
"That would be awesome," Rivera said. "I'm ready for it. … I feel like I can be back there every day. I learned how to take care of my body -- rest, eat good. I'm ready for the challenge."
When the Rays traded for Rivera, they immediately explained they had targeted him to be the regular catcher for the pitching staff built around Alex Cobb, Chris Archer and the injured Matt Moore. It was an emotional time for a blue-collar player, but he did not celebrate, just as he will not get caught up talking about the hitting totals he might produce with 400 at-bats.
"I felt great," Rivera said. "I was happy everything worked out. They got the trade. I was excited to be here, great organization. Opportunity to play every day. I was excited. … But the other side is you have to come and work, do your job 100 percent."
Given how they so often make more with less, it's always easy to root for the Rays. Keep an eye on Rivera this season. He might just steal your heart.
Phil Rogers is a columnist for MLB.com. This story was not subject to the approval of Major League Baseball or its clubs.