Smith doesn't mind being underrated in low-profile role
Angels setup man impressed manager with stellar 2014 season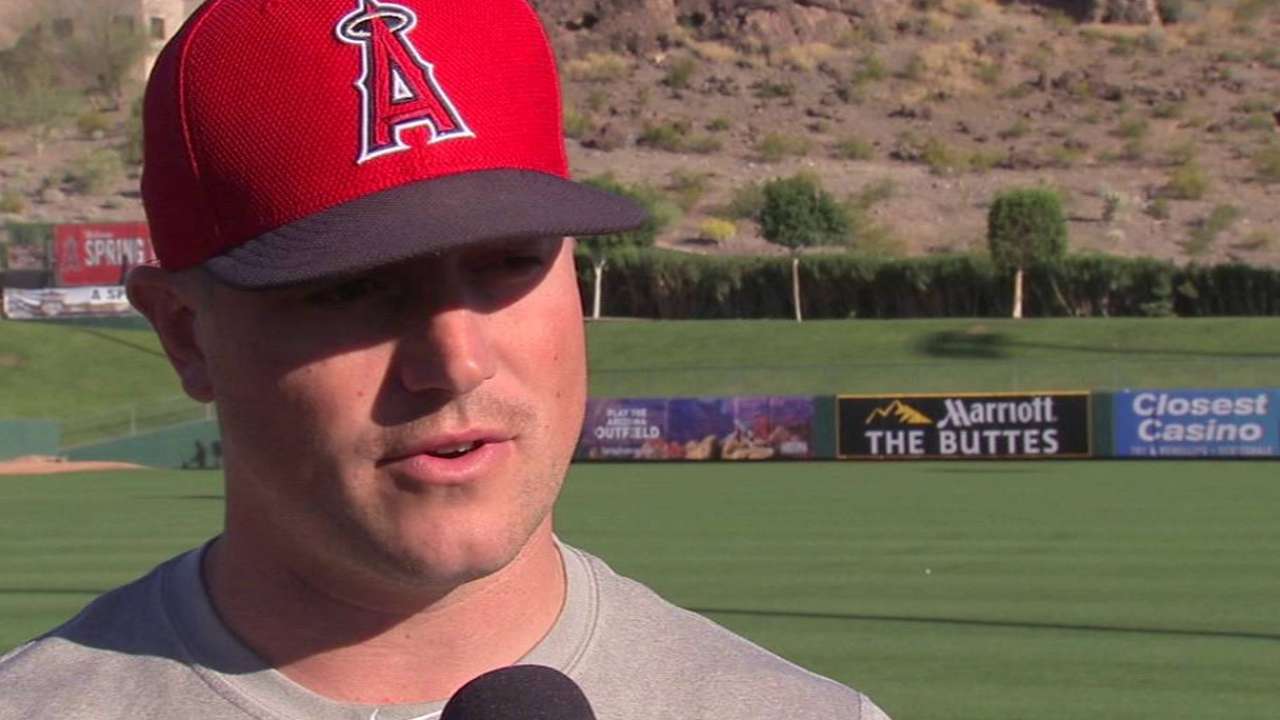 GLENDALE, Ariz. -- The first step is location. It's the only thing Joe Smith cares about when he toes the rubber for his first outing of the spring. All he wants to do is pound his sinker low in the strike zone, never mind the results that come with it. After that, he can start incorporating his slider -- spotting it backdoor, low and in to a lefty, or up high.
And then, just like that, he's ready for a season -- another season of generating lots of groundballs, allowing very few baserunners and receiving very little fanfare.
"That's fine," Smith said of the thankless job of a relief pitcher who doesn't throw the ninth inning. "I know who notices it -- the guys in this clubhouse, the front office. I'm here to win, just like everybody else in this room. At the end of the day, if you get respect from your teammates and the guys you see every day, that's what matters."
Smith has been one of baseball's most effective relievers for a while now, posting a 2.25 ERA and a 1.06 WHIP in 289 appearances from 2011-14. But his performance last season -- the first of a three-year, $15 million contract with the Angels -- was otherworldly.
Among pitchers with at least 70 appearances, Smith ranked sixth in ERA (1.81), fourth in WHIP (0.80) and third in groundball percentage (60.6). From late June to the middle of July, with Ernesto Frieri no longer an option and Huston Street not yet here, the 30-year-old right-hander went 10-for-10 in saves, allowing the Angels to "hold leads and stay in a pennant race," Angels manager Mike Scioscia said.
Asked when was the last time he's had such a productive season from a setup man, Scioscia didn't hesitate.
"Scot Shields," he said, referencing the former right-hander who posted a 3.11 ERA in the back-end of the Angels' bullpen from 2004-08.
"Last year was incredible," Scioscia said of Smith. "And with all the things that happened, Joe might have been lost in the shuffle a little bit."
He does it with two pitches, an upper-80s sinker and a low-80s slider, released from an extreme sidearm angle and thrown in all four quadrants of the strike zone.
That last part was a process.
Heading into 2011, Smith's goal was to get in on lefties with his slider, a pitch that would allow him to evolve into more than just a right-handed specialist. For the previous four years, lefties posted a .325/.437/.488 slash line against Smith. For the next four, they batted just .204/.290/.300.
Then it was getting them to chase pitches when he elevates on two-strike counts.
"These Major League hitters are so good," Smith said. "If I can only throw a fastball to one spot, I better be able to dot it. But the moment you can go away and then in and then up, that's three different pitches."
Then it was filling up the strike zone, Smith's focus when he joined the Angels last season and the reason his production reached a whole new level. Smith's walk rate was a miniscule 1.8 last season, two walks per nine innings lower than his previous career rate of 3.8. He walked only 15 batters in 74 2/3 innings, 10 fewer than he walked in 67 innings just two years earlier.
"That's 10 hitters that are not getting free passes, that you're making put the ball in play," Smith said. "That was a huge emphasis for me last year. I just tried to keep getting better at it."
Alden Gonzalez is a reporter for MLB.com. Read his blog, Gonzo and "The Show", and follow him on Twitter @Alden_Gonzalez. This story was not subject to the approval of Major League Baseball or its clubs.