Vargas knocked out early, Morales hits third spring homer
Royals starter allows nine runs, exits in second inning of 13-2 rout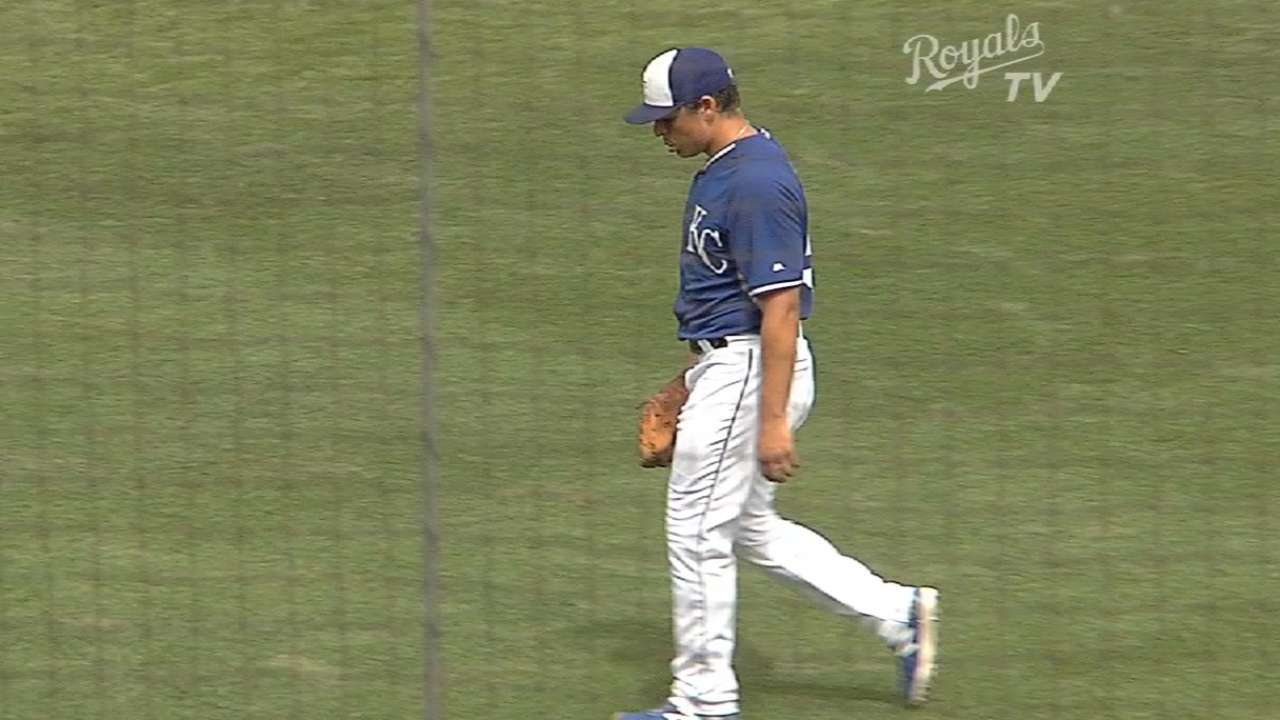 SURPRISE, Ariz. -- Rockies third baseman Nolan Arenado blasted home runs in his first two at-bats in a 13-2 rout of the Royals on Thursday afternoon in a Cactus League game at Surprise Stadium.
Arenado whacked a two-run homer in the first inning off Royals starter Jason Vargas, giving the Rockies a 2-0 lead.
Things got much worse for Vargas in the second as the Rockies scored seven times, three of those coming on another blast from Arenado, who now has three homers this spring. Arenado also singled in the fourth.
Arenado noted that he had trouble against Vargas when the Rockies met the Royals last regular season.

"Last year he kind of cut me up during the season," Arenado said. "I was looking for balls over the plate and luckily he gave me pitches to swing at, and I put good swings on them."
First baseman Matt McBride also homered for the Rockies in the second inning.
Right fielder Charlie Blackmon had two hits and scored twice for Colorado.
Vargas lasted just 1 2/3 innings, throwing 63 pitches.
Vargas, who gave up nine hits and nine runs, couldn't think of anything positive on the day, other than getting to his pitch limit (63).
"I don't think anytime you get hit around like that, that it's good for anyone," he said.
Vargas couldn't explain what went wrong.
"Anything I threw up there they were hitting," Vargas said.
Rockies starter Jordan Lyles enjoyed quite the opposite of days, throwing four perfect innings and striking out two, before exiting.
Lyles, who pitched for the Astros from 2011 to '13 before joining the Rockies last season, is having his best spring.
"I just have a lot of confidence in my changeup, a pitch I haven't had in previous years," Lyles said. "It's another pitch I can lead on. I threw it a lot during the game but they haven't been hit hard."
The Royals finally broke up the Rockies' perfect game bid with one out in the fifth when Kendrys Morales hit his third homer of the spring.
Colorado reliever Rafael Betancourt suffered a bruised jaw when he was struck by the ball in the bottom of the sixth inning on a hit by the Royals' Brett Eibner. Betancourt exited the game to be examined.
Righty reliver Adam Ottavino, a key setup man, pitched his third scoreless Cactus League inning in the eighth.
Up next: The Royals will play their first night game of the spring when they travel to Peoria, Ariz., on Friday to face the Padres in a 9:05 p.m. (CT) start. The Royals will send out right-hander Chris Young. The game can be heard on a webcast on MLB.com
Jeffrey Flanagan is a reporter for MLB.com. Follow him on Twitter at @jflanagankc. This story was not subject to the approval of Major League Baseball or its clubs.