Panik, Belt supply power in Vogelsong's strong start
Veteran right-hander shakes off first-inning scare in scoreless outing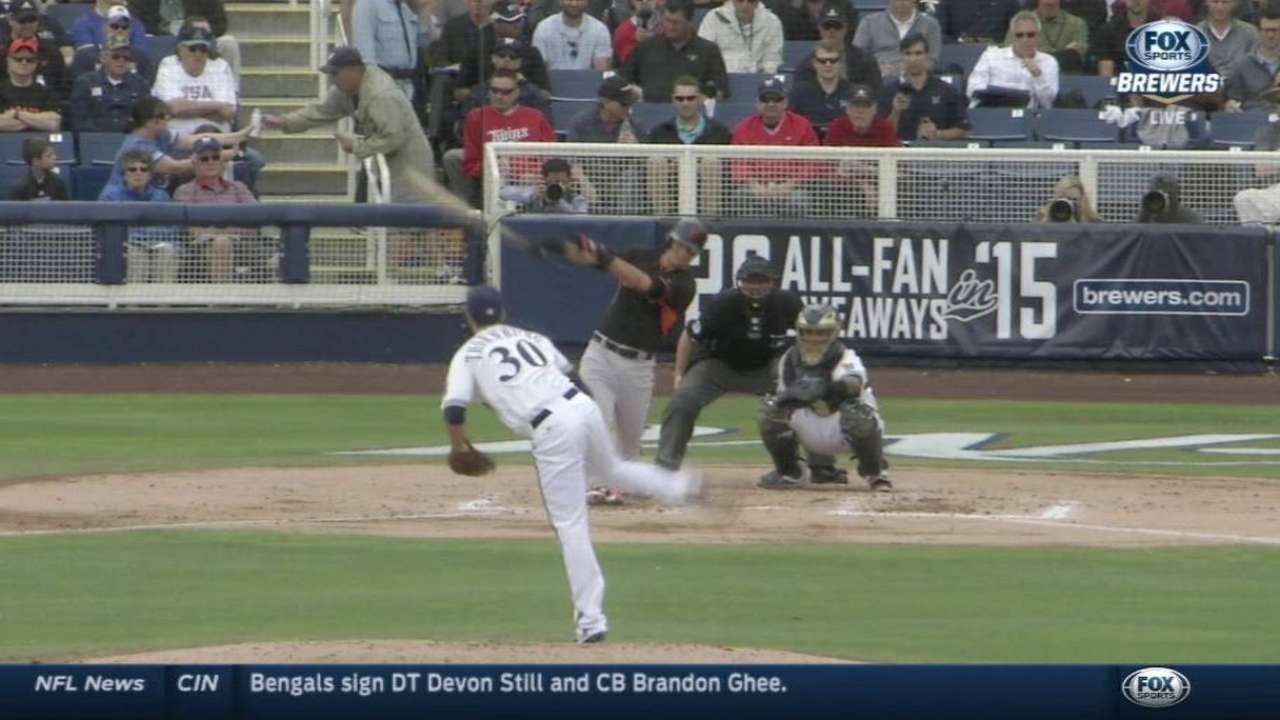 PHOENIX -- Joe Panik and Brandon Belt homered for the Giants, and Ryan Braun snapped a spring slump for the Brewers in San Francisco's 3-2 victory Thursday at sold-out Maryvale Baseball Park.
Giants right-hander Sergio Romo notched a save, working out of a two-on, no-out situation in the ninth inning.
Braun's first-inning groundout dropped him to 0-for-13 in the Cactus League before he singled in the fourth. It was the Brewers' first hit against Giants starter Ryan Vogelsong.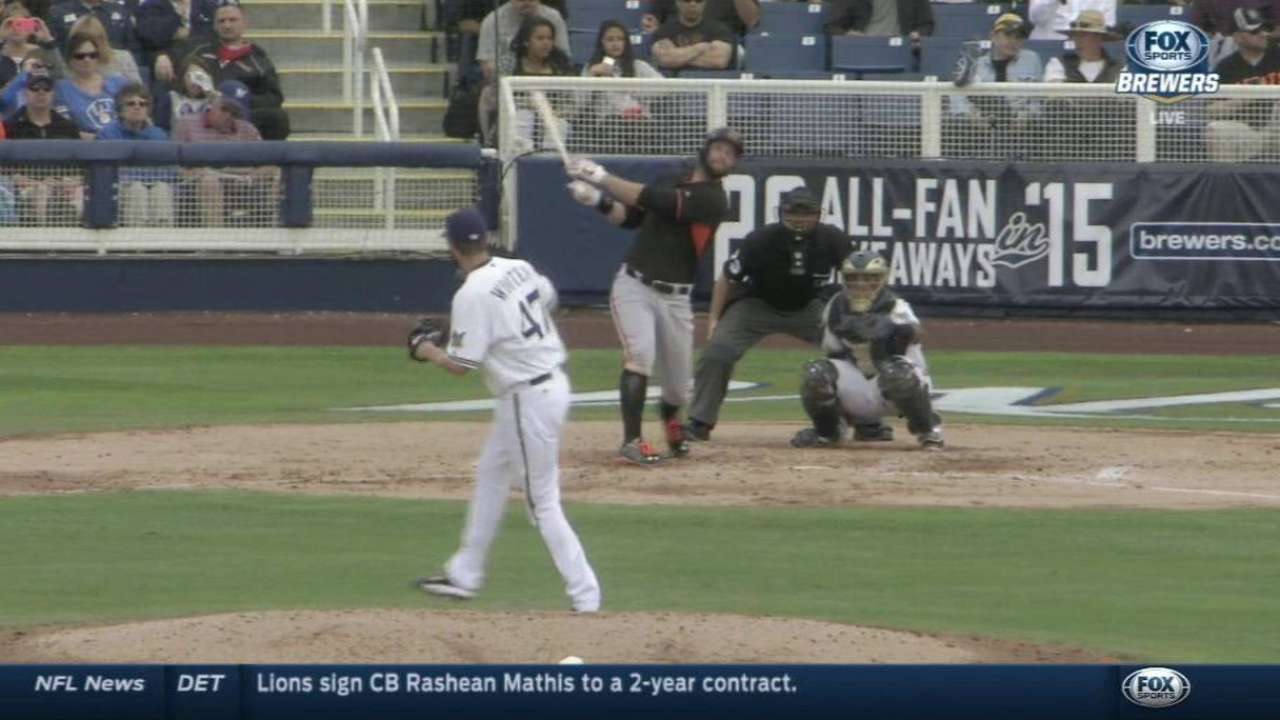 "It's over. All great streaks must come to an end," Braun joked. "You guys have heard me say so many times, Spring Training is all about working every day, [being] process-oriented and not results-oriented. ... I've seen year after year that guys have horrible springs and great years, and vice versa."
Overcoming a first-inning scare when it appeared he was struck on the inside of his left shin by a line drive, Vogelsong pitched 4 2/3 scoreless innings, allowing two hits and two walks.
His scare came with one out in the bottom of the first inning, when Milwaukee's Scooter Gennett hit a line drive that caromed off Vogelsong directly to first base, where Brandon Belt was waiting for the second out. Giants manager Bruce Bochy and a member of San Francisco's training staff began trotting toward the mound but Vogelsong waved them off, and made it through the rest of his outing without incident.
Tyler Thornburg started for Milwaukee after Mike Fiers was scratched with right shoulder fatigue, and allowed two runs on four hits in three innings.
"They told me yesterday that Fiers probably won't go, so I kind of had the mindset that I was probably going to start," Thornburg said. "I think I was going to throw three innings anyway, so it was just a matter of when."
Thornburg missed most of last season with a partially torn ligament in his right elbow. He didn't require surgery, and has reported feeling "great" this spring.
"This is by far the best [outing] I've had as far as how I feel out there," Thornburg said, "so I'm excited about that."
Both runs against Thornburg scored in the third inning, when Panik homered to right-center field and Gregor Blanco punched a perfectly placed RBI single through a hole at shortstop created by a hit-and-run.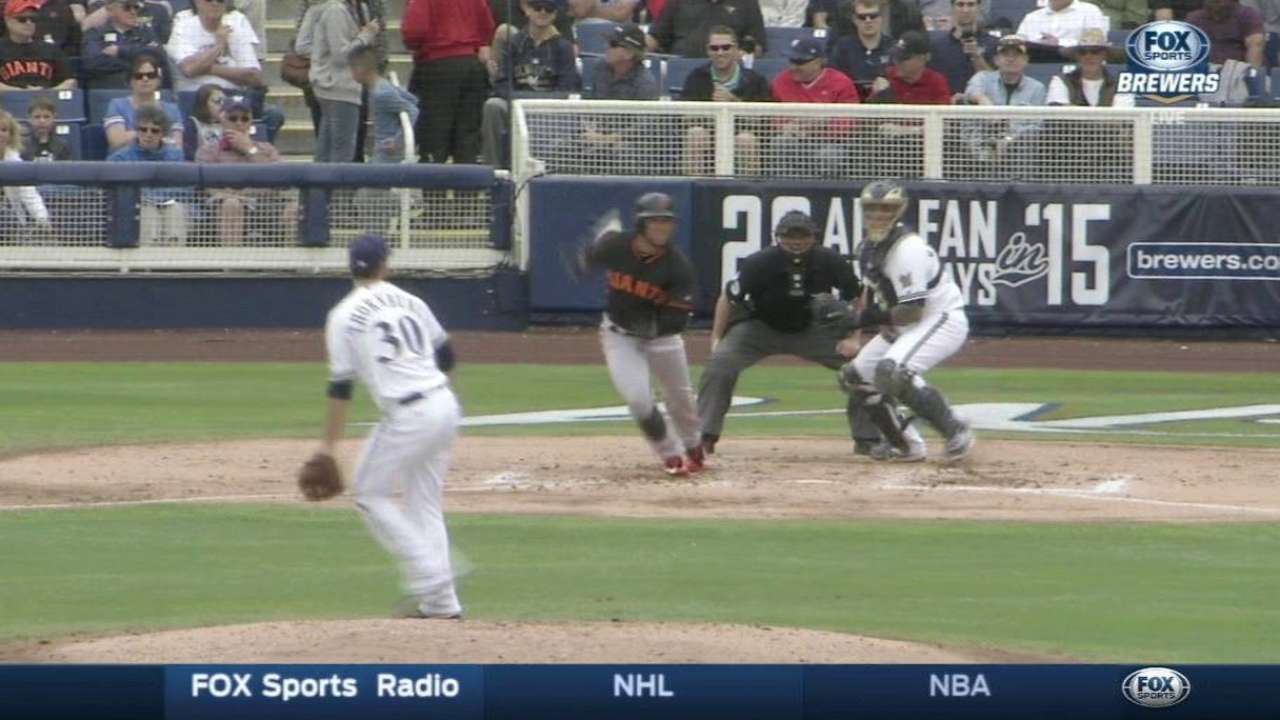 Belt added an opposite-field solo homer in the seventh inning off Rob Wooten. Outfielder Matt Long homered in the bottom of the inning for Milwaukee.
Up next for Giants: A pair of relievers going in opposite directions, at least for now, are scheduled to pitch Friday night (6:05 PT on MLB.TV, MLB.com webcast) against Cincinnati. Hunter Strickland, competing for the bullpen's lone vacancy, has made five consecutive scoreless appearances. By contrast, Santiago Casilla, firmly established as San Francisco's closer, will try to turn around his Cactus League fortunes after being scored upon in each of his five outings.
Adam McCalvy is a reporter for MLB.com. Read his blog, Brew Beat, and follow him on Twitter at @AdamMcCalvy. This story was not subject to the approval of Major League Baseball or its clubs.