Meyer shows the good and the bad vs. Rays
Top prospect searches for mechanics while still displaying top stuff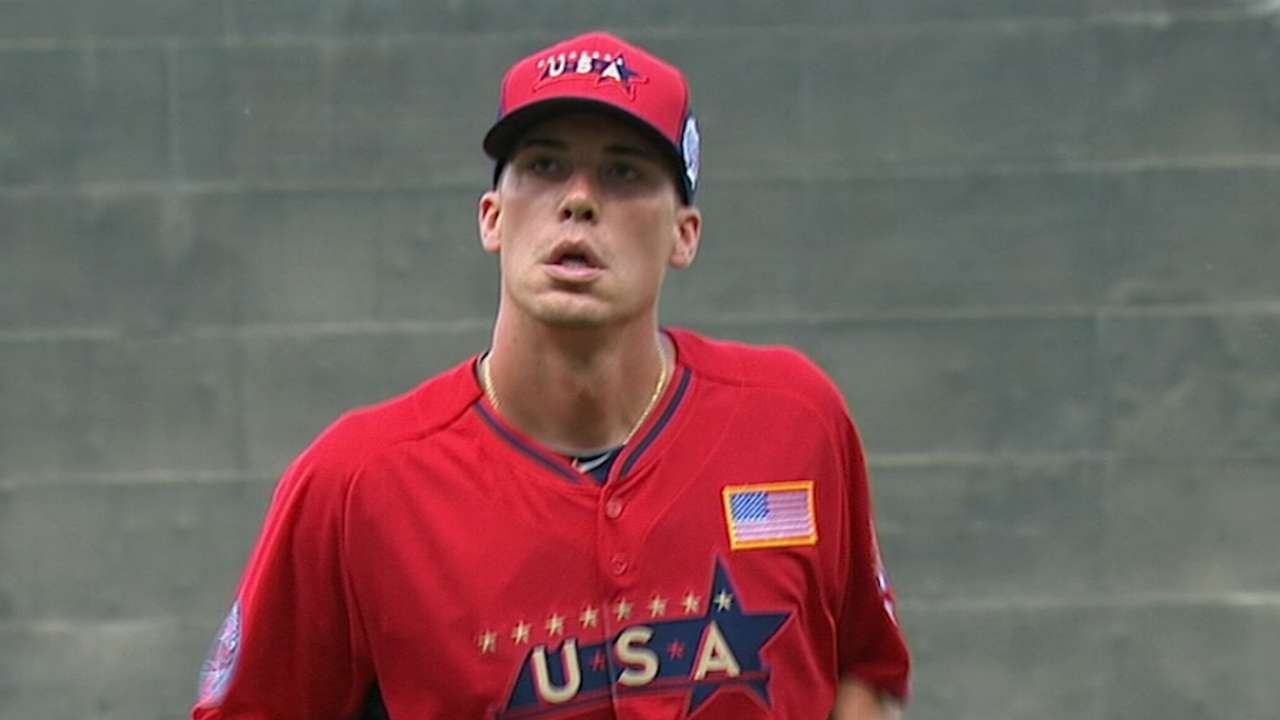 PORT CHARLOTTE, Fla. -- The stuff that makes Twins right-hander Alex Meyer a top prospect and the mechanical issues that have held him back were both on display against the Rays on Thursday.
Meyer, ranked as theNo. 30 overall prospect by MLB.com, struggled with his fastball command, walking four batters in two innings, but was also able to get out of a bases-loaded jam in the sixth inning with the help of a pair of strikeouts to limit the damage. Meyer gave up just one run over two innings with the run coming on a sacrifice fly, but came away frustrated by his outing and plans to talk more with pitching coach Neil Allen and bullpen coach Eddie Guardado about fixing his mechanics.
"I'm searching right now," Meyer said. "I feel like there's something mechanically going on. Talking to Neil, talking to Eddie, they think there's something we can fix down in the bullpen. We'll work on it this week in between, and hope it clears it up."
Meyer has a 1.59 ERA in three Grapefruit League outings this spring, but has yet to go more than two innings. He was better last time out with two scoreless frames and just one walk against the Cardinals on Saturday, but saw his command issues return on Thursday.
"I've just got to get back to square one, quit over-analyzing things, quit worrying about leaking early, just getting back to the basics," Meyer said. "The good thing is, it's Spring Training, not the season. I've got plenty of time to figure it out."
But Meyer acknowledged he's not sure if his next outing will come in a Major League game or if he'll be optioned to Triple-A Rochester before the season. He's competing for a fifth spot in the rotation, and is hopeful he'll remain in the running for that final spot even though it looks like Tommy Milone, Mike Pelfrey and Trevor May are ahead of him at this point.
"I hope so," Meyer said. "It's not up to me. Obviously, I don't make it too hard on them not to have to give me another shot. I just want to come out, come back tomorrow, get back to work and just go about my business."
One positive aspect of Meyer's outing was his off-speed pitches were sharp and he got two swings and misses with his changeup. Twins manager Paul Molitor was pleased to see Meyer get out of the jam, and wanted to have his outing end on a positive note with a scoreless seventh.
"You can tell he starts getting sped up and mechanically he flies open a little bit, and loses that release point," Molitor said. "Obviously, his fastball command got him in a little trouble the first inning. But he stuck with it. He got a couple big strikeouts to limit the damage and he had a strong next inning."
Rhett Bollinger is a reporter for MLB.com. Read his blog, Bollinger Beat, and follow him on Twitter @RhettBollinger. This story was not subject to the approval of Major League Baseball or its clubs.