MLB.com Columnist
Mike Bauman
Removing Roenicke's lame-duck status the right call
Milwaukee's move to pick up manager's 2016 contract option praised by players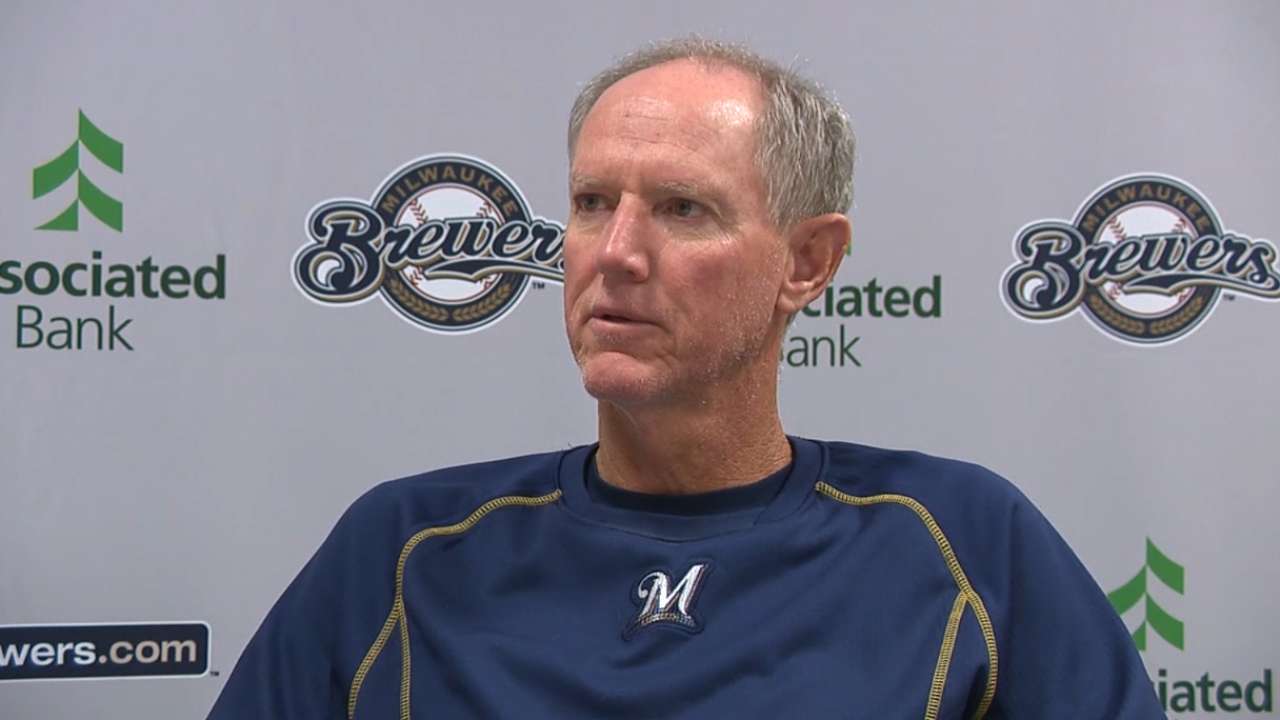 PHOENIX -- It is official: Ron Roenicke is not being blamed for the late-season collapse of the 2014 Milwaukee Brewers. That's good, because it wasn't his fault.
The Brewers announced Thursday that they have picked up the manager's contract option for 2016. This removed the possibility that Roenicke would be stuck with a lame-duck managerial status through the 2015 season. And it gave clear evidence that team ownership and management were not blaming Roenicke for Milwaukee's fade in 2014.
The Brewers were in first place in the National League Central for 150 days last year, but they finished the season winning just nine of their last 31 games, including a stretch in which they lost 13 out of 14. The fundamental problem was a hitting slump that infected almost the entire lineup.
"It wasn't his fault," right fielder Ryan Braun said, referring to Roenicke. "It wasn't the front office's fault. It was our fault, as players."
That summed it up rather well. General manager Doug Melvin said Thursday that he and Brewers principal owner Mark Attanasio had discussed the contract extension for Roenicke, and they determined that it was the right thing to do.
Melvin pointed out that Roenicke's .517 winning percentage as a manager was the same as Joe Maddon's, and slightly better than those of highly regarded managers such as Bob Melvin and Bruce Bochy.
"When you grade it out, Ron has had success in the first years he's been here," Melvin said. "We felt confident he could build on that through the relationships he had with players and the organization.
"He's very passionate about being a Brewer, for one thing. He communicates very well with his coaching staff, has a great relationship with the coaching staff. He builds relationships with the players. And then, he can be firm when he has to be. He knows our organization well now, and works well with everybody in the front office. He knows the situation we're in; we have to embrace young players, we have to embrace player development and scouting."
Brewers players, in applauding the move, pointed to Roenicke's strengths in communication and candor.
Catcher Jonathan Lucroy, asked what he regarded as Roenicke's strengths as a manager, replied: "Communication; he talks to you, he tells you what he thinks. He's honest and you can appreciate that. That's all I've ever asked for in a manager. I've definitely enjoyed [playing for him]."
Players, Lucroy said, also appreciate Roenicke's even-keeled demeanor and his method for dealing with problems.
"Whenever I've messed up in the past, he's always pulled me aside and talked to me," Lucroy said. "He's never blown me up in the dugout. That's a sign of self-control and maturity when you can be stoic in times of stress. He's never going to blow you up in the dugout, make you look bad. You want to straighten somebody out, you pull them aside, talk to them, which he does."
120 Sports: Roenicke's option picked up
For Roenicke, having his option picked up signified the organization's confidence in him. But it also gave him one less distracting question to answer throughout the upcoming season.
"I concentrate so much on doing my job, and I don't want to have to answer questions about the personal side of it," Roenicke said. "So this is really good for me."
It is also evidence that Roenicke's honesty-is-the-best-policy approach to managing has worked.
"It's what I feel is the right way to do things," he said. "In this job, there's times when I can't tell players things, and when I can't, I tell them I can't. I don't say something else.
"But I try to be as honest as I can with them. They work hard. They play hard for me. I think that the respect that I have for them is at the point where I have to be open with them and discuss things with them. In talking to a player, there's a fine line in there when you hurt a guy's confidence and you want him to have a little more self-awareness on what he's doing and what he needs to improve."
Roenicke acknowledged that in the wake of the team's slump last season, he wondered about his job security.
"It's part of the job -- you can say fair or unfair -- we know as managers that we can do everything right and things can go wrong and you still can be let go," Roenicke said. "If that's just going to crush you and you can't handle it, then you shouldn't be doing the job. I realize there are a lot of things that are going to fall on me that maybe shouldn't, but that's OK, we knew that coming in.
"I really like it where I am. I love the city. I love the management. It's a great bunch of guys [on the team]. I'm hoping that it works out."
The contract extension for Roenicke leaves the unusual situation of a manager having more time left on his contract than the general manager who hired him. Melvin is under contract through 2015, but the GM said it was not an issue with him.
"I'm not that worried about it," Melvin said. "It's more important for Ron. It was more important for me to have Ron feel some sense of security. Mark [Attanasio] and I have a good relationship."
The Brewers can now get on with the business of proving that they should be considered the team that was in first place for 150 games, not the team that went 9-22 to finish the season. They can address this task with no distractions regarding their manager's job security. That is how it should be. Roenicke's performance as manager in Milwaukee merits much more credit than blame.
Mike Bauman is a national columnist for MLB.com. This story was not subject to the approval of Major League Baseball or its clubs.