MLB.com Columnist
Tracy Ringolsby
Should Tomas start 2015 season in Majors?
D-backs have to make decision on where Cuban player is headed by Opening Day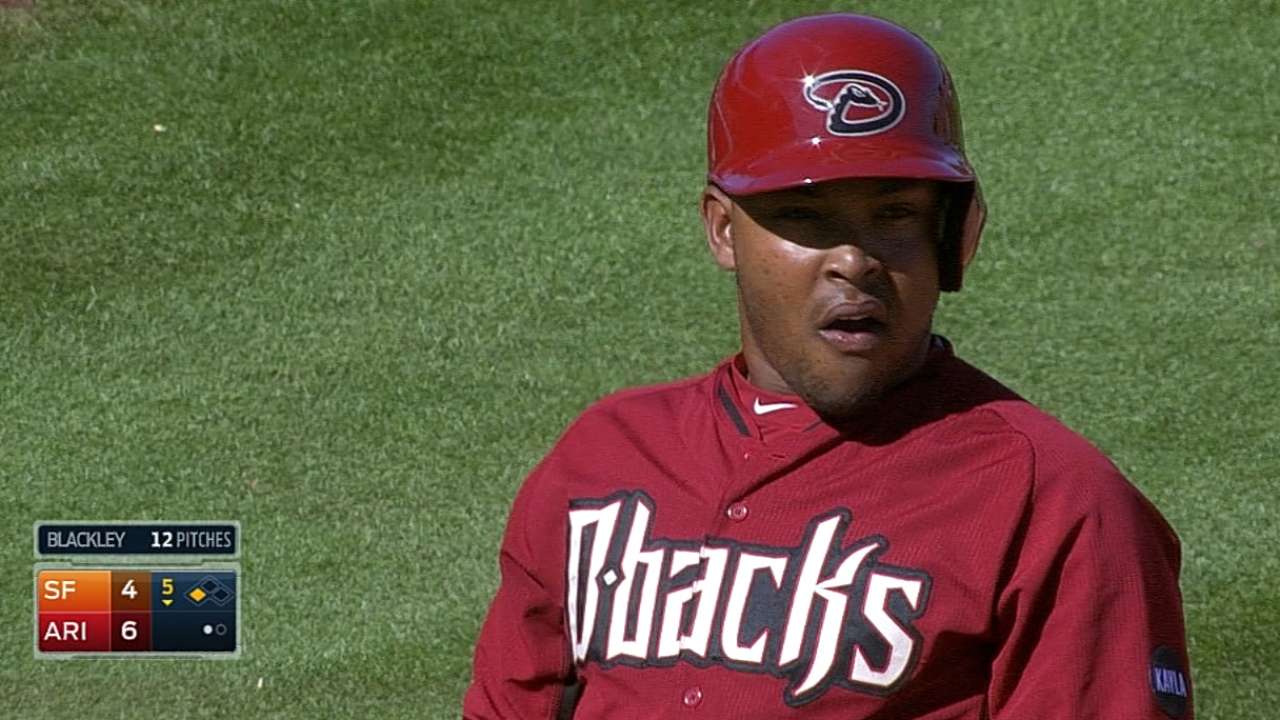 SCOTTSDALE, Ariz. -- Yasmany Tomas is the question of the spring for the D-backs.
Arizona signed Tomas to a six-year, $68.5 million deal in the offseason -- the biggest annual average value ever for a Cuban player -- and he was invited to big league camp with lots of hype about his potential to go directly to the big leagues.
Do they or don't they?
Is Tomas, 24, ready to make that move to the big leagues? Or would he and the D-backs be better served with some fine-tuning in the Minor Leagues?
"We're midway through the spring [schedule]," said Tony La Russa, the team's chief baseball officer. "We've got time."
La Russa has been down this road before.
Coming off a National League Central title in the spring of 2001, the Cardinals extended an invitation to big league Spring Training to Albert Pujols, a 13th-round pick in the 1999 First-Year Player Draft who had only one year of pro ball experience, and only three games above the Class A level.
Pujols had an impact spring, and by the end of Spring Training, he had played his way on to the Cards' big league roster, even though he didn't have an everyday position.
"In the end, it comes down to, 'Do you believe in the guy's talent?'" said La Russa, manager of the Cardinals in 2001. "As the spring went along, it was obvious we were going to test him. We put him in [the lineup] against Javier Vazquez.
"First time up, Vazquez threw him a helluva slider and struck him out. I was thinking he was going to get exposed that day. Next time up, same pitch and he one-hopped the ball off the outfield wall. From that point on, he did everything. What it came down to was the only way we could take him was if he could get enough playing time."
That was a concern with a veteran Cards team.
Placido Polanco was set at third base, the position Pujols had played in 127 of his 133 Minor League games. Triple-A Memphis manager Gaylen Pitts, however, explained that when Pujols was promoted to Memphis to fill a roster void in the playoffs, he played the outfield and "got good jumps and ran the ball down," La Russa remembered.
St. Louis, however, had a veteran outfield with Ray Lankford, Jim Edmonds and J.D. Drew. Mark McGwire was set at first. And veteran Bobby Bonilla was the main bat off the bench, who was going to be the first call to fill in at first, third or the outfield.
"Toward the end of spring, Bonilla pulled his hamstring and we took Albert," said La Russa.
Pujols had to move around that season. He made 52 starts at third base, 31 at first base, 38 in left field, 33 in right field and two as the DH. He also pinch-hit twice. Only 21 years old, and without a regular position, Pujols led the Cardinals by appearing in 161 games, hitting 37 home runs, driving in 130 runs and hitting .329. His 676 plate appearances were second to leadoff man Fernando Vina, who had 690.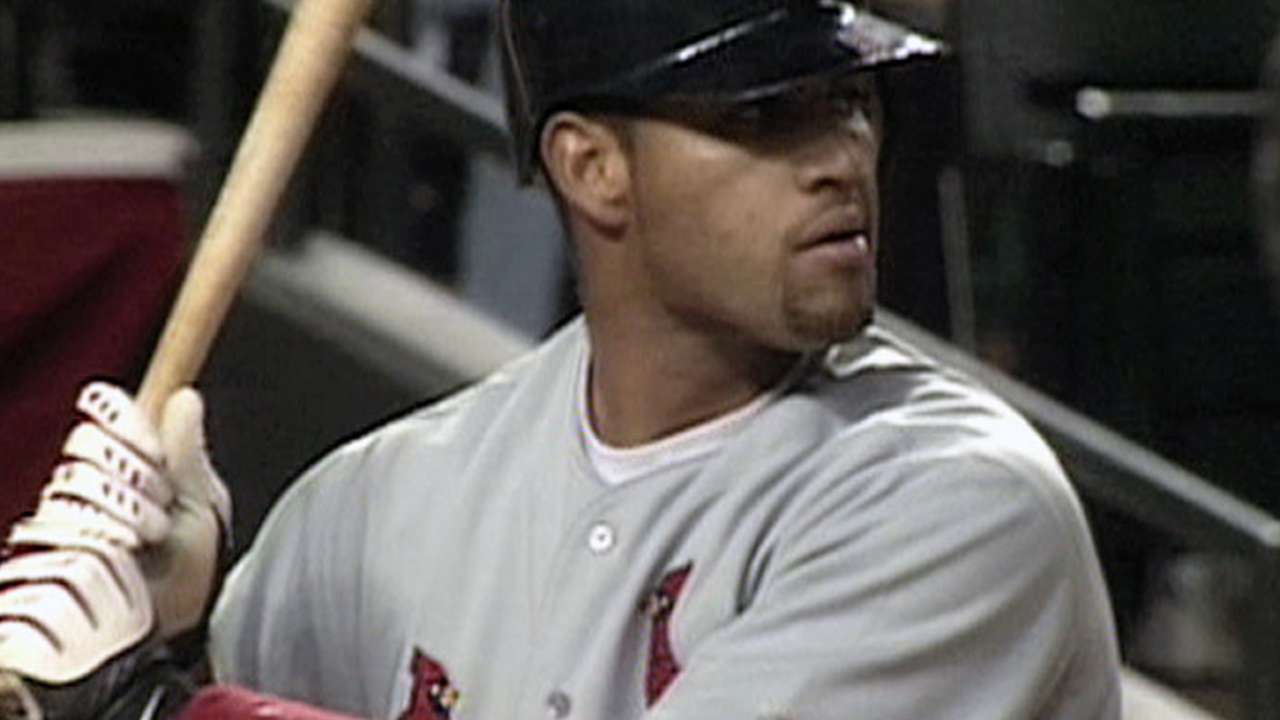 Pujols also won the NL Rookie of the Year Award, was an All-Star selection, earned a Silver Slugger Award and finished fourth in the NL MVP Award voting behind Barry Bonds, Sammy Sosa and Luis Gonzalez.
And that was with a team that had an established, veteran roster.
Arizona is looking to rebound from a season in which the team lost 98 games, the most in the Majors.
"The thing in common [between Pujols and Tomas] is you don't take them unless they get at-bats," said La Russa. "I think Tomas can be a good pinch-hitter. He has a great strike zone, but he is too young with too much of a future to not get him more at-bats than that."
An outfielder in his five years with the Industriales in his native Cuba, Tomas did play 30 games at third base in his first year with that team, and his primary work so far this spring has been at third, where the D-backs also are giving a look at prospects Jake Lamb and Brandon Drury.
Tomas figures to get some more outfield time along with third base in the ensuing games this spring so Arizona can determine if he could have step into an everyday-extra-player role like Pujols did.
"There is no doubt in my mind he will be a legitimate big league hitter," said La Russa, "but it's a matter of when. Do we send him down initially like the Dodgers did [in 2013] with [Yasiel] Puig? Do we keep him from the start?"
La Russa smiled like a man who knows what he wants to do, but he isn't about to make a commitment one way or the other, in case the situation changes between now and Opening Day.
"It's one of those things you don't decide until you have to," said La Russa.
And it's one of those things that Tomas will decide for La Russa and the D-backs' staff with the way he handles the challenges he faces the rest of this spring.
Tracy Ringolsby is a columnist for MLB.com. This story was not subject to the approval of Major League Baseball or its clubs.