Anibal fans six, retires 13 straight in bounce-back start
Righty tosses five scoreless frames after a pair of uneven outings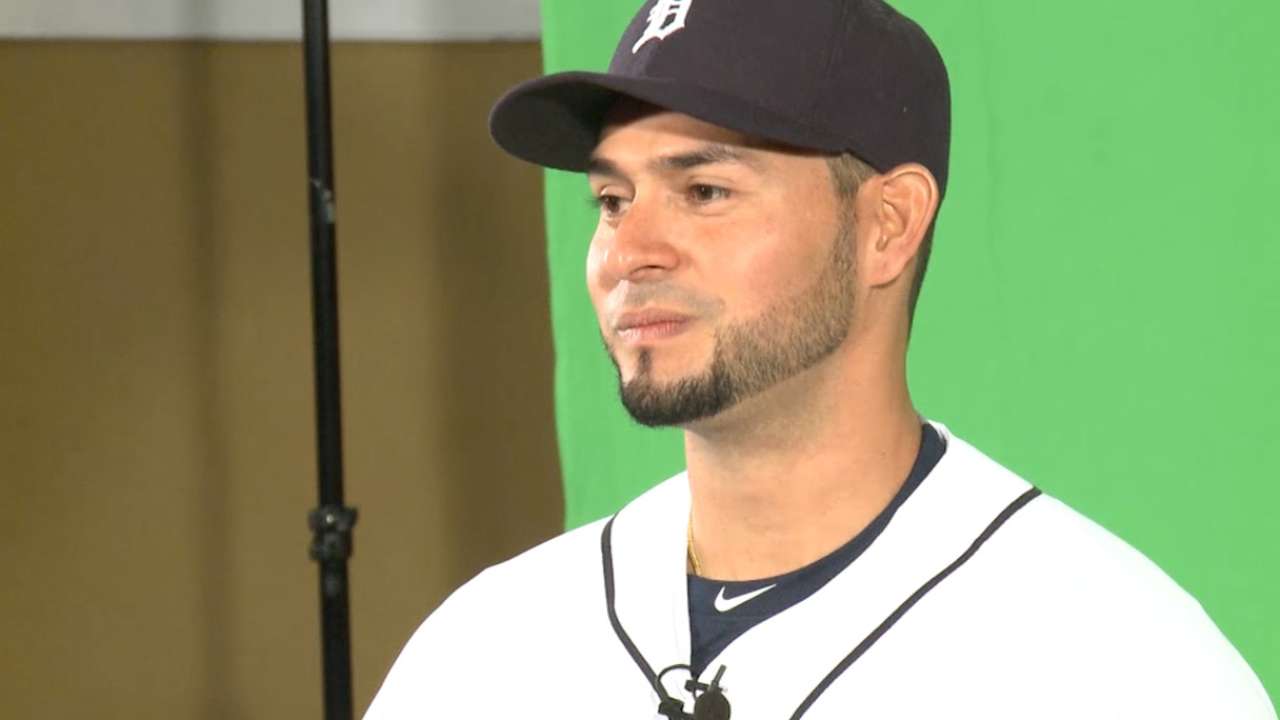 VIERA, Fla. -- Tigers right-hander Anibal Sanchez bounced back from a pair of subpar starts in a big way on Thursday afternoon, turning in a dominant performance in an eventual 10-inning scoreless tie against the Nationals.
After being tagged for six runs off eight hits over just 6 1/3 innings in his last two outings, Sanchez limited the Nats to just two hits over five shutout innings, all while notching a half-dozen strikeouts to double his spring total from six to 12. Even more impressively, Sanchez caught the batter looking on five of his six strikeouts.
"It's location. When I can put my pitches, especially my fastball, in the right spot, I know it's a dangerous pitch," Sanchez said. "I throw my two-seam outside, then I'd come back with my cutter on the corner outside. So that kind of pitch, if I can locate it very good, it's really hard for the hitters to determine whether to swing or not."
Early on, it looked as if Sanchez could be in line for another rocky outing. After striking out the first hitter he faced, he quickly served up back-to-back singles to Ian Desmond and Bryce Harper. Fortunately for Sanchez, Desmond couldn't find the ball off Harper's bat and got hung up between second and third base for the inning's second out.
Sanchez then retired Ryan Zimmerman on a routine groundout in what would prove to be the final batter he faced with runners on base. The righty never allowed a runner to advance beyond first base on Thursday, retiring the final 13 batters he faced -- and lowering his spring ERA from 6.48 to 4.05 in the process.
"That's why I say after my last outing that I'll work on things and not stop until I do something like today," Sanchez said. "When I'm able to throw every pitch in the strike zone, especially on the first pitch for a strike, I can do more things with the rest of my pitches."
Sanchez was so efficient, in fact, that he clocked in well under the 70-pitch mark that skipper Brad Ausmus had been planning on. Sanchez needed just 52 pitches -- 35 of which went for strikes -- to get through his five frames, while never throwing more than 11 pitches in any one inning.
"I just didn't want to have him get up and down one more time," Ausmus said of his decision to not send Sanchez back out for the sixth. "So he was a little short on pitch count, but he gets an extra start in Spring Training. He'll be fine."
Paul Casella is a reporter for MLB.com. This story was not subject to the approval of Major League Baseball or its clubs.
This story was not subject to the approval of Major League Baseball or its clubs.