Nolasco solid early, falters in fourth
Starter chased after giving up two-run homer
PORT CHARLOTTE, Fla. -- Steven Souza Jr. connected on a go-ahead two-run homer in the fourth inning to help lift the Rays to a 4-2 win over the Twins on Thursday at Charlotte Sports Park.
Minnesota got busy early with a two-out rally in the second. Rays starter Nathan Karns, who is a contender to earn a spot in the rotation, allowed three hits and hit a batter in the inning. Eric Fryer's two-run double to center provided the big blow that put the Twins up 2-0. Karns allowed two runs on six hits and a walk while striking out four in 4 ⅓ innings.
Evan Longoria singled off Minnesota starter Ricky Nolasco to start the Rays' second inning and scored one out later when Souza Jr. grounded out to third. Souza added a two-run homer with two out in the fourth inning to chase Nolasco and put the Rays up 3-2.
MOMENTS THAT MATTERED
Karns' streak ends at 22: Nathan Karns retired the first five batters of Thursday's game, running his streak to 22 consecutive batters retired in order. The right-hander's streak dated back to the second inning of his March 9 start against the Yankees.
Nolasco struggles in final inning: Nolasco cruised through the first three innings despite several miscues by the defense behind him, but struggled with his command in the fourth. The right-hander started to fall behind hitters, reaching three-ball counts to each of his final three batters. After a two-out walk to Logan Forsythe, Nolasco served up a two-run blast to Souza. Nolasco, projected to be the club's third starter, allowed three runs on four hits and a walk while striking out two in 3 2/3 innings.
"I thought I was really sharp," Nolasco said. "I'm not going to let the last pitch ruin the whole outing. It happens. Everything else before that was really good. I was really pleased with how everything went."
Good day for Souza: Souza Jr. had a good day against the Twins Thursday with a two-run homer and a groundout that scored another run. The home run, his second this spring, left the ballpark in an instant, landing on the tarp in left field. Souza Jr. came to the team from the Nationals in the three-way deal that sent Wil Myers and Ryan Hanigan to the Padres. He is hitting .154 with two home runs.
Meyer has trouble with his control but recovers: Right-hander Alex Meyer, ranked the No. 29 overall prospect by MLB.com, walked three batters in his first inning of work in the sixth. After loading the bases with nobody out, he gave up a sacrifice fly to Curt Casali before promptly walking Jake Elmore to load the bases again with one out. But he showed off his impressive stuff by getting back-to-back strikeouts to end the inning and limit the damage. He was also much sharper in his second inning, but did walk another batter.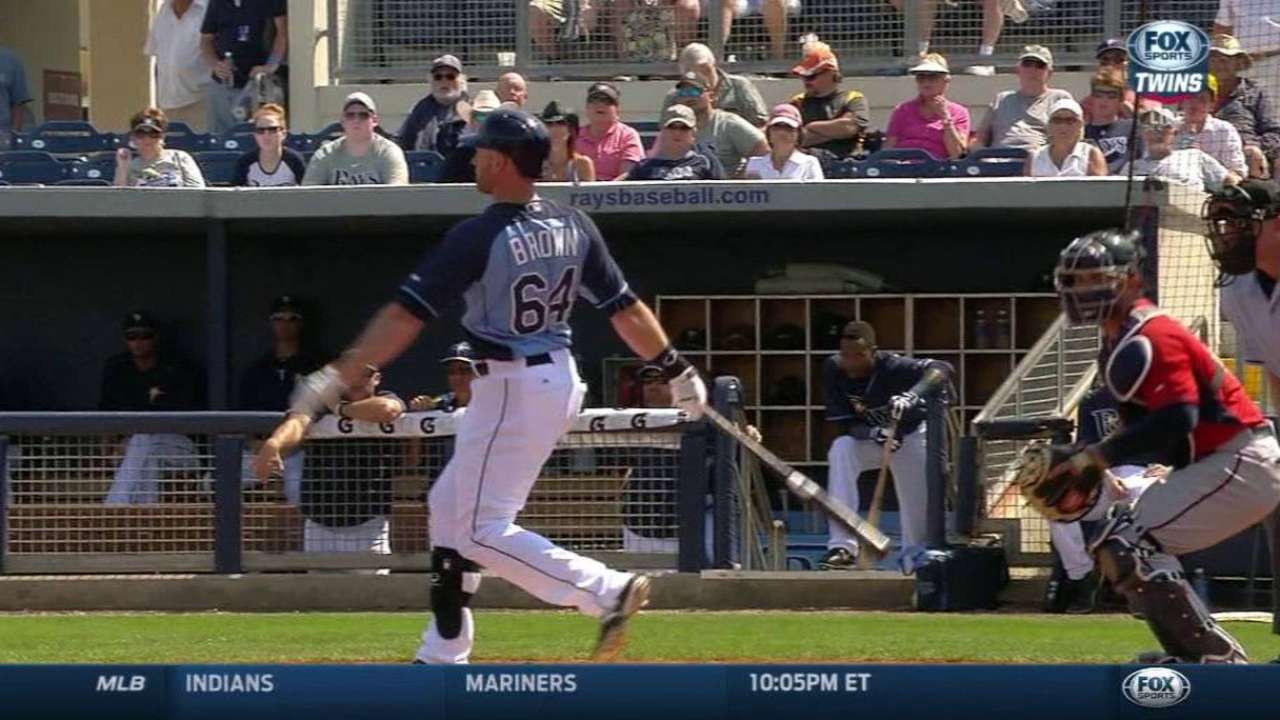 QUOTABLE
Nick Franklin was expected to start at shortstop on Thursday, but Evan Longoria's desire to play changed those plans. When asked if Longoria had earned that right, Rays manager Kevin Cash chuckled: "Yep." He then explained. "I think it's because he's feeling good and he wants to continue feeling good. And I'm all for that."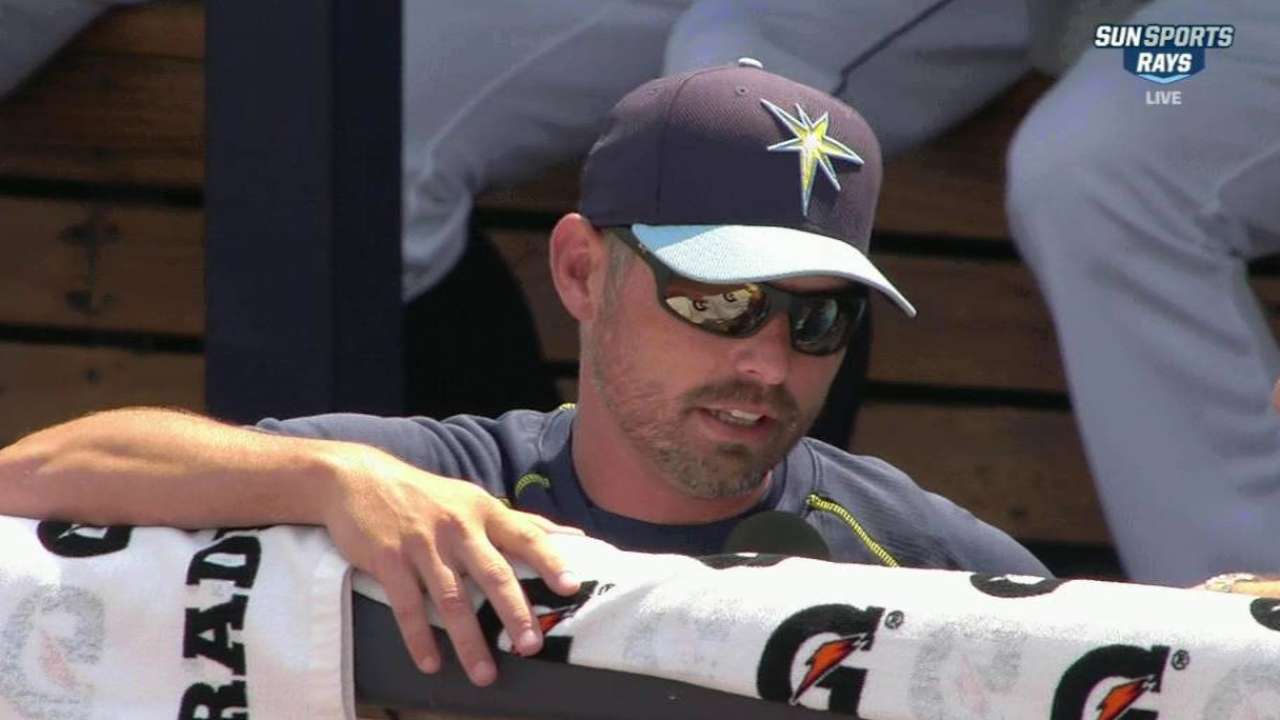 "Get it over with in spring, hopefully. Get it out of the way now. It's obviously never fun when you have to deal with that but it's part of the game and it happens. I thought I was able to recover pretty well after a couple little things happened there," -- Nolasco on the defensive miscues behind him.
STERNBERG IN CAMP: Stu Sternberg was in camp on Thursday, prompting the question of whether this year's team can win 90 games. The Rays principal owner said that last season, "things would have had to break pretty badly for us not to win 80. They broke badly and we didn't."
Fast forwarding to the 2015 season, he allowed: "I think things have to break really well for us to win 90. But I fully expect us to have that opportunity to be in the hunt at the end of the year, for two reasons. There are no slam-dunk teams to win 97 to 103 games as we saw. ... [Several years ago] you had to build a team in the American League East to win at least 90, and then get fortunate to win 95 or 100. Right now, and it could turn out to be wrong, you need to build a team to at least win 85 to 90 to get into the playoffs and get into the hunt."
While he believes the magic number has shifted, he acknowledged it could shift back.
"That's just the nature of the business right now."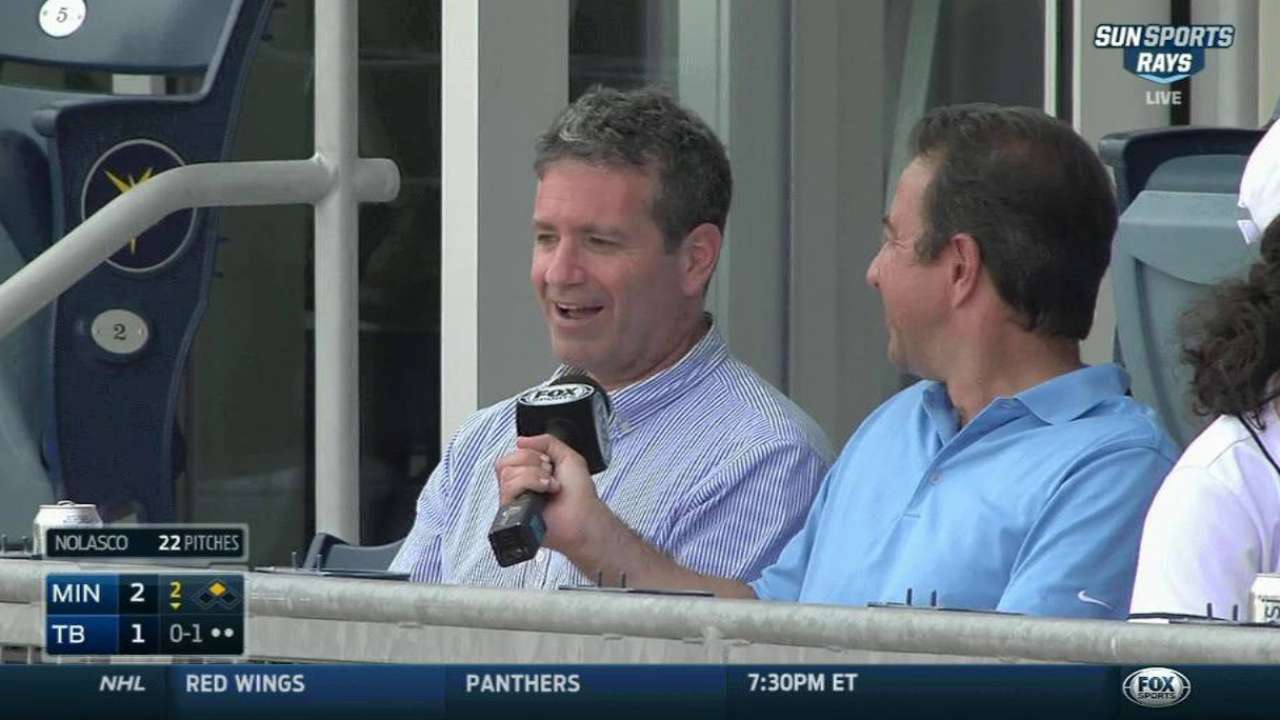 WHAT'S NEXT
Right-hander Kyle Gibson is set to make his fourth start of the spring when the Twins host the Pirates at Hammond Stadium in Fort Myers, Fla., on Friday at 12:05 p.m. CT on Gameday Audio. Right-handed relievers Michael Tonkin, Blaine Boyer and Stephen Pryor are also scheduled to pitch.
Burch Smith will start for the Rays at home in Port Charlotte, Fla., against the Blue Jays that can be heard on an exclusive webcast Friday at 1:05 p.m. ET. The right-hander came to the Rays from the Padres in the Wil Myers trade and is in competition to earn a spot in the starting rotation. Matt Andriese is also expected to see action. He too is in contention for a spot in the starting rotation. Ernesto Frieri is scheduled to pitch as well. Daniel Norris is slated to pitch for the Blue Jays.
Rhett Bollinger and Bill Chastain are reporters for MLB.com. This story was not subject to the approval of Major League Baseball or its clubs.