MLB.com Columnist
Anthony Castrovince
With Yelich on board, outfield locked in for long haul
'Co-pilot' Ozuna under Marlins control through 2019; Stanton signed 13-year deal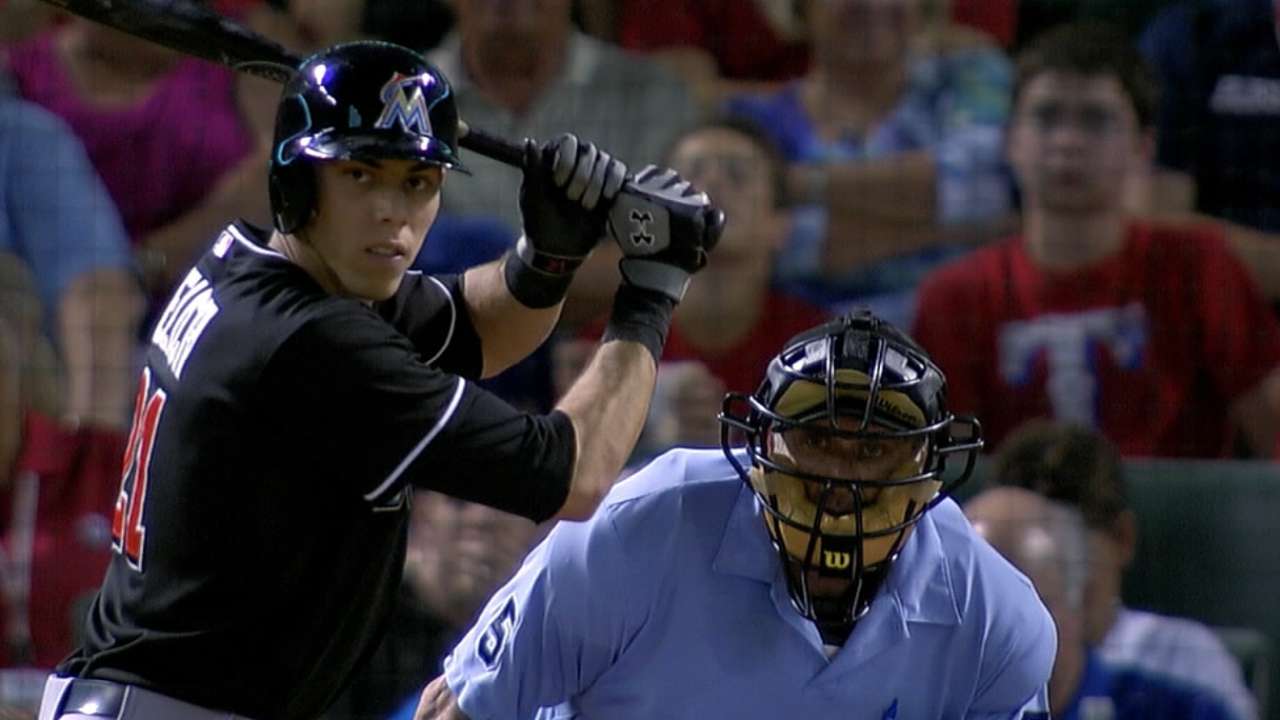 LAKE BUENA VISTA, Fla. -- Marcell Ozuna was laughing here Thursday morning about the time he and Christian Yelich drove together from Jupiter, Fla., to start their season at Double-A Jacksonville. They hopped in Yelich's car and made the 260-mile journey up Interstate 95.
"He drove," said Ozuna, "and I was co-pilot."
Which means?
"I slept," Ozuna said with a smile.
This was early in 2013, a rough year for the Marlins' big league club, which lost an even 100 games and had a minus-133 run differential under rookie skipper Mike Redmond. The '13 season came on the heels of a highly controversial winter, in which all the goodwill and good vibes Miami had built up with its pre-'12 acquisitions of Jose Reyes, Mark Buehrle, Heath Bell and manager Ozzie Guillen were blown up with a single, substantial swap with the Blue Jays. And though that trade understandably irritated the Marlins faithful, it definitely had its baseball merits (as determined by then-Commissioner Bud Selig after a six-day review), and the long slog of '13 can be appreciated now on a club that has established a real sense of stability.
Though the contract won't be officially announced until Sunday, Yelich is the second member of Miami's elite young outfield to lock arms with the organization for the long haul with a reported seven-year, $49.57 million deal following his first full season. Giancarlo Stanton, as the professional sporting world certainly knows, signed the first such extension, a historic 13-year, $325 million commitment to a club that was hungry to shake off its ephemeral feel.
Ozuna the Co-pilot hasn't agreed to any long-term contracts yet, but he is under the Marlins' control through 2019, so this is a group that ought to be around a while.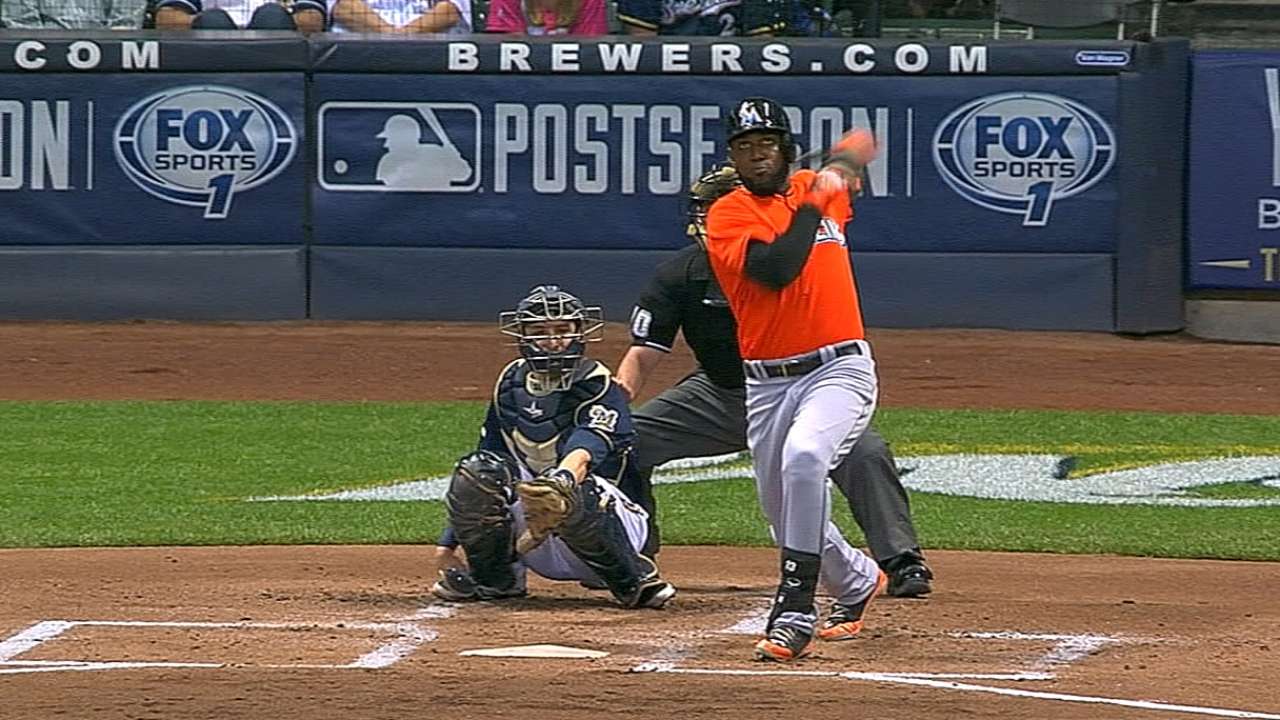 This stability extends elsewhere, with right-hander Henderson Alvarez and shortstop Adeiny Hechavarria, the principal acquisitions in the Toronto trade, under control through 2017 and '18, respectively. Recovering staff ace Jose Fernandez is also under team control through '18 (Miami and Fernandez's agent, Scott Boras, have not found common ground about extending that any further).
Really, though, the concept of cohesion begins in the dugout, where Redmond is entering his third season after receiving an extension through 2017 last fall. Obviously, the fragility of any Major League managerial spot is well-established, but the general calm surrounding Redmond's condition is a welcomed change for an organization that famously used to change managers with the swiftness of a new parent changing a dirty diaper.
When he was hired, Redmond became the Marlins' sixth manager in a five-year stretch. Miami had taken the transient nature of the role to a new extreme.
Again, let's see how the 2015 season, loaded as it is with expectation, plays out before we anoint Redmond a Marlins fixture. But team president Michael Hill and general manager Dan Jennings have built a clubhouse in which manager, coaches and players alike are comfortable in their own skin.
"Stability is so important in this game," Redmond said. "We had a set plan of what we were going to accomplish, and Giancarlo was a huge part of that. We were able to get him locked up for a long time.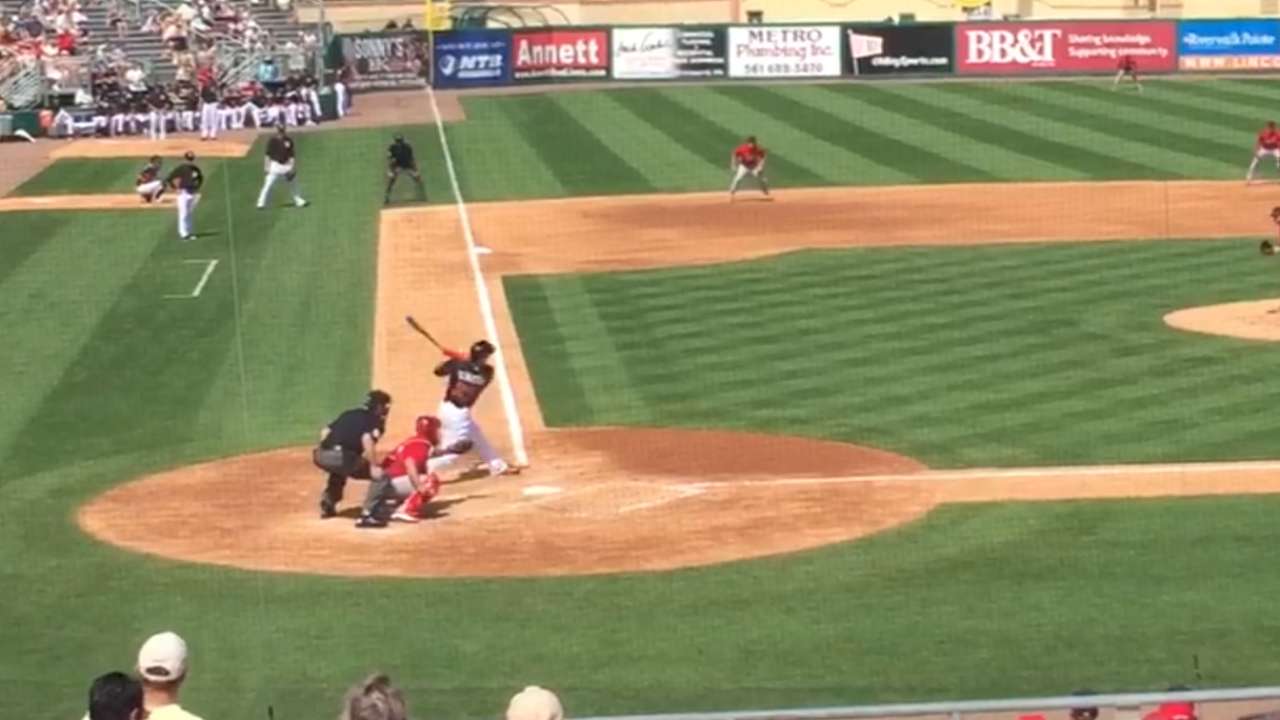 "Really, the whole plan is working great. We feel good about the direction we're headed. We've got a great, young group of guys, a great mix of leadership that has helped our young players. It's going to be fun to go out there and watch these guys compete."
They're competing with a new-look roster in which Mat Latos and Dan Haren bring a veteran presence to the rotation, Dee Gordon brings speed to the top of the order, Martin Prado brings a competitive edge to the hot corner, Michael Morse brings a power bat to pair with those of Stanton and Ozuna, and Ichiro Suzuki brings his unique preparation and skill set to the fourth outfielder role.
Very few, if any, of us are going to be picking the Marlins to outlast the loaded Nationals in the National League East, but enough people project them as a legit NL Wild Card club that the "sleeper" label seems silly at this point.
The offseason acquisitions were interesting in their own right (though I do have concerns about Gordon -- whose OBP drove distinctly downward as 2014 progressed -- supplanting Yelich as the leadoff man), but it is the mere existence of a competitive core that really stands out here.
"It's important for everyone to know that guys are going to be around for the next however many years," Redmond said. "I know it's important to Giancarlo and to all of our players. These guys enjoy playing together and want to be together for a long time. We're making strides toward making that happen."
No, it wasn't another $325 million deal, but the Yelich contract is significant in a different sense. The Marlins had never gone down this kind of road with a player with so little service time, but they smartly invested in a young man with on-base ability that belies his experience. Yelich won an NL Gold Glove Award in his first full season, and he's got the talent to one day be a legit No. 3 hitter on a postseason team. Yelich hit .284 last season, but some people with Miami think a batting title at some point in his career is entirely realistic.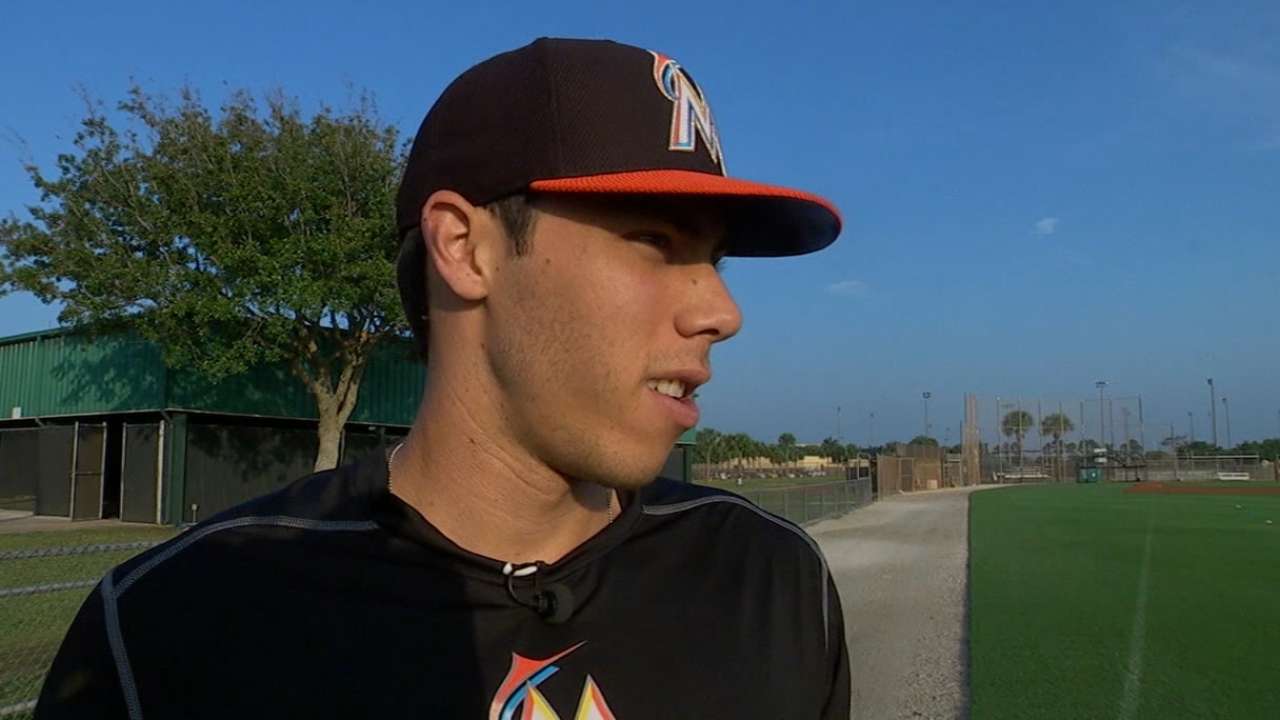 "He definitely has the swing and selection and contact to hit for a high average," Redmond said. "I think his power is something that will continue to improve as he gets stronger. He's still going to get stronger and bigger as he gets older, but he has the swing and the approach to hit for a high average."
Though the Marlins themselves didn't bat 1.000 when it came to locking up their young core this winter and spring, they made significant strides in stability. You can make a pretty easy argument that this was more important here than anywhere, because the team's penchant toward impertinence preceded them, and that's not something that escapes the notice of free agents.
All of this would have been difficult to envision as recently as 2013, the year Yelich and Ozuna made that trek together up the east coast of Florida and the big league club was getting battered.
But the Marlins are clearly driving in the right direction now.
Anthony Castrovince is a reporter for MLB.com. Read his columns and follow him on Twitter at @Castrovince. This story was not subject to the approval of Major League Baseball or its clubs.