With outfield logjam, Tigers developing Krizan's infield skills
Prospect with solid bat has better chance at making Majors as super-utility man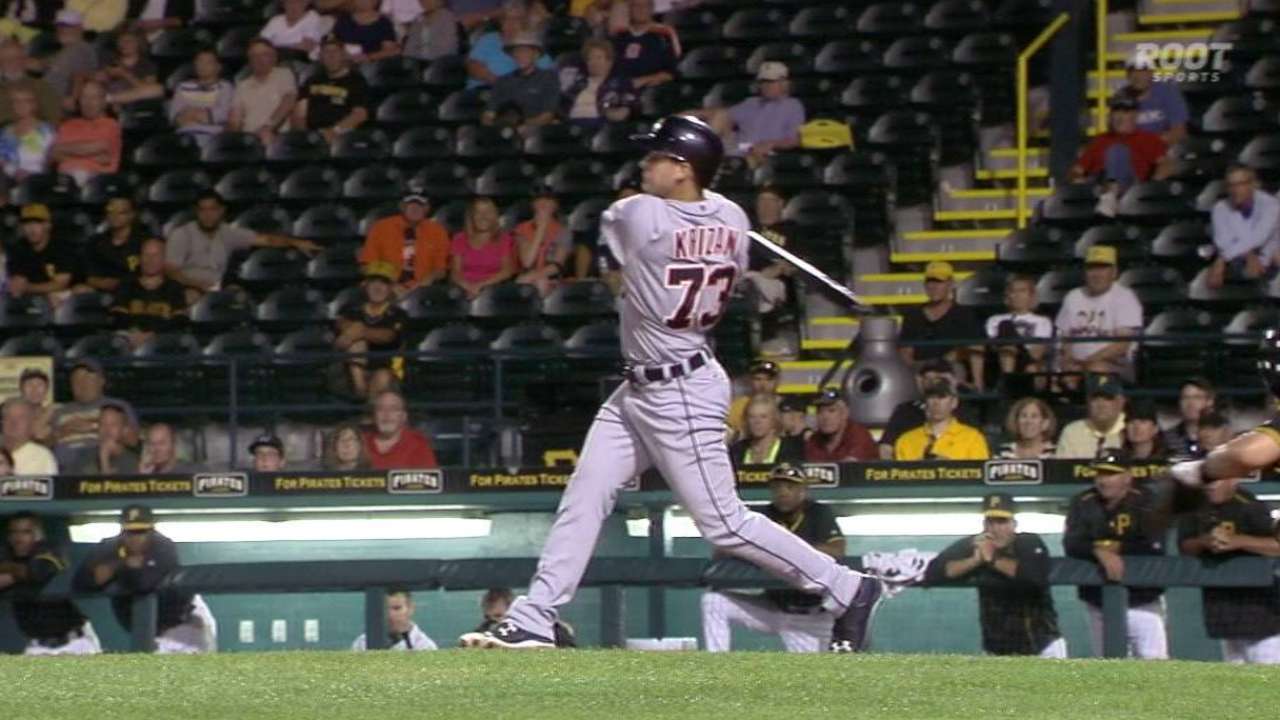 VIERA, Fla. -- Given the current logjam in the Tigers' outfield, the club is starting to get creative with ways to find playing time for some of its younger outfielders.
The latest project involves working out non-roster invitee Jason Krizan in the infield, with the hope that the 25-year-old could possibly become yet another Tigers utilityman. As it stands now, the Tigers already have Yoenis Cespedes, J.D. Martinez, Rajai Davis and Anthony Gose penciled in as outfielders. Not to mention the club's No. 9 prospect according to MLB.com, Tyler Collins, is also stating his case for an Opening Day roster spot as another outfielder.
That doesn't leave much space for a player like Krizan -- unless, of course, he can add infield positions to his repertoire.
"[Krizan is] a guy that, really, his swing and his bat look like they could play at the Major League level very soon," manager Brad Ausmus said. "But being a corner outfielder can be a tough spot sometimes to get in the lineup. So if he's got the ability to play multiple positions, kind of a super-utility, then you might be able to get him -- if his bat does play at this level -- into four, five, six games a week and play three different positions. So that's the thought process."
It's with that in mind that the Tigers are getting Krizan some practice work at first, second and third base. As for any previous infield experience, Krizan's only non-outfield stint during his four years in the Minor Leagues came in 2013 when he logged 17 appearances for Class A Lakeland.
While by no means an easy transition, Krizan has had the luxury of working closely throughout the process with first-base coach Omar Vizquel and special assistant to the general manager Alan Trammell -- not exactly a bad combination, considering the duo racked up a combined 15 Gold Glove Awards during their playing days.
The Tigers like the potential they see in Krizan's bat, as well as the fact that he swings from the left side of the plate. He played primarily right field -- with brief appearances at left and center -- last season, all while hitting .293/.364/.414 over 124 games for Double-A Erie.
"He looks OK, he looks all right," Ausmus said of Krizan's infield abilities thus far. "I don't know if you'll see him in a Spring Training game at those positions, but I'd be shocked if he wasn't doing that in the season at some point, wherever he's playing."
Paul Casella is a reporter for MLB.com. This story was not subject to the approval of Major League Baseball or its clubs.