Scouting a natural fit for Rangers' Boeck
From young age, love of baseball and knack for evaluating talent charted path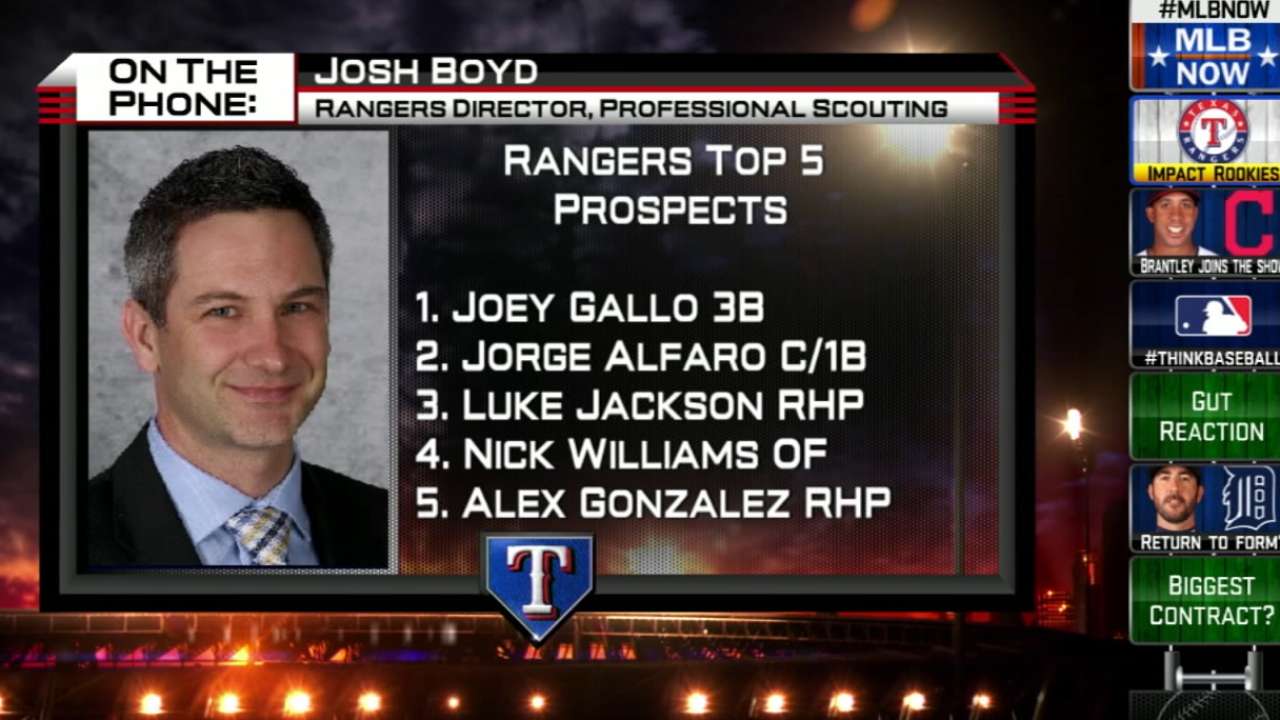 SCOTTSDALE, Ariz. -- Keith Boeck grew up around baseball. When he was young, his father, a sportswriter, took him to Rochester Red Wings games, at the time the Triple-A affiliate of the Orioles. Dad sat in the press box, Keith in the stands.
Flash forward 30 years, Boeck is still sitting in the stands -- this time, nine rows behind home plate as the Rockies face the Padres in a Spring Training game. He's now a scout for the Rangers, a job he has held for 13 years.
Boeck's early love for baseball took him all the way from upstate New York to Division II Rollins College in Florida to play collegiately.
"That was my first evaluation," Boeck said. "I had the intangibles, but not the physical tools. I wasn't very good."
But Boeck wasn't ready to leave the game. After an internship with the Orioles, he landed in the Cleveland Indians' front office, making $16,000 a year in the team's baseball operations department.
Four years later, in 1996, Boeck moved to scouting talent as an amateur area scout in Arizona covering the Four Corners area. In 2003, he moved to pro scouting for Texas.
With more than 20 years of experience, Boeck fits in among the other 15 or so scouts at the Padres game.
"I know 95 percent of them," Boeck said of his colleagues. "We're all traveling without families a lot of the time, and you see a lot of familiar faces at all the ballparks. There is definitely a fraternity, but there is also a competition."
Pen and stopwatch in hand, Boeck's head bobs up and down as he watches a pitch, then he makes notes in the margins of his scorecard about each player. Occasionally, he'll use his stopwatch to time how fast a player gets down the first-base line or how quickly a catcher throws to second on a steal.
"You can't beat what you can see with the eye," Boeck said. "You have to be at the ballpark -- you have to go out and see guys. How they do things on the field can't be quantified by numbers alone.''
Scouting a Spring Training game is different than going to a Major League ballpark during the season.
"What I'm looking for is how does a guy look physically? Is he healthy? Are there any adjustments they've made?" Boeck said. "What's their process? How do they play the game? In season, it's a lot of the same stuff, but it's also results. Does this guy love to hit with runners in scoring position? Is he able to do what the game situation asks him to do?"
While there are many questions to be answered on the field, a lot can also be learned on the back fields. Between games, Boeck will head there, put away the notes and observe a player's work ethic, attention to detail and level of intensity while going through drills, cage work and bullpen sessions.
"The Rangers are more in tune with scouts and place a high value on what they see and how they feel about a player," Boeck said. "It's not saying we don't look at and utilize all the resources and tools available today. You have to. It might just be weighted differently."
Boeck estimates he is on the road at least 150 days a year during the Major League season. This means a trusting bond must be formed between the scout and the organization, which is why there isn't much turnover in the profession.
Boeck has worked to develop that trust between himself and his bosses -- general manager Jon Daniels and senior director of professional scouting Josh Boyd.
"At the end, it's about getting the players right and making good evaluations," Boeck said. "There is no one looking over your shoulder watching you punch a time clock. The goal is to have everyone on the same page and working hard every day to make the Rangers a better organization from top to bottom."
Nick Krueger is a junior majoring in journalism at Arizona State University. This story is part of a Cactus League partnership between MLB.com and ASU's Walter Cronkite School of Journalism and Mass Communication. This story was not subject to the approval of Major League Baseball or its clubs.