Betts the story of spring for Red Sox
After speeding through organization, center fielder impresses at plate, in field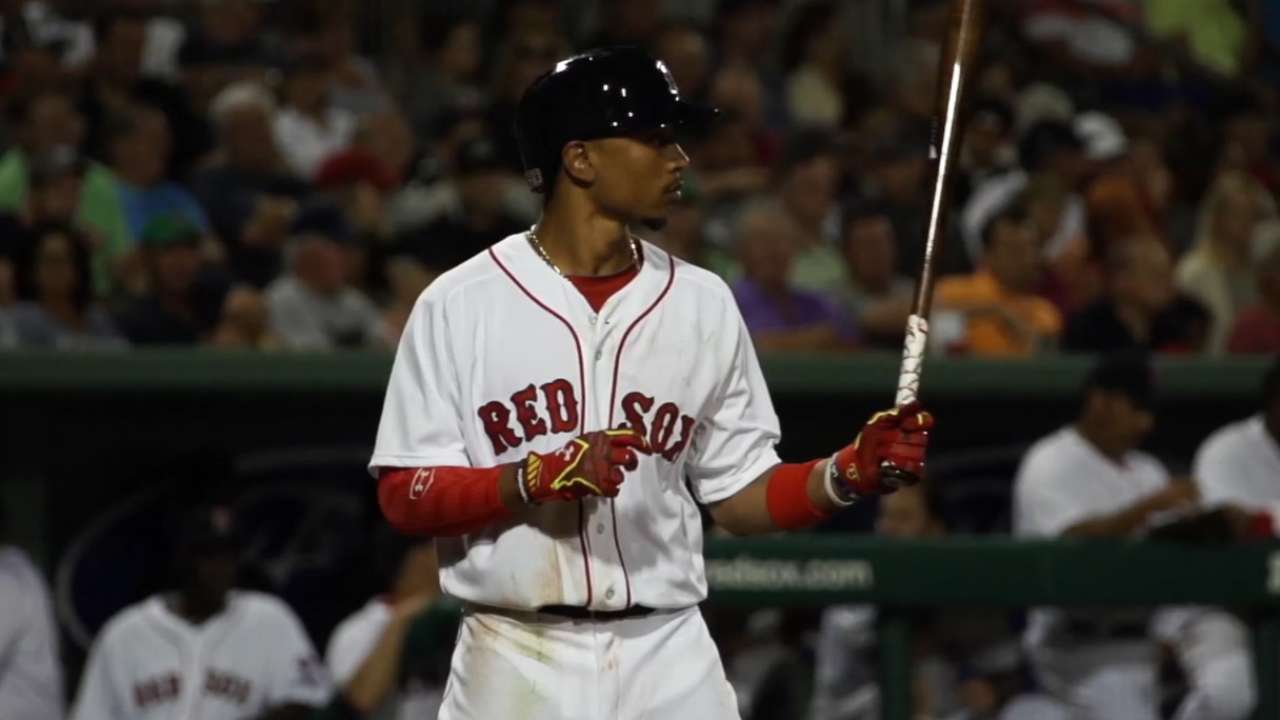 FORT MYERS, Fla. -- At one point, there was a competition to see who would be the primary center fielder for the Red Sox this season. But that was before Mookie Betts became the story of Spring Training for his team.
Betts has turned Fort Myers and Boston's road stops on the Grapefruit League tour into his personal playground, spraying line drives in every direction. And he has made diving catches in center field look routine, even though the position was foreign to him even at this point a year ago.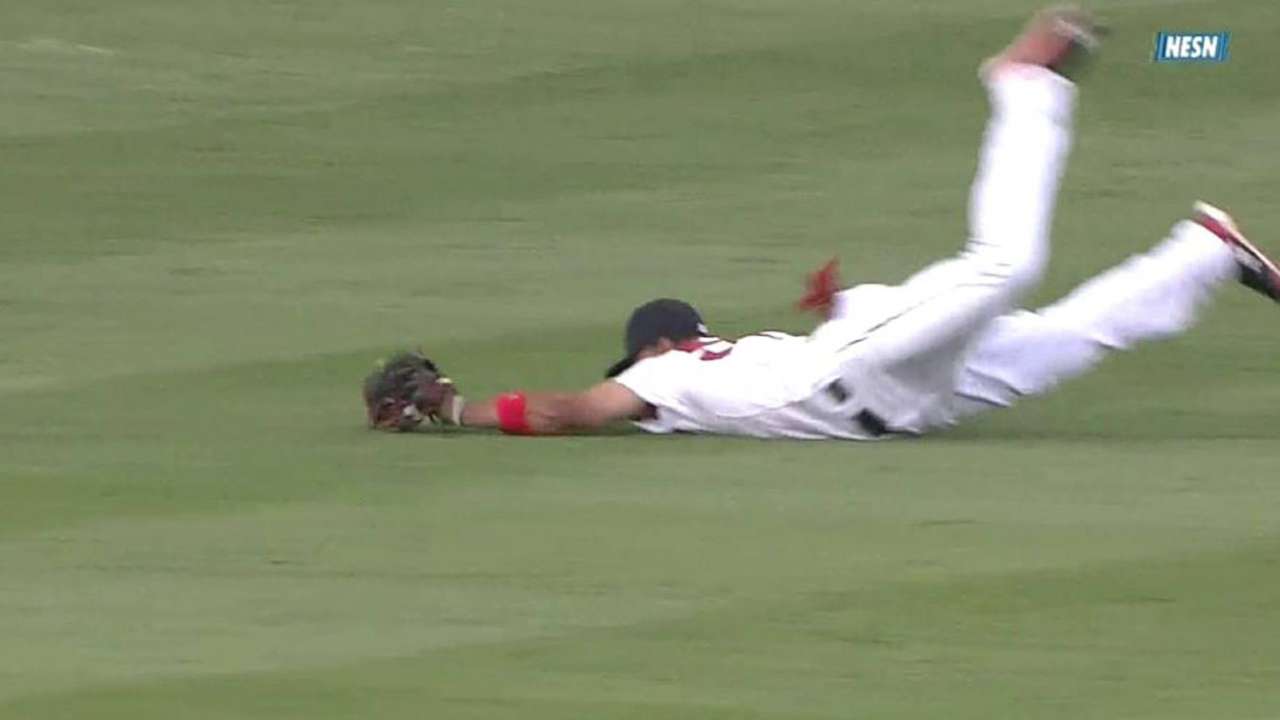 Through nine games in Spring Training, the 22-year-old Betts is hitting .448 with five doubles, two triples and a 1.207 OPS. A small sample size for sure, but one that comes on the heels of the solid finish Betts had for Boston last season.
"He's had a good day seemingly every time he walks on the field," said Red Sox manager John Farrell. "It looks like he's able to make some adjustments inside a given at-bat. I'm sure word has spread quick that he has the ability to drive the baseball."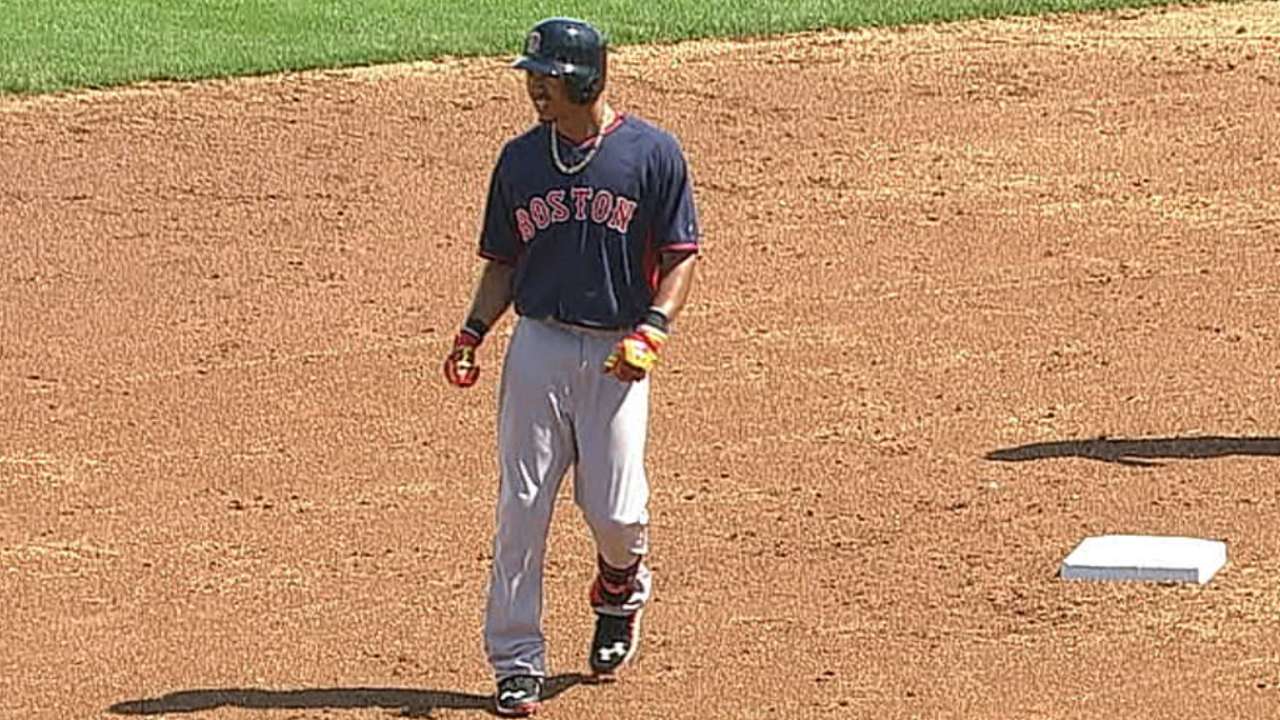 When the Red Sox open their season in Philadelphia on April 6, Betts will get things started as the leadoff hitter. And there's no place he'd rather be in the batting order.
"I've been hitting there since I was 5," Betts said. "I'm kind of used to it. I don't feel any added pressure at all."
Rusney Castillo, the man who was also supposed to be in competition to be Boston's center fielder, suffered a left oblique injury on March 3 and won't play in his first Grapefruit League game until Saturday.
But even if Castillo had stayed healthy, it's hard to imagine anything could have stopped Betts from winning the job.
The speed Betts displays on the basepaths and in center field is matched by his ascension through the Red Sox organization.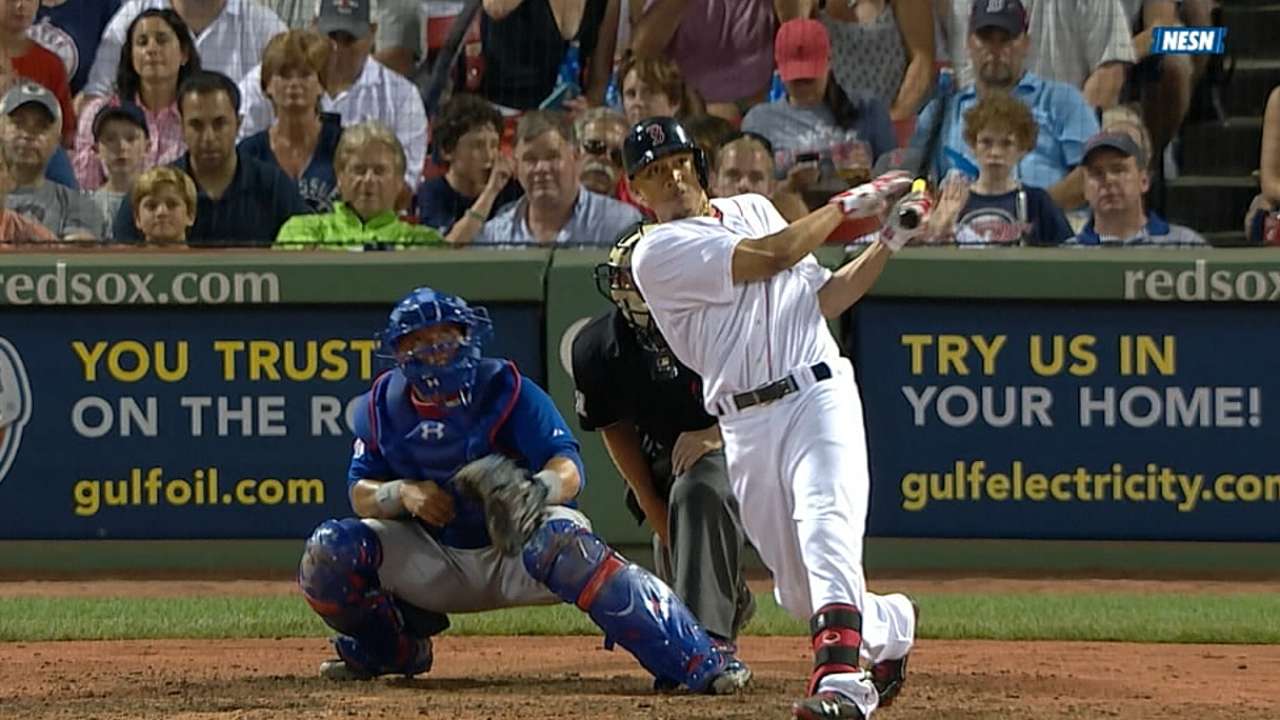 Consider that Betts wasn't even in Major League Spring Training in 2014. And that he opened last season as the second baseman for Double-A Portland.
But Betts just kept hitting, fielding and running. So the Red Sox identified where they had the biggest need at the Major League level and converted him into an outfielder.
Although Betts made it look fairly easy, he can now admit that it wasn't.
"I didn't know it was going to be as hard as it was," said Betts. "I knew it would be a tough adjustment. Being at the big league level and everything, it gets kind of magnified. It was a bigger adjustment than I thought, but I feel like I'm taking strides."
Although the Red Sox were never in contention for the final two months of last season, the emergence of Betts gave fans something to watch. In his first 189 at-bats in the Major Leagues, Betts hit .291 with 12 doubles, a triple, five homers and 18 RBIs.
But Betts came into camp knowing that he would have to earn his place, and he embraced the challenge.
"I'm not sure I can worry about that," said Betts. "I think I'll just be myself, control what I can control and just go to play the game the way I know I can."
120 Sports: Is Betts the answer in CF?
The low-key and respectful approach that Betts takes toward the game is something teammates have noticed. And it makes him an easy player to root for within the confines of the clubhouse.
"He's good. He's really good," said Red Sox right-hander Joe Kelly. "He seems to put the bat on the ball, and he doesn't really miss too many pitches. If I was pitching against him, he'd be one of those guys where, even though he's batting leadoff, he's kind of like [a Jacoby Ellsbury]. You've almost got to pitch him like a 3-hitter."
The exciting part for the Red Sox will be to see exactly what type of player Betts will evolve into once he gets more experience.
"You see a guy who believes in himself a little bit more through the experiences of a year ago," said Farrell. "He's a confident kid, and at the same time, he asks such good questions. He's always trying to learn the game in different situations, particularly going to center field. He's impressive."
Ian Browne is a reporter for MLB.com. Read his blog, Brownie Points, and follow him on Twitter @IanMBrowne. This story was not subject to the approval of Major League Baseball or its clubs.